Abby Elliott Reveals What It's Really Like To Be A Woman In Comedy Today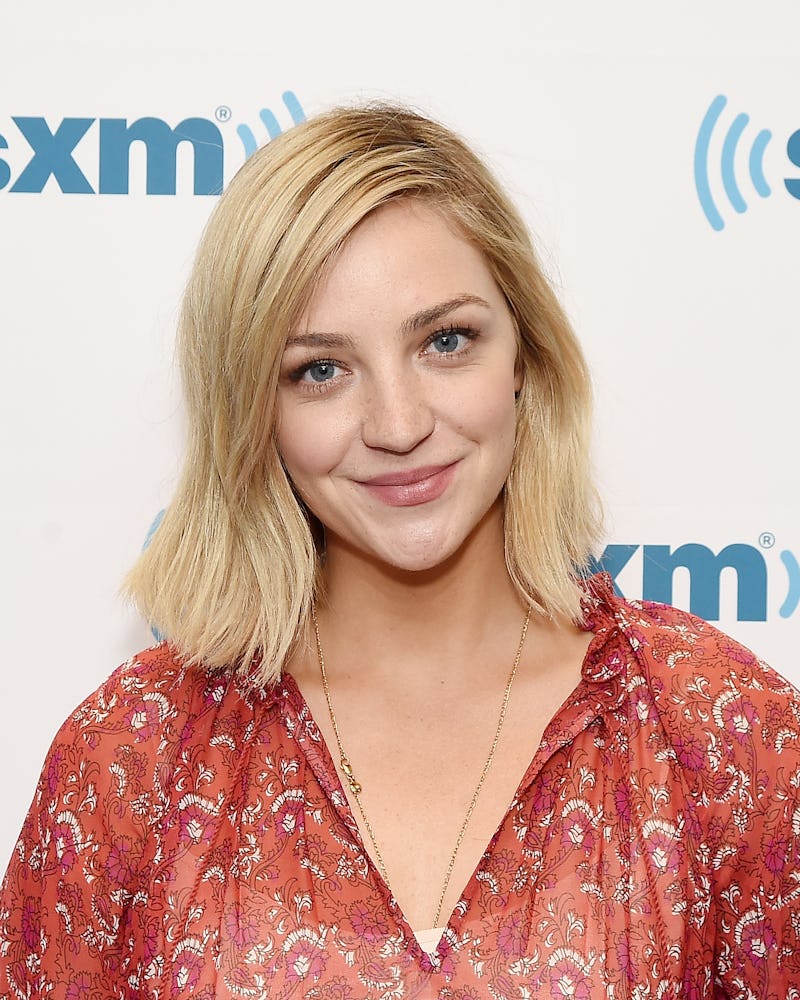 Nicholas Hunt/Getty Images Entertainment/Getty Images
If you're a comedy nerd like me, you definitely remember Abby Elliott for her beloved impressions and characters on her four-season run with Saturday Night Live. On Wednesday, Abby Elliott took over the Bustle App as part of Bustle's Comedy IRL package, honoring women using their craft to elevate female voices and speak out on important issues. She shared her thoughts on what it's like to be a woman in comedy today, her time on SNL, and what it's like transitioning into scripted television.
Now she stars on Bravo's second-ever scripted comedy, Odd Mom Out, which follows the lives of wealthy moms living on New York's Upper East Side. Elliott plays Brooke Von Weber, a multi-millionaire's wife and harried "momzilla" of three and despite her many successes, Elliott is very open about she experiences as a woman in the industry.
"I've developed a thick skin. I've heard a lot of sh*t. 'Wear the skirts now, because you won't be able to wear them later.' 'You're too character-y for the lead, but not quirky enough for the best friend,'" she says. "Sadly, actresses are typecast and put in these boxes all the time. It sucks but I genuinely believe it's changing. Shows like Girls and Orange is the New Black, have proven to be hits without these gender stereotypes."
It's no surprise that Elliott gravitated toward comedy — her family is full of comedy greats. Her dad, Chris Elliott, is also an SNL alum — as well as a writer on Late Night with David Letterman, recurring cast of Everybody Loves Raymond, and so much more. (Seriously, his IMDb page is a million miles long.) And for Elliott, her dad was a huge part of why she pursued comedy.
"Growing up and watching my dad make people laugh seemed like the greatest job in the world," she says. "He was never the square, embarrassing dad. He's always made us laugh and I admired that and wanted to be just like him."
And Elliott has a famous grandpa, too. Bob Elliott was the co-host of a legendary comedy duo, Bob and Ray, who worked together for nearly five decades — first over radio, then spanning into the television era.
"Seeing both of them make an actual career out of comedy made me feel like it wasn't completely off the table for me to support myself doing this as well," she adds. Of course, beyond her family, Elliott has been inspired by a few other greats: Lucille Ball, Mary Tyler Moore, and — of course — Britney Spears.
Like many young comedians, Elliott got her start performing at the notable comedy theaters Upright Citizens Brigade and The Groundlings, before ultimately landing on Saturday Night Live. Her favorite perk of being cast on the show? The exposure.
"Not gonna lie, I loved being on TV every week," she says. "It was such a high to hear Don Pardo say my name every week. The energy in that studio is like no other show."
Of course, the famous sketch show had its ups and downs. Without a rigorous writing background, Elliott became frustrated when she was pigeonholed as an impressionist.
"I don't miss the heartbreak of not getting a sketch on," said Elliott. "When I started I was 21 and I didn't have 10 years of Groundlings experience under my belt. I didn't know how to write [characters] for myself."
Post-SNL, Elliott is thoroughly enjoying her spot on Bravo's Odd Mom Out, a role that allows her draw inspiration in part from watching The Real Housewives franchise.
"In that first meeting, [creator] Jill [Kargman] told me, 'There's a scene where you give birth at home and it's bloody and poopy.' And that's when I knew," offers Elliott. "I loved that Brooke is this type-A Upper East Side princess, but has these incredibly vulnerable moments. I knew it would be so fun to play."
Outside of the comedy world, Elliott is also an avid animal rights activist (she says she admires Real Housewife Lisa Vanderpump for her work rescuing dogs) as well as a mental health advocate. She's also a proud feminist.
"Until we are paid equally and treated equally, we need to stand together and fight for our rights. Especially in our current administration," she says, adding, "Ugh. Now I need a Xanax."
So, what's next for Abby?
"I would love to be a Real Housewife," says Elliott, jokingly. "I'm married now and it seems like the next step to get paid to drink Pinot Grigio, rescue dogs, and throw around artificial limbs. Your move, Andy Cohen." (Come on, Andy. Snag her for RHONY, stat.)
And for those hoping to achieve similar success, Elliott has some priceless advice.
"Don't feel bad about saying no to things. If it's the wrong fit, don't force yourself to do something that won't make you happy. Life's too short," she says.
Preach, Abby. Preach.