Jenna Fischer Just Shared An Epic Behind The Scenes Story About Filming "The Dundies"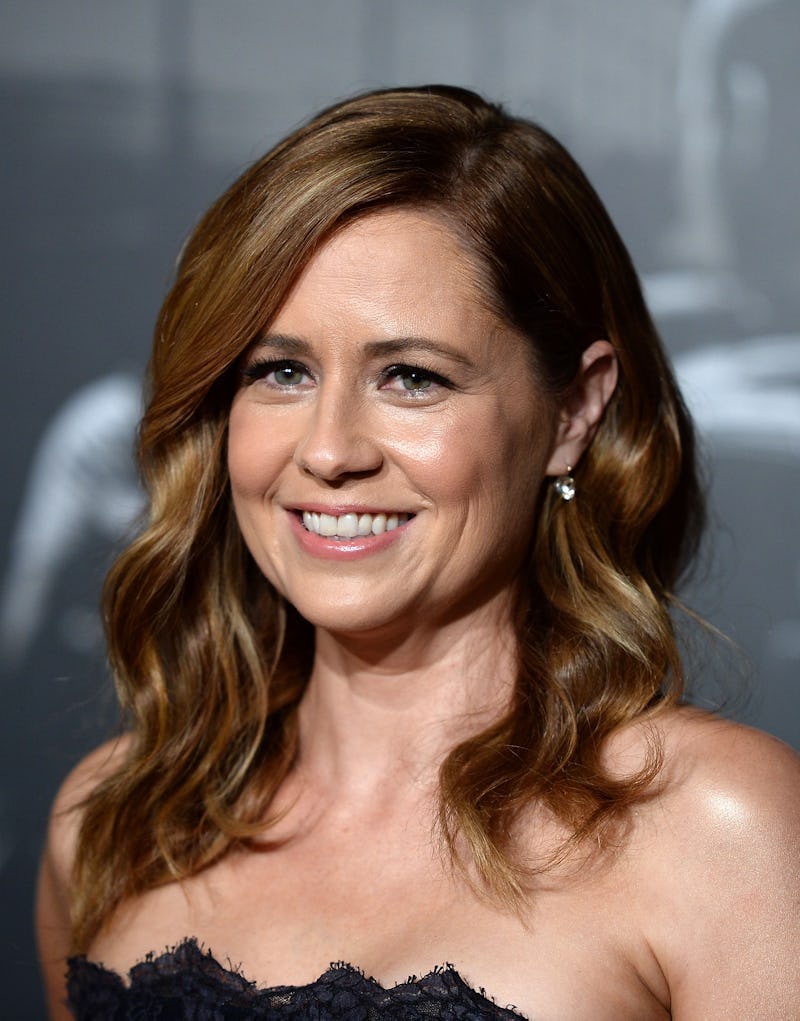 Amanda Edwards/Getty Images Entertainment/Getty Images
When it comes to an iconic show like The Office, it's impossible to pick just one standout episode. (All of them are just so rewatchable.) However, the introduction of The Dundies during the Season 2 premiere does rank pretty high up there. But just in case you thought you couldn't love that episode more, Jenna Fischer just revealed the hilarious way she prepared for "The Dundies" episode of The Office, and it will make you see the episode in a totally new way.
The actor made the revelation during a visit to The Late Late Show with James Corden this week, and let's just say, it's a total Beesly move. For those who haven't watched this episode a billion times and need a little refresher, "The Dundies" centers around Michael's annual awards show at a local Scranton Chili's restaurant where he hands out various awards to his employees. After having a fight with her fiancé Roy, Pam decides to get drunk on beer and margaritas for the remainder of the evening. So when she wins her Dundie (for "Whitest Sneakers"), she gets up on the stage and makes a pretty amazing (and very, very drunk) acceptance speech that culminates in her being banished from entering Chili's ever again. (She also kisses a very surprised but pleased Jim.)
Suffice it to say, it was an epic moment in The Office history, which makes Fischer's story all the more intriguing once you discover how she prepared for her big Pam moment. Hint: it involved a lot of research.
"I'd never really been that drunk in real life," Fischer admitted to Corden. So she did what any upstanding professional would do to help hone their craft: she went out and got some real life experience on the subject. B.J. Novak, who wrote and produced the show while playing Ryan on the series, agreed to be her designated driver for an evening and helped her gage how she was feeling after each drink that she had. "I don't remember a lot after that," she said about her third drink during their little experiment. "But, I researched it. Is that weird?"
Sure, it may be a little odd, but honestly, it's totally something Pam would've done as well. Plus, the idea of going out with members of The Office for a drinking experiment sounds like the kind of research dreams are made of. (Seriously, studying for something has never sounded more fun.)
This isn't the first time Fischer has harkened back to that iconic episode. Back in February 2017, she tweeted a photo of herself outside of a Chili's alongside a caption that read: "Should I try to go in?" — a reference to her character's ban from the chain. Thankfully, the President of Chili's, Kelli Valade, has taken pity on her and since lifted said banishment, saying in a statement: "After reviewing the good conduct of Pam, I have decided to lift the now 11-year ban. Pam is an inspiration to many and we welcome her with open arms."
Like a fine wine, this episode only continues to get better with age, and now that we know the extensive research that was involved that helped to make it all happen, it's hard not to love it even more.