Ohio Gov. John Kasich Just Banned The Most Common Second Trimester Abortions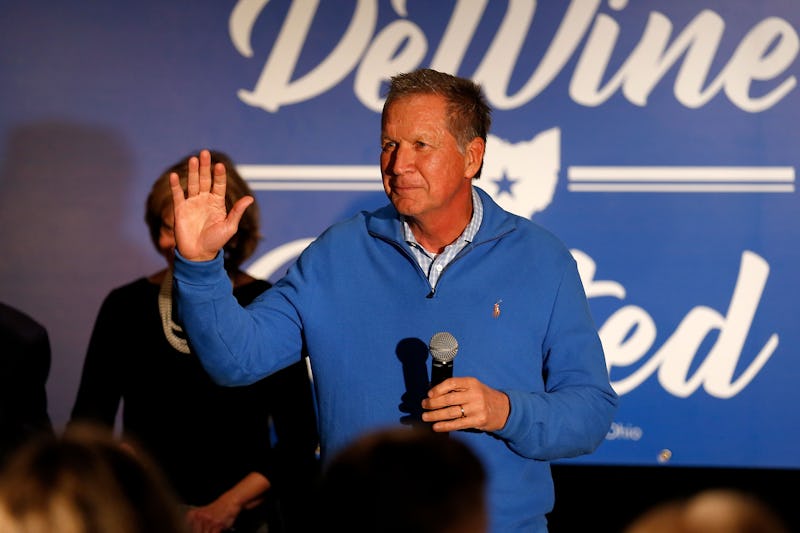 Kirk Irwin/Getty Images News/Getty Images
On Friday, Gov. John Kasich banned the most common second trimester abortion in Ohio by signing Senate Bill 145 into law. The bill outlaws dilation and evacuation, more commonly referred to as D&E.
In Ohio, roughly 3,000 of the almost 21,000 abortions performed in 2015 used D&E, according to Cleveland.com. The bill classifies performing this kind of abortion as a fourth-degree felony, and may include prison time, according to CNN.
The law does allow for an exception if the life of the person carrying the fetus is at risk, but there are no exceptions for rape or incest, according to CNN. NARAL Pro-Choice Ohio Executive Director Kellie Copeland condemned the bill's passage while also calling Kasich a hypocrite as he previously supported rape and incest exceptions for abortion. "John Kasich's word means nothing. It is clear this is just a political talking point for Kasich and in no way a sincerely held moral conviction," Copeland said in a news release.
Abortion providers and reproductive health advocates condemned the decision by Kasich and the Ohio legislature. Dr. Natalie Hinchcliffe, a family medicine provider in Cleveland and a fellow with Physicians for Reproductive Health, called the passage of SB 145 a "direct attack" on patients. "Abortion is one of the safest medical procedures, but bans like these only make abortion more inaccessible than it already is to the women and families of Ohio," Hinchcliffe said in a press release.
NARAL Pro-Choice Ohio reported that SB 145 is the 21st anti-abortion action by Kasich since he assumed the governorship in January 2011.
While he signed SB 145 into law, Kasich also vetoed a difference piece of anti-abortion legislation. House Bill 258 would have banned abortions if a physician could detect a fetal heartbeat, which could be as early as six weeks, according to Rewire.News. The proposed law would have made performing an abortion under these circumstances a fifth-degree felony, according to Rewire.News.
This isn't the first time Kasich has vetoed one anti-abortion law while signing another. In 2016, Kasich vetoed a similar fetal heartbeat abortion law while he signed a 20-week abortion ban into law.
However, Kasich's veto of House Bill 258 shouldn't be read as a change of heart for the long-time Republican politician. Kasich said he thought the bill would be struck down in the courts. "The central provision of [the bill], that an abortion cannot be performed if a heartbeat has been detected in the unborn child, is contrary to the Supreme Court of the United States' current rulings on abortion," Kasich said in a veto message explaining his actions. "Because the lower federal courts are bound to follow the U.S. Supreme Court's precedents on abortion, [the bill] will likely be struck down as unconstitutional."
Kasich still supports "my fellow members of the pro-life community," he said in the veto message, but a likely losing court case would put the state of Ohio on the hook for massive legal fees of progressive lawyers, making his veto a decision made "in the public interest," Kasich said in the veto message. "As the losing party, the state of Ohio will be forced to pay hundreds of thousands of taxpayer dollars to cover the legal fees for the pro-choice activists' lawyers," Kasich wrote.