Drew Barrymore Swears By This $20 Product For Bleached, Damaged Hair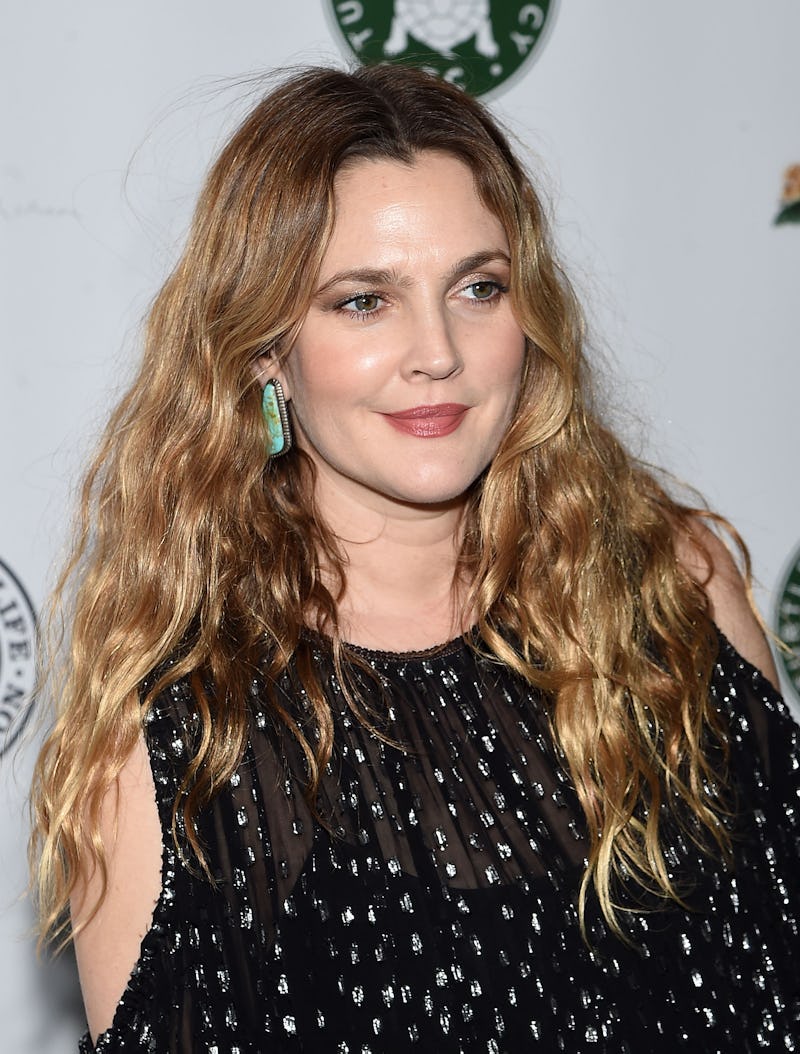 Jamie McCarthy/Getty Images Entertainment/Getty Images
If you've ever colored your hair before, then you know that it takes a lot of love and care in order to keep your tresses from looking like they're one step away from being kindling. If you've been struggling to find products that will set your locks right, then Drew Barrymore is here to help. Barrymore swears by Olaplex to fix damaged hair, and shared that the brand is behind the secret to her glossy, healthy hair.
Whether you have been bleaching your hair or just dabbled with a casual ombre, any kind of dye is going to make your tresses dry, tangled, and hard to manage. But with the beauty market being so saturated with hair care products, it's hard to decide which ones will actually deliver. How many times have you bought a product thanks to its promising before-and-after photos, only to discover that it doesn't do squat for you and your tresses? If you're out of ideas and looking for recommendations, Barrymore is here to share her favorite $20 product.
Barrymore is constantly sharing her favorite beauty buys on her Instagram, so it came as no surprise to followers when she posted her favorite hair treatment. Sharing a selfie of herself with her "before" hair, she gave us an inside peek to what her tresses look like before the glam squad gets at it with masks, oils, curling rods, and hairsprays. The image is surprisingly relatable, where her bleached blonde hair is dry, puffy, and seemingly unmanageable.
In the caption the actress shared that she bleached her hair a couple of months ago because she wanted a change, only to discover her hair reacted negatively to the dye job and became coarse and brittle. "I wanted to do something to feel more attractive to myself and it totally backfired. Sometimes when you try to improve yourself and your confidence, it can go wrong, and then you feel worse. Haven't we all had a haircut or a bad eyebrow tweeze or bad hair color and you just want to run home and get in your time machine and have a do over," she shared.
Looking for ways to take charge and fix it, she spoke to her hairstylist friend, Tracey Cunningham, who recommended Olaplex.
Olaplex is a professional- level hair treatment that rebuilds your keratin bonds, which give your hair that shiny, healthy look. After just three weeks Barrymore saw a noticeable difference. In her "after" picture, she wrote, "Within 3 weeks @olaplex saves me! 20 minutes on clean wet hair! And so quickly my hair is remarkably and clearly better. It's curling and actually bouncing and looking like hair rather than coughed up bird feathers."
She went on to tag a couple of places where you can nab a bottle for yourself, including Walmart. While Barrymore didn't exactly say which products she used, there is a whole salon intro kit that you can buy that's used by hairstylists in their shops, but it will set you back nearly $200.
Called the "Olaplex Salon intro Kit for Professional Use," it contains three 17.75 ounce bottles that create a full program to repair your hair. The first one is the "Bond Multiplier," which rebuilds broken disulfide bonds — which are the bonds that give your hair its elasticity and strength — and begins the process of repairing hair. The second step is the "Bond Perfector," which continues to rebuild and restore any remaining broken bonds, and the last step is the "Hair Perfector," which is designed for at-home use and provides continuous protection against any future damage.
If you don't have $200 to burn, Marie Claire recommended snapping up that Olaplex Hair Perfector, since it boosts your hair's strength and was specifically made to be used outside of the salon. This might also be the product Barrymore used, since she mentioned she put the treatment on by herself while at home.
Followers under her photo pitched in with their own rave reviews, backing up the claim. "Bought this after seeing your post...cannot believe how good my hair felt after just the FIRST application! Thanks for the recommendation," one poster shared.
"Yes! My girl uses @olaplex every time I get my hair done! I highly recommend it as a girl who loves not only her platinum blonde hair but long strong hair that's down to the top of my butt," another confirmed.
If you have brittle, struggling hair, this Barrymore-approved, $20 recommendation is worth a try.