Daenerys Just Got The Best Advice On 'Game Of Thrones'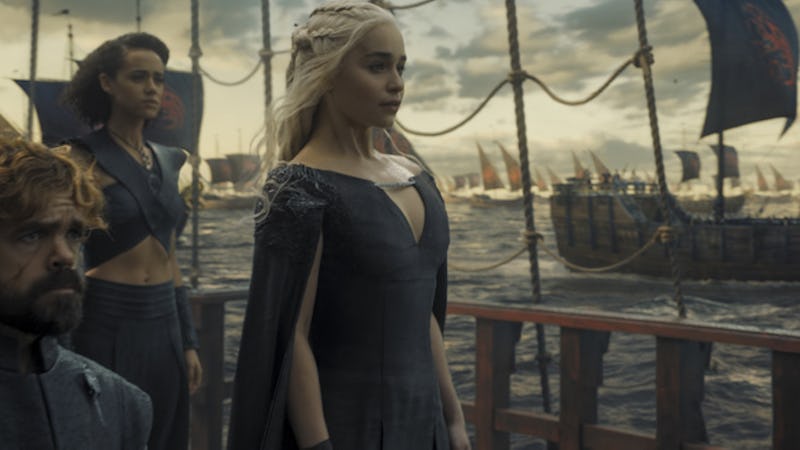 HBO
Game Of Thrones is finally in the business of bringing our favorite characters from all corners of Westeros together. On Sunday night, fans got to see the beloved matriarch of House Tyrell, Lady Olenna, meet with Daenerys on Game of Thrones, and she took the opportunity to bestow some wisdom on our Mother Of Dragons that, honestly, every woman can use today.
You see, Olenna doesn't believe in letting the patriarchy rule over everything and everyone. But, she also makes no bones about the fact that she is involving herself in this war and allying herself with Dany just because of her hatred for Cersei. After all, the new Queen of the realm blew her grandkids and son into pieces rather recently. Knowing that Olenna isn't exactly handing out fliers for the Targaryen cause, Dany pulled her aside to try and figure out how she could rally her a bit. In the end, it was Olenna who ended up imparting some words about loyalty that ring true for all of us.
Olenna explained that the Lords in Westeros "are sheep." She then followed it with, "Are you a sheep? No. You're a dragon. Be a dragon." Such a great piece of advice that can be used in any situation in this fantasy world or the real one. Think about it, how many times have you heard powerful women be demeaningly referred to as a "dragonlady" or something equally harsh? Well, Olenna just reminded us why being strong as a dragon is something to be proud of as a woman.
She poetically advised Dany to take charge and rule like the mythical, fire-breathing beast that she is. There's no shame in being powerful. We as women can all take this kind of no-nonsense approach to life if we just listen to our inner Olennas. If you find yourself doubting your abilities at work or in your personal life, just be a dragon. If you don't think you can pull off a daytime red lip, just be a dragon. It is a blanket piece of genius advice that works pretty much everywhere, because women should always be allowed to be strong against the sheep of this world — especially in this current political climate. So, next time you have an obstacle in life that needs surmounting, just be a dragon.