Omarosa Described "Awkward" Interactions Between Trump And Ivanka In A New Interview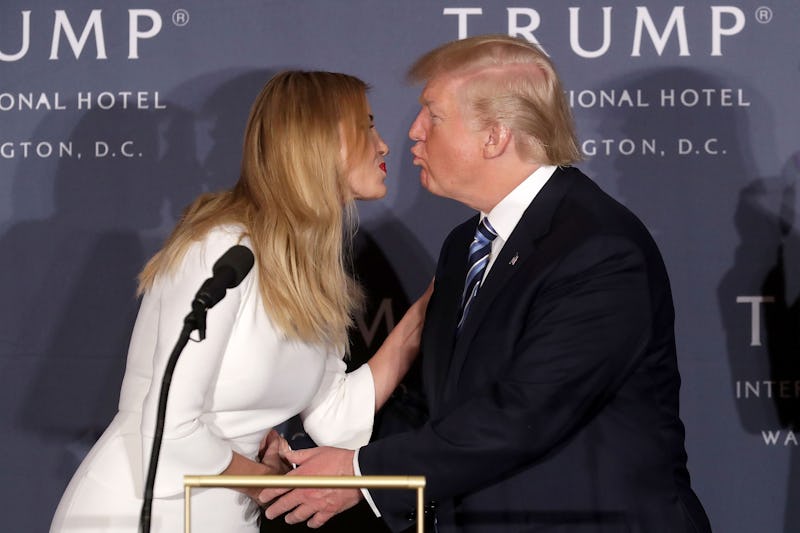 Chip Somodevilla/Getty Images News/Getty Images
Ivanka Trump is often touted as her father's favorite daughter (sorry, Tiffany). But since the Trump family's presidential leap into the public eye, President Trump's bond with Ivanka has raised some eyebrows. Now, in a new interview, Omarosa Manigault Newman has alleged Trump and Ivanka's relationship is not only awkward but "disgusting" too.
"You know, he said it himself — I'm just going to say his own words, he wanted to sleep with his daughter," Manigault Newman alleged Friday when asked if Trump was "really hot" for Ivanka during an interview on Real Time With Bill Maher. "It's pretty disgusting," she added.
Manigault Newman went on to describe the ways in which Trump would allegedly touch and interact with Ivanka. "He would pat her on the behind," she alleged. "He would kiss her on the lips. He would rub her for a very long period of time. It was awkward." The former White House aide went on to say that Trump would touch Ivanka in those ways even if there were other people in the room.
What's more, Manigault Newman claimed Ivanka didn't appear to take issue with the intimate ways in which her father allegedly touched her. In fact, according to Newman, "she just loved it."
"She loved being 'Daddy's Little Girl,'" Manigault Newman told Bill Maher. "She would always say, 'my daddy' and then she would correct herself [and say] 'my father.'"
Bustle has reached out to the White House for comment.
This isn't the first time Trump has been called out for how he appears to approach his relationship with Ivanka. In fact, countless articles have been written that scrutinize and condemn some of the many comments he's made about his daughter's body. In 2003, for example, Trump gave radio shock jock Howard Stern permission to describe Ivanka as "a piece of ass."
In 2006, Trump told the ladies of The View that he felt his daughter — who was sitting beside him during the interview — had "a very nice figure" and added, "If Ivanka weren't my daughter, perhaps I'd be dating her." And despite being heavily rebuked for his comment by the ladies of The View, Trump made a similar remark to a Rolling Stone reporter in 2015.
"Yeah, she's really something, and what a beauty, that one," Trump said about Ivanka, according to Rolling Stone's Paul Solotaroff. "If I weren't happily married and, ya know, her father..."
Then there was the criticism over how he embraced Ivanka at the 2016 Republican National Convention in Cleveland, Ohio. After meeting his daughter on stage, Trump gave her a kiss on each cheek and then patted her on the hips.
In her interview with Maher, Manigault Newman also took aim at Ivanka's other half — Senior Adviser to the President Jared Kushner. "He's that guy in the room that thinks he's the smartest guy in the room but has absolutely no idea what's going on," she said. "He didn't even know basic political jargon... and so the sad thing about Jared, is that he doesn't know how stupid he sounds when he's talking in those meetings."
Newman also claimed Ivanka and Kushner had been nicknamed "White House Ken and White House Barbie."