The One Area Where The Kardashians Tend To Draw The Line On 'KUWTK'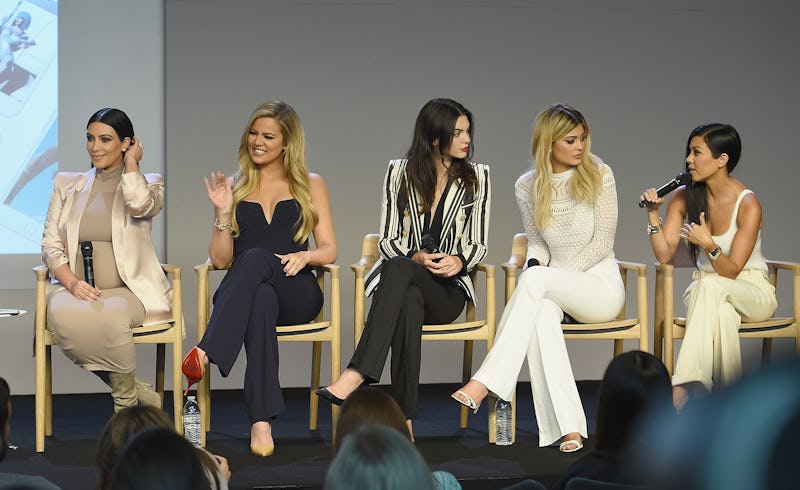 Dimitrios Kambouris/Getty Images Entertainment/Getty Images
They're known for sharing it all. But even the Kardashians have their limits when it comes to reality television. In an interview with The Hollywood Reporter, the Kardashians discussed how sharing their relationship drama on Keeping Up With the Kardashians has tested their strength over the last decade. Through the years, audiences have watched Kourtney, Kim, and Khloé Kardashian, and Kris, Kendall, and Kylie Jenner experience very public breakups and occasional makeups, and, in many cases, sharing about their romantic relationships has been one of the toughest parts of being a reality star.
Kourtney said her breakup with Scott Disick was "the hardest episode to film," and she explained that the experience came in waves. "I had a lot of anxiety about it, and finally said let's just get it over with," she told THR. "I sat down and started crying. You go through something, and then move past it. Then you do your interview, and get all riled up again. And then you see the episode, and start seeing all these comments [on social media]." These days, Kourtney's dating life is a topic in tabloids, but not so much on the show.
As for Kim, she said airing her lavish wedding and quick divorce to Kris Humphries proved that she would face criticism either way:
"Think about this realistically: If it was for the show don't you think we would have found someone that signed off? Someone OK with getting married and getting divorced two months later? If it's for a show don't you think you'd want as little legal trouble as possible? This was real emotions, real feelings. People f*ck up."
And she draws a line when it comes to her current relationship with Kanye West because he doesn't want to be on the show very often. "I won't really ever talk about something that's going on with Kanye," Kim said. "I'll talk about how I feel."
Khloé shared about toeing the line between sharing too much of her reality on her spinoff with her ex-husband, Lamar Odom, and said, "I never wanted to do Khloé and Lamar; my ex-husband did. He sold it to E!, and I let it happen because I wanted him to be happy. I was the one who canceled it. It was way too much." These days, Khloé is dating NBA played Tristan Thompson, and while she has talked about their relationship on the show, he doesn't appear nearly as often as Humphries, Disick, or Odom did.
To hear the Kardashians talk about oversharing or how filming certain parts of their personal lives is still difficult may sound like a contradiction to everything the family has built. Their faces and personal lives are their business. How could it ever be too much? What audiences often forget it that they are human. The entire premise of the show was to get a look into the lives of a unique and over-the-top family including outside of the glitz and glam. Now, with Kendall and Kylie adults after having grown up on the show, their older sibling's transparency has taught them a thing or two.
Kendall told THR she is "the most private one," and she credits her sisters for teaching her how to cope with life in the public eye. "The beauty of having older sisters is you learn so many lessons from them. I've seen how their relationships have played out on TV so I learned that lesson. I feel like it's just better to keep it more private."
Youngest sister Kylie took a different route and sees starring in her own E! reality show as the best way to reclaim her own narrative. The makeup mogul told THR she's using Life of Kylie to "hopefully be a little more understood."
The Kardashians know what they're doing. Love them or hate them, when it comes to KUWTK there is often a way to relate to them. The Kardashians have managed to monetize themselves for being who they are. Showing their emotions is a vulnerable act. Viewers have been given the access into a world that is part identifiable and part fantasy. Although much of their lives may appear to be a perfectly packaged illusion, the Kardashians have found that exposing their hardships doesn't make them look bad. Instead, their honesty keeps them in style.