Why You Actually Need To Care About Netflix's New Teen Show — Even If You're An Adult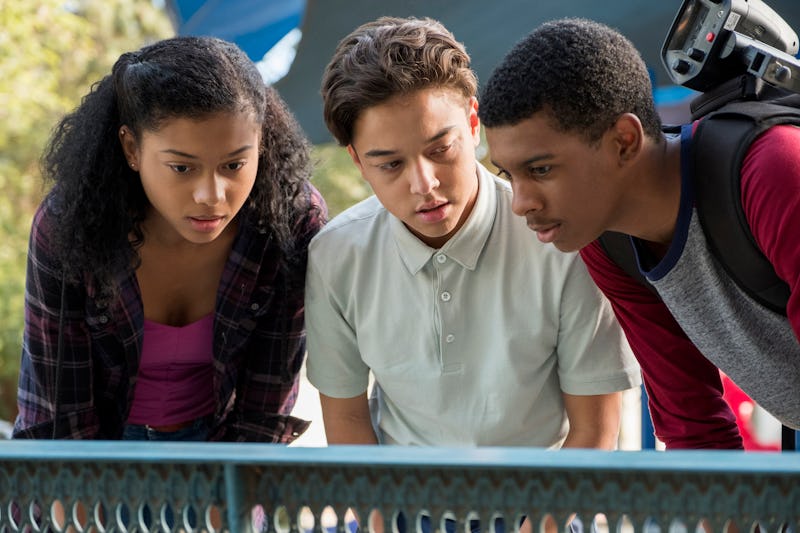 John O Flexor/Netflix
The same way that young adult literature has permeated the culture, and pretty much anyone is down to read about teen vampires and wizards no matter their age, young adult television is having a moment with broader audiences as well — in part thanks to streaming services. On The Block is a coming-of-age series that joins Netflix's other offerings with a new perspective and set of characters you'll love.
On My Block follows four friends in South Central, Los Angeles as they navigate their first year of High School. Sure, there are serious issues including gang violence and teen sex. They're taken seriously. This isn't an After School Special that wants you to feel sorry for the poor kids. On My Block isn't condescending at all. The tone is light and cute and respects its characters as well as its audience.
Similar to shows like the UK's Skins, a lot of the adults feel more outlandish, like caricatures, making this all about the young heroes. Monse went away to writing camp and came back to find her friend group in shambles. Ruby just wants to have his own bedroom for once. Jamal is worried that his dad won't accept him if he doesn't play football. These are relatable plot lines that we've seen before, but maybe not like this.
With shows like this and Stranger Things, 13 Reasons Why, Degrassi: Next Class, Everything Sucks, The End Of The F*cking World, Greenhouse Academy, and even a mockumentary like American Vandal — there's a young adult story for everyone on Netflix. It's an impressively diverse lineup that gives us male protagonists, female protagonists, LGBT protagonists, POC protagonists, as well as an array of genres ranging from mystery to comedy, fantasy, and science fiction.
That said, none of these shows are exactly the same, and On My Block is giving Netflix audiences a fresh perspective. This is a teen comedy set in a violent neighborhood that a lot of folks clicking through on Netflix won't have experienced — especially from the perspective of kids being kids.
"If you've grown up in an inner city or underprivileged neighborhood," says actor Brett Gray, who plays Jamal, in a junket interview attended by Bustle, "you know the blocks you don't walk down, you know the neighborhoods you don't go to without friends, you know the bus routes that you're not supposed to be on. So I feel like it's so normal for me to be on a show like this where it's comedy intermittent with violence and drama and gangs and stuff like that because that's life. I feel like it might not be as revolutionary as people think, it's just not being told as much."
"When [stories like this] get told," says actor Jason Genao, who plays Cesar, "it's just the entire violent part. It's all the bad. But this is showing you that it happens in these areas because that's the way it is, but you don't drown in it."
As for the streaming platform, it makes these stories more accessible to older audiences. An adult might not watch Nickelodeon, The CW, or Freeform — but all generations can be found on Netflix. It's for everyone. Especially in 2018, boomer and millennials alike can learn from teenage stories. 13 Reasons Why might help adults better understand consent and mental wellness. Degrassi did a whole season on Islamophobia. On My Block might make it easier for you to relate to these very real stories.
It might be grandiose to claim that Netflix can close the generational divide, but these coming-of-age stories like On My Block are realistic, entertaining, diverse, and thoughtful — and they're available to everyone with Netflix. So, it's certainly a step in the right direction — especially in 2018 when teens are stepping up to fight for their rights and those of others. There's never been a better time to give their stories a platform.
Additional reporting by Dana Getz.
This article was originally published on