This Is How 'One Day At A Time' Will End, According To Showrunner Gloria Calderón Kellett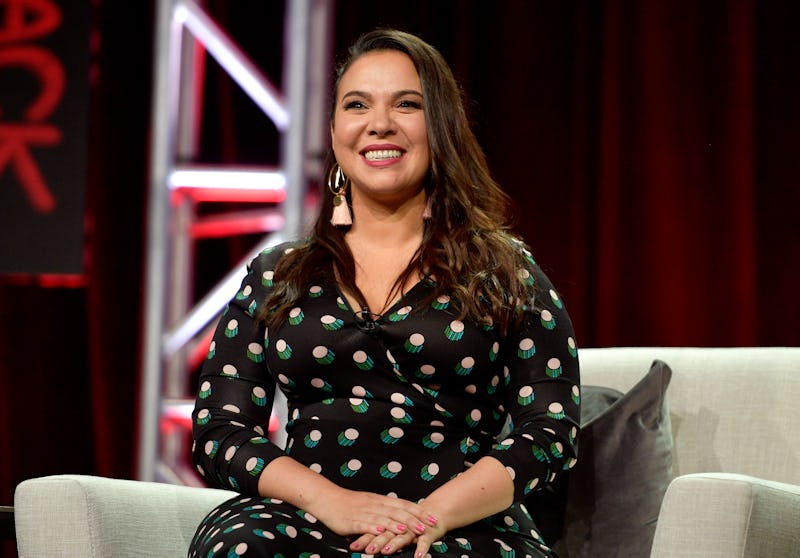 Matt Winkelmeyer/Getty Images Entertainment/Getty Images
Minor spoilers ahead for One Day at a Time Season 3. It's not every day that you find an authentic portrayal of a Latinx family that makes you laugh, cry, and truly relate. But that's Netflix's acclaimed sitcom One Day At a Time, which has its third season premiering on Feb. 8. As the series' showrunner, as well as its frequent writer, producer, and director, Gloria Calderón Kellett has been behind many of the show's most major moments. And she already has some big plans for how One Day at a Time should eventually end.
"For me, this show is about this mother getting these kids ready for the world," says Kellett, speaking over the phone. "This year, Elena's graduating, so that's where that character is, and then it'll be focusing on Alex and making sure he's ready to go out into the world."
One Day at a Time Season 3 finds Elena (Isabella Gomez) as an upperclassmen, studying for the SATs and hoping to go to Yale. But teenage Alex (Marcel Ruiz) isn't far behind, and as Kellett notes, Penelope (Justina Machado) is trying to prepare the two to go out into the world without her for the very first time. Lydia (Rita Moreno), meanwhile, is coming to terms with the fact that her "papito" isn't so little anymore.
"[The show]'s really how these two women have come together — this mother and daughter — to try to prepare their families for what's out there and having conversations that will make it easier for them when they're not surrounded by family all the time," says Kellett. "So that's my end game for the show, to successfully show this woman having done the best job she can with the support of her mother and her landlord — her support group — to put positive kids out into the world that are going to make the world a little bit better."
Season 3 continues to include several plotlines about Alex and Elena navigating the difficulties of growing up, something the show has been lauded for since the beginning. In one episode, Alex gets in trouble for smoking weed and lying to his mom, while in another, he struggles with how to properly treat a girl he's interested in dating. Elena, meanwhile, contemplates having sex with her partner, Syd, for the first time and discusses her feelings with Penelope in a powerful episode that Kellett says she loved filming.
"Look, I'm a cis, straight, woman, but for me, that conversation about sex with your parents, that conversation about sex with a partner, felt like something that I had never as a woman seen," she explains. "Just positive, 'Are we doing this for the right reason? Are we mentally prepared for this?' I was so proud of that episode."
As previously reported, this season also features some very special guests including Gloria Estefan as Lydia's estranged sister, Mirtha, a casting choice that was a long-time coming since Estesfan sings One Day at a Time's theme song. Melissa Fumero and Stephanie Beatriz, of Brooklyn Nine-Nine, also appear in the season.
"We had become friends with those girls [through] the Fiercely Latina group, where we meet up and we talk about Latinx issues and ways to support one another and lift each other up," explains Kellett. "So we just loved them, and we were kind of joking like, 'We'd love to have you on the show,' and they were like, 'We'd love it, we'd love it!'"
Another actor Kellett would love to eventually feature on the series? Lin-Manuel Miranda. "If Lin-Manuel did the show, it would make all my dreams come true," says the showrunner. While an appearance is sadly unlikely — "he's kind of busy changing the world," Kellett quips — it's not out of the question, since Miranda did show some support when Fumero and Beatriz were announced as guest stars.
Even by the third season, Kellett is at no shortage of ideas of where this show can go. In fact, she says she still has "storylines for days." Kellett and co-showrunner Mike Royce have "a very clear vision" for what Season 4 will be, if One Day at a Time gets renewed — which, has not been confirmed by Netflix yet. "I will be speaking to the audience on social media and asking them to support it as much as they can early on so that hopefully the numbers will be enough to have Netflix renew us," says Kellett.
Fingers crossed, because all the sitcom is trying to do, according to Kellett, is "talk about some real stuff and maybe make the world a little better." With its authentic, heartwarming storylines, One Day at a Time absolutely deserves the platform to do just that.
Editor's Note: This post has been updated to reflect One Day at a Time's Season 3 embargo.