One Dead After Car Mows Down Counter-Protesters In Charlottesville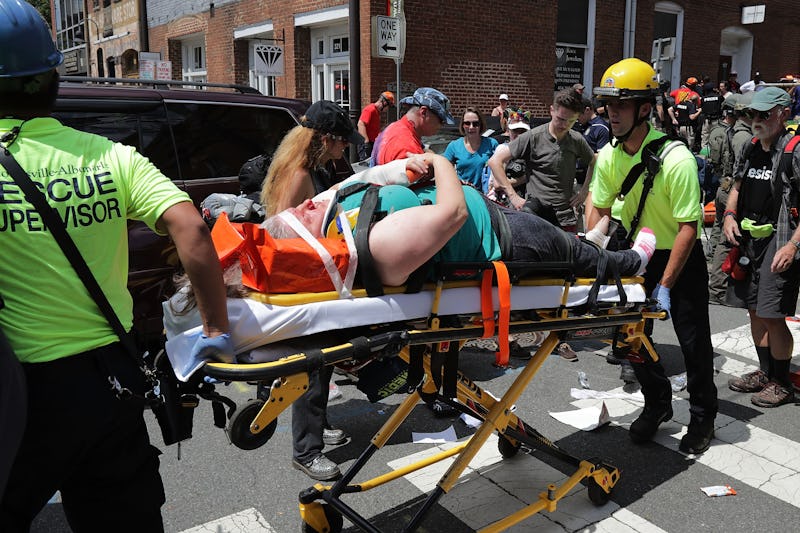 Chip Somodevilla/Getty Images News/Getty Images
According to reports, the mayor of Charlottesville, Virginia has confirmed that somebody has died in the protests. The death is reportedly the result of a high-profile, extremely harrowing incident that took place on Saturday afternoon, when a car plowed into a group of protesters and quickly reversed away. It was plain to see from the video that there were injuries as a result, but now, Mayor Mike Signer has confirmed that at least one person was killed.
Update: Two more people have died in a helicopter crash near the protest site, raising the death toll to three.
Signer also urged "all people of good will" to go home, hoping to bring an end to the chaotic and at-times violent scene that's engulfed Charlottesville over the past 24 hours. Friday night saw torch-wielding white nationalist protesters descend on the campus of the University of Virginia to demonstrate against the removal of a Confederate monument, and on Saturday, the "Unite the Right" protest took place in Charlottesville, which has included white supremacist and neo-Nazi activity, reportedly including the open display of swastikas.
The Saturday protest turned out a huge amount of anti-racist counter-protesters, and it was those counter-protesters who were slammed into by the car. The conditions of the other people caught up in the incident aren't yet entirely clear, although the video plainly showed multiple people were struck.
A state of emergency has been declared in Charlottesville, bolstering Signer's plea for all the people currently demonstrating or counter-demonstrating to return to their homes and clear the area.
Embedded below is a tweet containing footage of the crash that caused the confirmed death ― be fore warned, it is a video of at least one person being killed, and while undeniably newsworthy, is extremely disturbing. Please exercise your own best discretion and judgment about whether or not you want to watch it.
This is not the first violent clash between far-right protesters and counter-protesters this year ― clashes occurred in Berkeley, California earlier this year, and a similar torch-carrying demonstration to Friday night's went down in Charlottesville in May, attended by prominent white national Richard Spencer.
The scene in Charlottesville on Saturday, however, is likely the most extreme and violent scene that's unfolded so far, as spoken to by the car crash that killed at least one of the counter-protesters. Neither of the aforementioned incidents left anyone dead, although significant injuries were reported following the Berkeley melee. It's not clear who was killed in Charlottesville on Saturday, as the identity of the victim has not yet been publicly released.