One Person Has Been Confirmed Dead In Rockport, Texas, From Hurricane Harvey — REPORT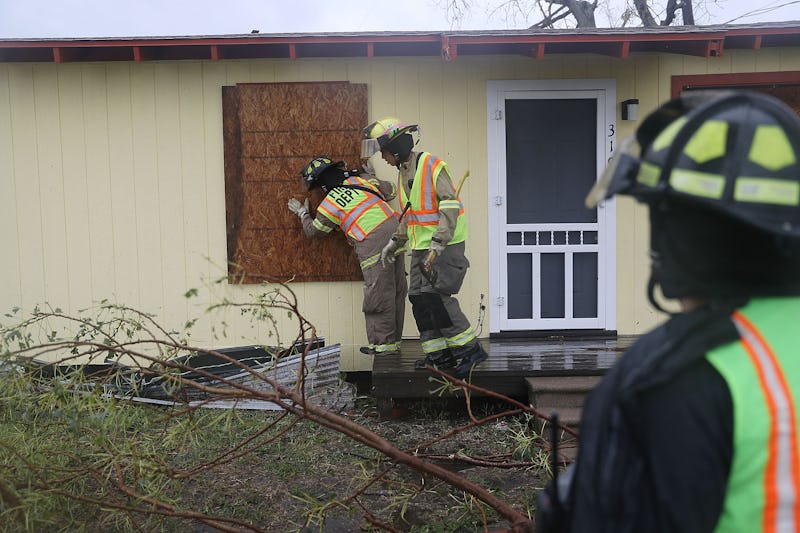 Joe Raedle/Getty Images News/Getty Images
One of the most powerful storms in recent years made landfall on the Texas coast early Saturday morning, and by the afternoon, there was at least one confirmed death in Rockport due to Hurricane Harvey, according to Rockport's mayor.
Mayor C. J. Wax announced that one man had died as a burning house collapsed, in addition to 10 additional injuries confirmed in the 10,000 person Texas town near Corpus Christi. Rockport is one of the Texas towns most directly hit by the hurricane, directly in the path of the storm.
Rockport had previously ordered mandatory evacuations, and the town's mayor pro tem (a city councilor serving as second in command to the mayor) grabbed national headlines when he suggested that those who did write their name and social security numbers on their arms so they could be identified after the hurricane should the worst happen to them trying to survive the hurricane.
"We hate to talk about things like that," Mayor Pro Tem Patrick Rios said in a Friday press conference. "It's not something we like to do but it's the reality, people don't listen."
And now that the hurricane has hit the town of Rockport, the city's warnings that those who chose to stay risked death may have been depressingly prescient.
Hurricane Harvey is expected to continue for several days, so damage and death like what happened in Rockport could continue. Officials in Rockport believe there could be other fatalities in addition to the one man identified. The storm is reportedly continuing to head northwest at a speed of 2 miles per hour, so it could continue to hit the town of Rockport hard as well as move on to hit other municipalities in the area as well.
According to Texas Governor Greg Abbott, search and rescue operations have already begun along the Texas coast. Mayor Wax also confirmed that the wall of a hotel fell in, and that the local high school and several local businesses sustained serious damage.
"There's been widespread devastation," Wax told CNN.
According to ABC News, members of the Rockport Fire Department, several of whom stayed in town to assist with aid to those who decided to wait out the storm, spent Friday hunkered down within the firehouse, unable to leave and help others in the community due to the storm.
The storm is sure to continue to be bad, and there will continue to be damage in its wake. Hopefully the death toll does not rise too high beyond the one death confirmed so far.