One Direction Members Celebrated The Band's 8-Year Anniversary By Thanking Their Fans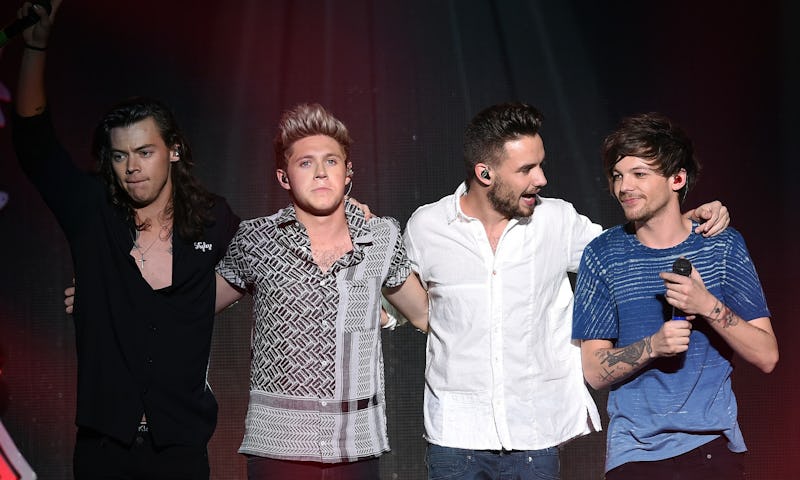 Kevin Winter/Getty Images
It's been more than two years since One Direction took an indefinite hiatus from their music-making ventures, concluding what was an objectively epic six-year run in the international limelight. Those feeling an existential crisis coming on re: the passage of time might want to take a deep breath. Because, as of Monday, July 23, One Direction is celebrating its 8-year anniversary. And, in honor of this particularly special day, the band (or, the official Twitter account associated with the band, anyway) is paying homage to its rich legacy with a hashtag that manages to convey the fact that this is a really big deal in just a couple of syllables.
That hashtag, quite appropriately, is #8YearsofOneDirection. It was first tweeted out last Friday, July 20, by One Direction's official Twitter account. The tweet mostly served as an announcement of sorts (to 1D fans, but also to the band's members themselves, it would seem), alerting the greater media-consuming population of the band's anniversary. Suffice to say, fans have been waxing nostalgic on Twitter pretty much ever since then. But it wasn't until three days later, in the wee hours of Monday morning, July 23, that the beloved UK-bred musicians who brought us One Direction in the first place decided to share their thoughts on the milestone. With the exception of Zayn Malik — whose departure from 1D back in 2015 gave way to his own solo career — all the One Direction boys fans came to know and love have now offered their two cents on the anniversary.
Liam Payne and Louis Tomlinson's comments came first Monday morning. Judging by their respective tweets in response to the news of One Direction's 8-year anniversary, it sounds like both musicians' feelings about the big milestone might be best described as seriously grateful — to fans for their support, but also, to each other. "What an incredible 8 years it's been with my brothers!" Payne wrote in his celebratory tweet. Following Payne's duly appropriate (not to mention duly sweet) shout-out to his bandmates, the musician went on to thank "all the fans that are still supporting and following our journeys" before signing off with a "Love LP" and a red heart emoji.
Several hours earlier, Tomlinson had shared a similar message with his own Twitter following, expressing his utmost gratitude "to every single person who's ever supported us." It's probably also worth noting here that Tomlinson — whose refreshing penchant for straightforwardness has earned him almost as much love from fans as his music career — also infused a bit of his famed candidness into his #8YearsofOneDirection response. Which is mostly to say, to all those One Direction fans who can't believe it's been almost a decade since the X-Factor season that initially catapulted the band toward international success: It sounds like Tomlinson can't believe it, either. "Where has the time gone!?" wrote Tomlinson, starting off the first of two eventual early-morning tweets in honor of 1D's 8th birthday.
Of course, to ensure that none of the really critical memories from One Direction's glory days are lost on fans after all these years, Tomlinson followed up his original tweet with a little reminder of his personal contributions to the band. Specifically, those contributions that materialized into some serious chart-toppers fans are still listening to on repeat, as much as eight years later. ("What Makes You Beautiful," anyone?)
The band's more seasoned aficionados might already know that Tomlinson served as one of One Direction's primary songwriters throughout their active music-making days. That's a pretty massive accomplishment, no doubt, given the enduring popularity of the group's standout tracks. It also seems to explain why, in his follow-up tweet, Tomlinson quipped proudly, "And remember, if it's by One Direction and it's a banger, I probably wrote on it."
Niall Horan, the Irish singer-songwriter who's been pursuing a solo music career since One Direction announced its hiatus back in 2016, also took to the social media platform Monday morning to join in the nostalgia-laden celebration. "Wow! 8 years of amazing memories with the lads," wrote Horan, after kickstarting his tweet with the hashtag that gave rise to this whole memory-sharing ordeal in the first place.
Continuing, Horan kept his "thank you's" to a minimum, though the musician's gratitude, rest assured, felt nonetheless sincere. "Thank you so much for standing by us for all this time," he finished, ostensibly addressing the droves of diehard 1D fans who, apparently, haven't lost sight of their ardor for the band (or its ultra-beloved members), even after all these years. And, if the current 1D-centric hullabaloo on Twitter is any measure of fans' commitment to the group, it's probably safe to assume they'll be around for many One Direction anniversaries to come.