Liam Payne Just Teased A 1D Christmas Reunion & It's Literally All I Want This Year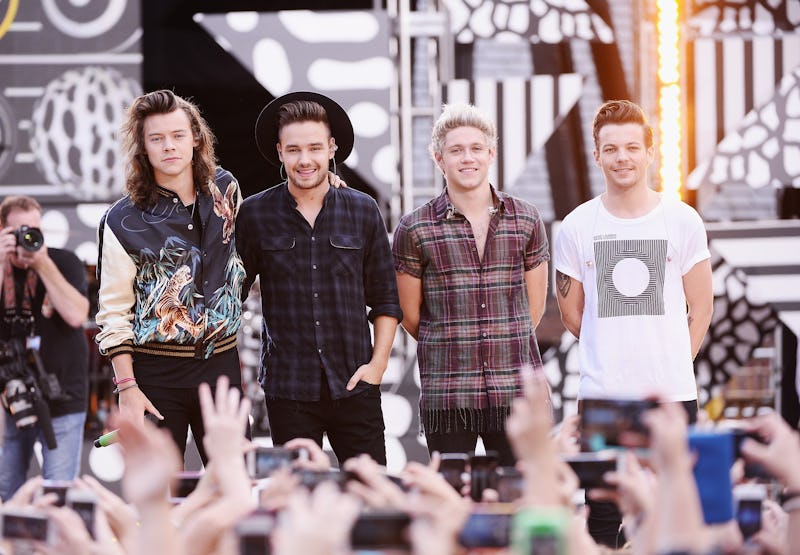 Stephen Lovekin/Getty Images Entertainment/Getty Images
Christmas is a time for miracles, and for Directioners it's a time to hope for any possible inkling of a reunion after such a long hiatus. I mean, if the Spice Girls can spend the majority of this year meeting up under a shroud of secrecy and planning a comeback, I'm sure One Direction can do something similar in the month of everything festive. So, are One Direction planning a Christmas reunion?
Not in the way you may be thinking, sadly. Before taking to the stage at Capital FM's Jingle Bell Ball, Liam Payne stopped by for a chat with presenter Roman Kemp, which is where the reunion rumours began to surface once again.
After talking about his four-hour FaceTime sesh with Niall Horan (oh how I wish I were there), Payne was asked whether he was planning on spending time with the rest of the boys over Christmas. Payne told Kemp he hoped to, but it's all down to their hectic schedules. "Everyone's so busy, it is what it is. I obviously saw Louis [Tomlinson] over the course of X Factor," he said. "I haven't seen Harry [Styles] in a while now but I think everybody's in London at the moment, which is cool, for the first time. The closest we've been in the band for a while."
You notice anything peculiar? No Zayn Malik. Payne seemed to sidestep mentioning Malik in his festive visitations, and that might just be because of a rumoured feud between the boys, as The Sun reported. Malik dropped his latest single 'Good Years' on Thursday (Dec. 6), which featured a string of lyrics that some fans found to be a slight dig at his time in One Direction. "Too much drugs and alcohol, What the hell were we fighting for, I close my eyes and see a crowd of a thousand tears, I pray to God I didn't waste all my good years," he sung.
A few hours after the track dropped, Louis Tomlinson posted a tweet with no context that simply read: "Proper confused. What a hypocrite!" In the feed below the tweet, it looked as though fans took this to be Tomlinson's opinion on 'Good Years, sparking rumours that Malik and the boys haven't been on the best terms as of late.
Anyway, enough of rumours and feuds, lets get back to the prospect of there being a magical One Direction reunion sometime in the near future. While Payne's comments at Capital FM were referring how he plans on spending time with his former bandmates over Christmas, it was only a couple of months ago that Payne referred to the definite possibility of a reunion at the BMI London Awards, as Irish News reported.
"I saw Louis [Tomlinson] recently for something that I cannot say. I've been in touch with Niall [Horan] and Harry [Styles] a little bit," he said. "I think it would be nice if we could get back together, but we'll see. In time. All in good time."
Payne certainly knows how to tease Directioners, doesn't he?