I Won't Let You Get Away With This: An Open Letter To Donald Trump From Alyssa Milano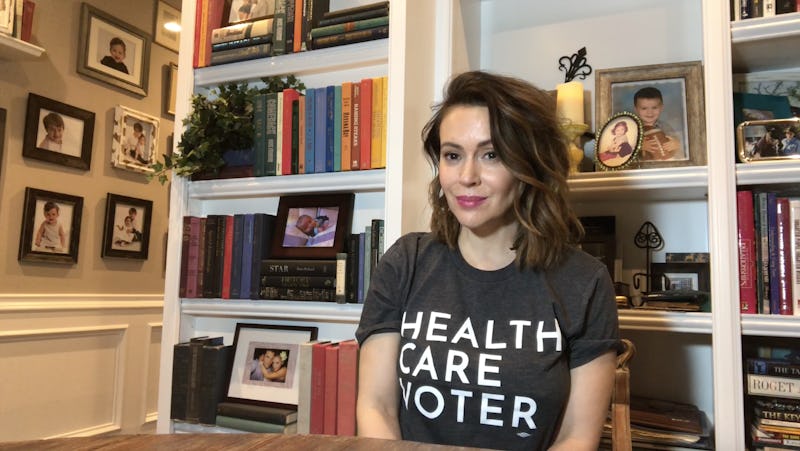 Courtesy of Alyssa Milano
Dear President Trump,
You don't intimidate me. And you definitely don't intimidate the millions of health care advocates who are going to vote Republicans out of office in November.
Ever since becoming president, you and the Republican Party have made it your priority to raise the costs of Americans' health care by any means necessary — but the American people are not backing down.
A few months into office, you tried to destroy our entire health care system in Congress. Your plan would have padded the pockets of the wealthiest 1 percent by slashing over $800 billion from Medicaid and the health care that millions of working families rely upon. It would have raised health care costs up to 850 percent.
Your plan would have cost American jobs and American lives, and you tried to convince us that we deserved it.
Thanks to the voices of millions of health care advocates across the country, you and the Republican Party were stopped, but your attack on our access to health care has only continued.
In December, you and congressional Republicans pushed the GOP tax bill through Congress, giving even more tax breaks to millionaires, billionaires, and wealthy corporations by forcing working families to foot the bill.
And in just the last few months, you finalized junk insurance (the same scheme that nearly killed my friend Laura Packard) and nominated a man to the Supreme Court who has refused to defend the 130 million Americans with pre-existing conditions and the right to safe abortions that all women deserve.
The American people overwhelmingly disagree with your attacks, but time and time again, you refuse to listen to our voices.
This is the reality that you have forced on the people you were elected to serve. For the past year and a half, you and the Republican Party have tried to get your way and raised health care costs for millions of Americans by using fear, intimidation, and false statements.
But no more.
The American people are stronger than you, and we won't let you get away with threatening our families, our neighbors, and our communities any longer.
In the face of your hate, we are not going anywhere.
There are two months until the midterm elections, and health care voters are not backing down. Across the country, we are are speaking out, sharing our stories, and mobilizing our fellow Americans to vote. Today, there are thousands of health care advocates literally taking to the streets in rallies and events across the country to stand up for our access to affordable health care.
And in 60 days, there will be millions of us marching to the polls to raise our voices even louder.
We are mobilizing, because when you attack people with pre-existing conditions — whether they are black, brown, or white — you attack all of us.
You attack children with disabilities like my friend Elena Hung's daughter, Xiomara, who was labeled a liability to insurance companies the day she was born. You attack people like myself who live with mental illness and who fight every day for the treatment that we deserve.
And you attack brave Americans with ALS like my friend Ady Barkan, who is spending the last months of his life calling you and congressional Republicans out for attacking our health care.
But in the face of your hate, we are not going anywhere.
I am a woman, I am a health care voter, and I cannot wait to submit my ballot and change the tide in November.
Sincerely,
Alyssa Milano
Alyssa Milano is an actor, activist, and co-chair at Health Care Voter.
This op-ed solely reflects the views of the author, and is part of a larger, feminist discourse.