This Simple Product Solves The Most Annoying Thing About Getting A Gel Mani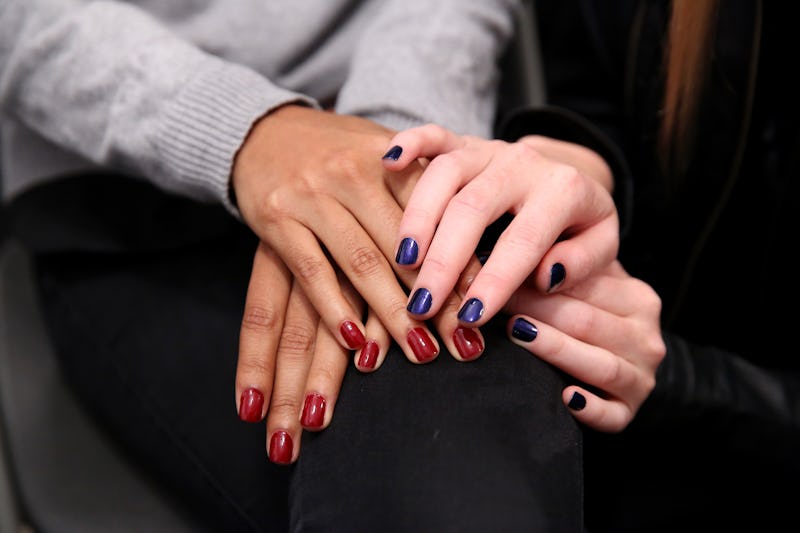 Cindy Ord/Getty Images Entertainment/Getty Images
Gel manis are easy to love and hate. OK, maybe "hate" is too strong of a word. But there are a few elements of gel manis that are ridiculously annoying. Like waiting for old gel polish to soak off, which sometimes dries out skin and takes forever.
That said, gel manicures deserve love for their long-lasting, lustrous look. They're also efficient and budget-friendly. As a gel mani lover, I only need to get a fresh manicure every other week, since the polish remains relatively chip-free and mostly in tact for approximately 14 days.
But updating gel manis can become laborious and time-intensive due to the aforementioned soaking off of a previous manicure's polish. That process can take 10 minutes or longer, making a manicure appointment a timely affair -- and making me fidget.
But nail care behemoth OPI is looking to change the gel mani game by reinventing the infamous process. The brand created a new product that shortens gel polish removal. It's all thanks to a new innovation called ProHealth. The product is both a base and a top coat -- and it's super cool.
When used in concert with OPI's GelColor polish, ProHealth helps trim the previous polish removal time by seven minutes or so.
Women's Wear Daily reports that the length of time it takes to soak off old gel color is sometimes what deters women from getting a gel mani at the salon. And we believe it.
This product aims to eliminate that deterrent for newbies and the annoyance for those who are already gel mani devotees. ProHealth is said to decrease the soak off duration to seven minutes, which is about half of the current time.
That allows nail techs to spend less time removing an old mani and more time focusing on creating a beautiful new one. It also reduces time in the manicurist's chair while emails and texts pile up.
OPI has recruited influencer Hannah Bronfman to back this innovation, and she seems really into it.
Gels are a supremely popular service, and one that continues to grow. This innovation was definitely needed to make gel manis less of a headache. "Gels have reinvigorated the salon business," OPI guru Suzi Weiss-Fischmann told WWD. "The service isn't going away."
It's just getting a much-desired update!