Oprah Gave Mindy Kaling's Baby The Most Amazing, Oprah-Level Present Ever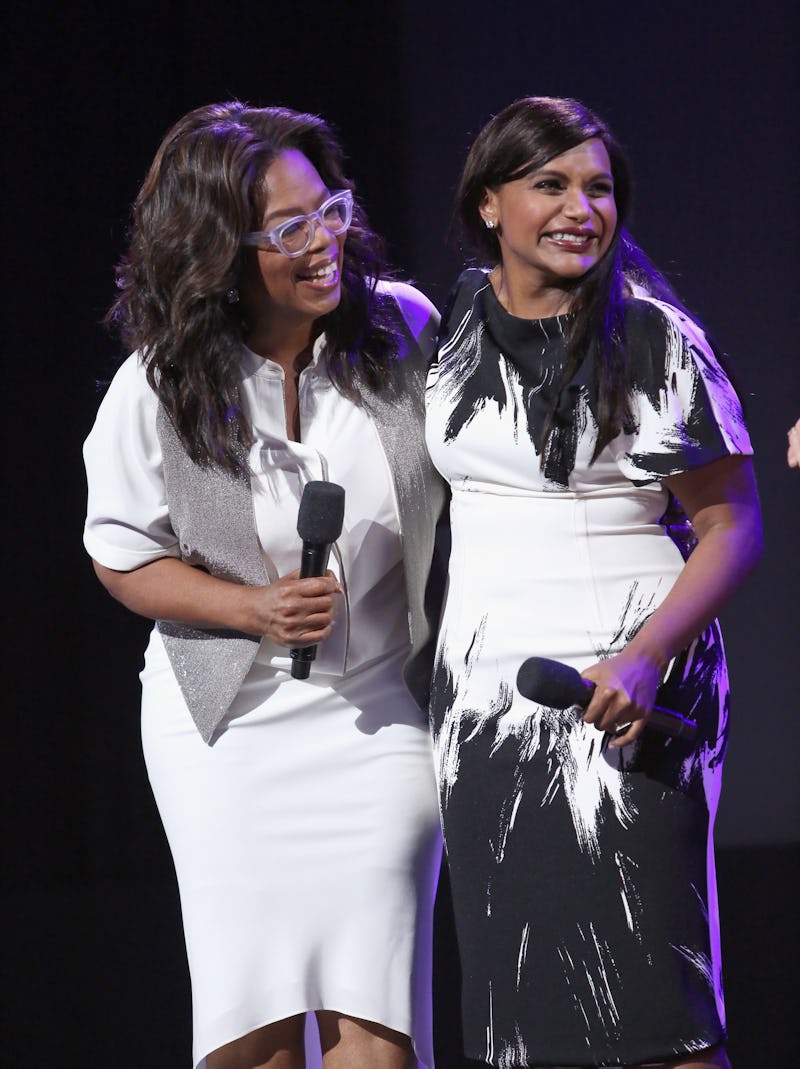 Jesse Grant/Getty Images Entertainment/Getty Images
When a parents welcomes a baby, gifts from friends are a given. And if your friends are the cast of A Wrinkle in Time, odds are the presents will be pretty magical. On Sunday, Mindy Kaling talked about the baby gift Oprah Winfrey gave her, and just how amazing it is. Kaling discussed the present and its dramatic delivery in a sit-down conversation with Winfrey and their co-star Reese Witherspoon for USA Today, where they were promoting the upcoming release of their film. Kaling gave birth to her daughter, Katherine Kaling, in December of 2017, and while she likely received plenty of well-wishes, this particular gift stood out.
When Kaling was informed Winfrey would be dropping off a gift for her newborn daughter, she expected something simple. "I got a call from my assistant. She said, 'Oprah's assistant contacted me, she'd like to drop off a present.' I'm thinking, that's so nice, like, probably flowers. I had a kid, I'm a single mom. That's really nice Oprah remembered," Kaling told the publication. In typical Oprah fashion, the gift was much more unique and meaningful. The talk show host and actor gifted her co-star's daughter a castle-shaped bookcase with over a hundred essential children's books. The books were even personalized, and each said "Katherine's Book Club."
The arrival of the present was equally exciting. Kaling thought an assistant would drop it off, but the delivery was much more of an event. When she was told a U-Haul truck would be arriving, she knew it was going to be something special. "All you want in life is to hear that two men in a U-Haul truck are coming to your house because Oprah sent them," the Mindy Project creator said in the interview. "I was supposed to go to work that day [but I was like], I gotta be here."
Winfrey and Kaling became close on the set of the highly-anticipated upcoming A Wrinkle In Time, directed by Ava DuVernay. Winfrey's generous gift isn't a surprise, as the whole cast was reportedly excited for the star to become a mother. According to People, Kaling dropped the news to her co-stars at Disney's D3 Expo in July. "That's when she told me. My mouth dropped," Winfrey told the publication. "'What did you just say?'" she said. "'Oh, Oprah, I don't think you know. I'm 5 months pregnant.' And I said, 'Whaaat?!"
A month later, Winfrey accidentally told the secret to the press. In an appearance on The Ellen DeGeneres Show in October, Kaling addressed the big news. "At first it was like, 'OK, if anyone was going to announce big news about your private life, Oprah Winfrey is the person,'" she told DeGeneres during the talk show appearance. "You can't complain that much about it. You also can't be like, 'Hey, Oprah, zip it.' Because she's almost like a religious figure." During the same appearance, Kaling revealed she was having a girl.
If Winfrey felt bad about spilling the beans, there's definitely no hard feelings after this elaborate gift. The handmade castle bookcase might have impressed Kaling, but it wasn't even as perfect as Winfrey hoped. She told USA Today that she wanted the dollhouse to resemble the treehouse that Kaling's A Wrinkle in Time character, Mrs. Who, lives in. "Now it only looks like a beautiful castle," Kaling said in response. She also confirmed that it was more beautiful than any professional dollhouse she'd seen before, and that it is hand-carved.
When the gift arrived, Kaling couldn't wait to show her daughter. "I held my baby up to it and I said, 'Did you see what Miss Winfrey did for you?'" she told USA Today. The titles of the books on the shelf weren't discussed, but Madeleine L'engle's A Wrinkle in Time seems a safe bet. Some day, Katherine Kaling will be able to read the book, and then watch her mom, and Oprah, star in the film.