This Woman Governor Is Taking A Stand Against Trump's Latest Border Move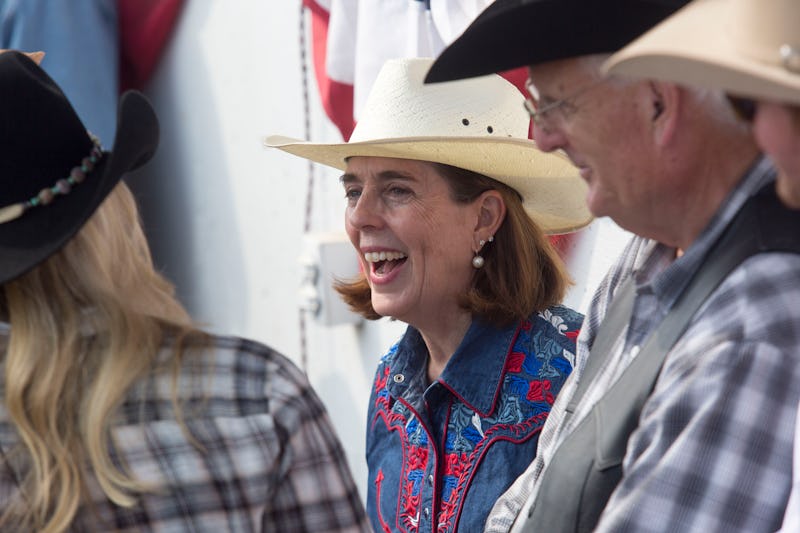 Natalie Behring/Getty Images News/Getty Images
President Donald Trump's plan to use the National Guard to bolster security along the U.S.-Mexico border is facing some resistance from at least one state leader. Concerns regarding a caravan of Central American migrants traveling from southern Mexico reportedly pushed President Trump to request that National Guard troops be deployed to the border earlier this week. But Oregon Gov. Kate Brown has said she'll refuse to send her state's troops to do the president's bidding.
"If @realDonaldTrump asks me to deploy Oregon Guard troops to the Mexico border, I'll say no," Brown tweeted Wednesday. "As Commander of Oregon's Guard, I'm deeply troubled by Trump's plan to militarize our border."
After repeatedly railing about the need for increased border security on Twitter, Trump signed a memorandum ordering the secretary of defense to request that National Guard troops be deployed to the U.S.-Mexico border. In his memorandum, Trump said the National Guard would support the Department of Homeland Security in "securing the southern border and taking other necessary actions to stop the flow of deadly drugs and other contraband, gang members and other criminals, and illegal aliens into this country." He characterized the situation at the border as having reached "a point of crisis."
"During the administrations of Presidents George W. Bush and Barack Obama, the National Guard provided support for efforts to secure our southern border," President Trump said in his memorandum. "The crisis at our southern border once again calls for the National Guard to help secure our border and protect our homeland."
According to CNN, key details pertaining to the deployment of the National Guard — such as how many troops will be deployed, for how long, to where, and at what cost — have yet to be finalized. And it appears some state leaders haven't been kept in the loop about the president's plan, either. "There's been no outreach by the President or federal officials, and I have no intention of allowing Oregon's guard troops to be used to distract from his troubles in Washington," Brown wrote in a separate tweet published Wednesday. It is unclear if President Trump will ask states that are not located along the U.S.-Mexico border to deploy National Guard troops to the border.
So far, Brown appears to be the only governor to announce plans to refuse the president's request for National Guard troops, although Oregon's southern neighbor may also buck Trump's request. California's Gov. Jerry Brown has often clashed with President Trump over immigration issues. While Republican governors in Arizona, Texas, and New Mexico have said they welcomed and supported President Trump's request to deploy National Guard troops to the border, state leaders in California have appeared more cautious.
"This request — as with others we've received from the Department of Homeland Security, including those for additional staffing in 2006 and 2010 — will be promptly reviewed to determine how best we can assist our federal partners," California National Guard spokesman Lt. Col. Tom Keegan said in a statement issued on the governor's behalf, according to The Sacramento Bee. "We look forward to more detail, including funding, duration and end state."
However, under federal law National Guard troops are prohibited from carrying out domestic law enforcement duties. Meaning, they're unable to apprehend or detain people attempting to cross the border illegally. Former Assistant Secretary of Defense Todd Weiler told Vice News that National Guard troops will instead likely serve in support roles. What's more, recent data from the U.S. Border Patrol shows the number of border crossings have been on the decline, recently hitting the lowest level seen in the last 46 years.