Oregon Just Passed The Most Pioneering Abortion Bill In Its History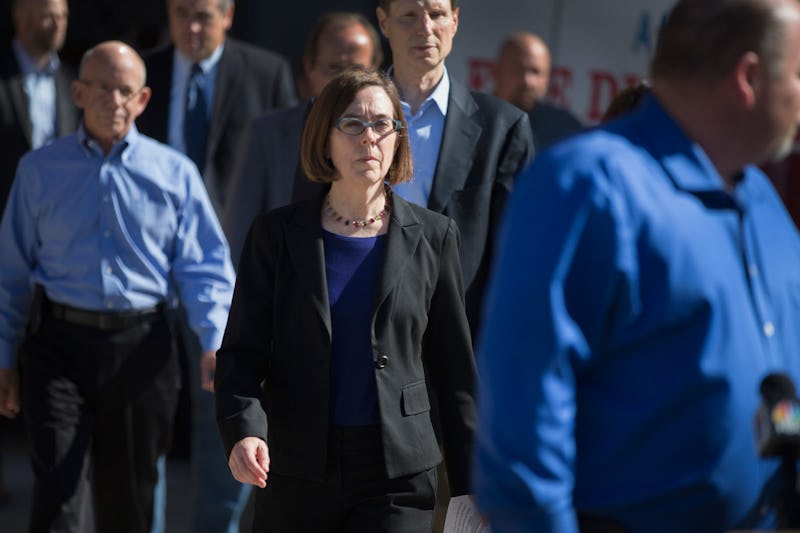 Scott Olson/Getty Images News/Getty Images
You've probably noticed that headlines have been pretty dark for the past several weeks. Here's something a little different: Oregon just approved a new abortion access bill that's one of the most progressive in the country. Gov. Kate Brown signed the bill into law Tuesday, breaking new ground for reproductive equality.
The new law mandates that health insurers cover birth control and abortion without charging a co-pay. If you don't have insurance or you're on Medicaid (which won't pay for abortion care due to the Hyde Amendment), the new law sets aside state funds to help pay for your abortion or birth control. Even non-citizens will be able to access care for free, meaning 48,000 more women in Oregon will now have affordable and reliable healthcare.
Anti-choice groups quickly derided the decision, claiming that it showed "bias" on Brown's part.
"Today Gov. Brown demonstrated her extreme bias in favor of the abortion rights lobby, disregarding thousands of future Oregonians whose lives have been further endangered by making their elimination 100 percent expense-free," Gayle Atteberry, the executive director of anti-choice group Oregon Right to Life, said in a statement.
The statement also claimed that "Gov. Brown and Oregon Democrats are endangering billions in federal funding because HB 3391 violates the federal Weldon Amendment," a recurring character in federal Health and Human Services appropriations bills that prevents states from using HHS funds to pay for abortion. Under the Obama administration, the amendment wasn't enforced, but anti-choice groups have been clamoring for HHS Sec. Tom Price to crack down on the legal loophole.
This bill is especially welcome news for pro-choice activists, who have watched states erode reproductive rights to near nonexistence in some places over the last several years. Since 2011, Republican state legislatures have passed hundreds of restrictive laws, while some states have attempted to ban abortion altogether. In fact, Texas governor Greg Abbott also signed into law on Tuesday a bill that will ban health insurers from including abortion coverage in their standard plans. Like many things, the country is becoming increasingly segmented, with some people enjoying unprecedented access to reproductive care while others suffer the consequences of limited care.
The new law should provide interesting data within the next several years that may help expand some of its stipulations to other states. If Oregon's new system proves effective at caring for its citizens, it could be the starting point for states to reconsider their current laws regarding reproductive rights.