This Super Useful Origami Dress Folds Up Super Tiny So A Chic Outfit Is Always With You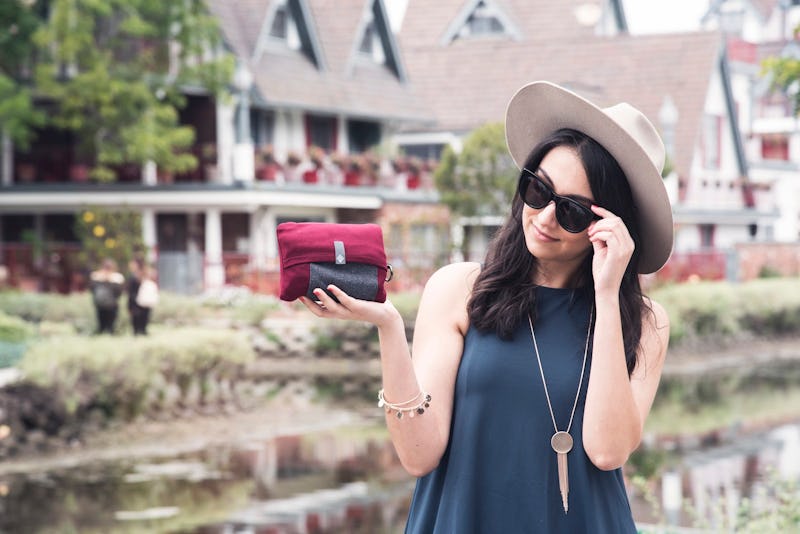 Courtesy ORIGAMEI
We've all been there: you're invited somewhere fun, but don't have time to go home and grab an outfit. Well, your problem has just been solved. Origamei created a dress that can be folded into a clutch, so you'll never be without an outfit ever again. This is fashion meets function at its best.
Every now and then a product so good comes along that you wonder where it's been your entire life. Origamei found a way to make a wrinkle-free dress that can be folded and stored for the moment that you need it. And while you're not using it, it can be made into a clutch that can hold your cards, lip balm, and more.
The secret is the wrinkle-resistant, lightweight, four-way stretch fabric that looks just as good all folded up as it does when you wear it. It's not just the concept that's great, either. There are three different styles of dress that you will instantly fall in love with.
Although all of them are minimalist, they are perfect for just about every occasion. There's the T-Shirt Dress, Tent Dress, and Layered Dress in four different colors — black, red, blue, and pink. If the functionality isn't enough to make you want to buy, the dress alone will have you swooning.
As of Aug. 9, Origamei is not currently available on a website for ready-to-wear purchase. It's currently still in it's KickStarter stages, but it's doing extremely well. The brand only aimed to raise $10,000 for production. People liked the idea so much that it is currently up to $85,058 with 848 backers.
You still have until Aug. 23 to invest in the product. There's an option to pledge anywhere from $5 to $105, and the more you pledge the more dresses that you'll get when they finally launch. You don't have much longer to wait for that, either. The dresses will get sent out in January 2019.
The only downside, according to the website, is that the dress only goes to size 16. The brand replied to the comment saying that the dress is only in its first stages, so it will need to meet the goal of $85,000 to add 2X and 3X to the site. Some people were worried, but the brand has now met the goal and the larger sizing is on the way.
This is one heck of a way to start a brand. The project has been backed 800%. That is pretty darn amazing. With almost two weeks left to go, there's no telling how much more funding the project will bring in.
It will be exciting to see where else the brand plans to expand with its foldable dresses. If the comments are any indication, the brand doesn't plan to slow down with colors and styles anytime soon. Good things are coming your way fashion-wise in 2019.
Some things in life are worth waiting for, and this dress is one of them. Great moments happen on KickStarter, my friends.