The Original Big Bird From 'Sesame Street' Is Retiring & Fans Are Not OK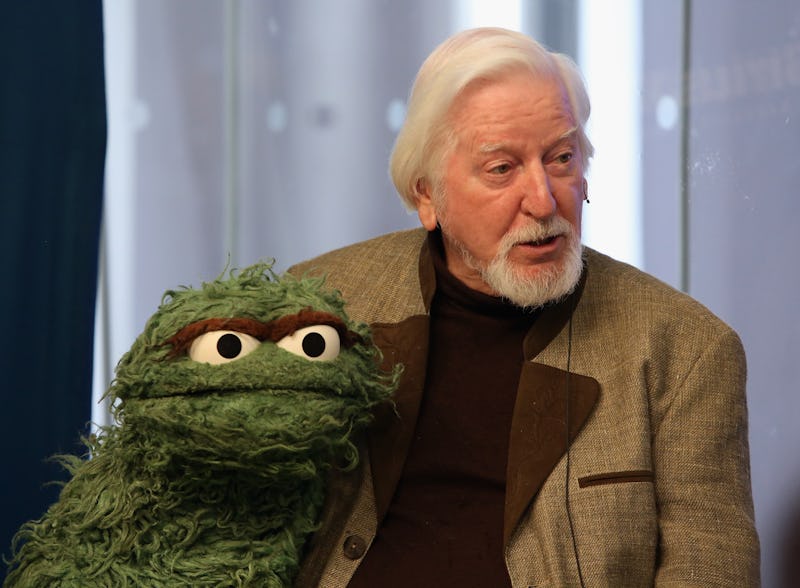 Robin Marchant/Getty Images Entertainment/Getty Images
It's impossible to look back on your childhood and not think of Sesame Street. New cartoons and animations may come and go, but this PBS series will forever remain a constant in any kid's upbringing. But behind every puppet that we've come to know and love, there's an actor helping to bring these characters to life. And now, after almost 50 years, the show is saying goodbye to one of its original cast members. The original Oscar the Grouch and Big Bird actor, Caroll Spinney, is retiring from Sesame Street after playing our favorite green, garbage-loving gremlin and yellow-feathered friend since the show premiered back in 1969.
Spinney, who is now 84, released a statement about his decision to step down from the two roles. In the undeniably heartfelt message, the actor said goodbye to his iconic character and encouraged fans to embrace the new cast members that'll be replacing him. The full statement, as reported by Entertainment Weekly, reads as follows:
"Big Bird brought me so many places, opened my mind and nurtured my soul. And I plan to be an ambassador for Sesame Workshop for many years to come. After all, we're a family! But now it's time for two performers that I have worked with and respected — and actually hand-picked for the guardianship of Big Bird and Oscar the Grouch — to take my alter-egos into their hands and continue to give them life."
As for who these replacements are, Big Bird will now be voiced by Matt Vogel, who previously took over Kermit the Frog from Steve Whitmire. Meanwhile, Eric Jacobson, who currently voices Grover, Bert, and Guy Smiley as well as Miss Piggy and Fozzie Bear from the Muppets, will be taking over as Oscar the Grouch. But while these two seem more than qualified, it's hard not to feel like it's the end of an era. In fact, Spinney made such a lasting impact on the show that the Sesame Workshop released a sweet video tribute in his honor, showcasing his many contributions throughout the years.
"Caroll and Big Bird are very similar in their genuine niceness and sweetness and lovingness," said Sesame Workshop cofounder, Joan Ganz Cooney, in the video. Spinney went on to win a total of six Emmys as well as a Lifetime Achievement award, and a Grammy for his work on Sesame Street, according to BuzzFeed News.
"Before I came to Sesame Street, I didn't feel like what I was doing was very important. Big Bird helped me find my purpose," Spinney said in the video. "Even as I step down from my roles, I feel I will always be Big Bird. And even Oscar, once in a while! They have given me great joy, led me to my true calling — and my wonderful wife! — and created a lifetime of memories that I will cherish forever."
Upon hearing the news of his retirement, many fans have tweeted out messages of love for Spinney, thanking him for making their childhood so full of happy memories.
Spinney's last day will be on Thursday, according to The New York Times, and looking back on his lifelong career of making children laugh and learn, he appears to have few regrets. "I always thought, How fortunate for me that I got to play the two best Muppets?" he told the outlet. "Playing Big Bird is one of the most joyous things of my life."
And it's been a joy to watch him do it.