Oscar & Kevin From 'The Office' Trolled Angela In A Way Only True Fans Will Appreciate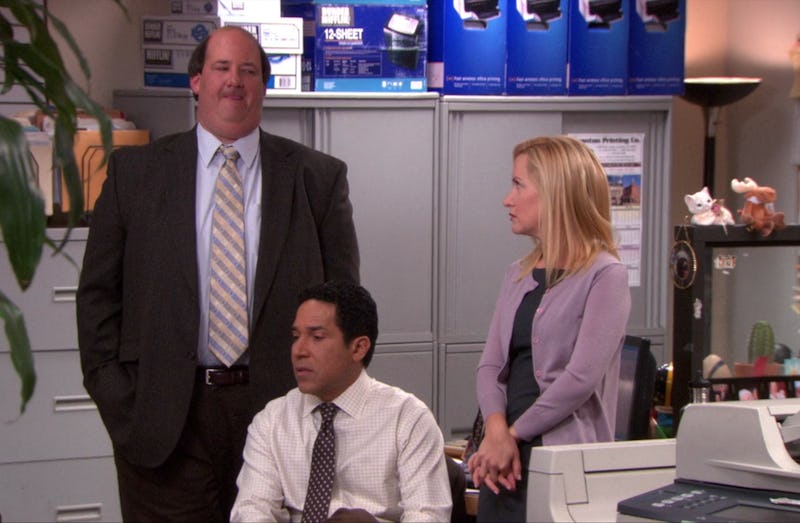 NBC
The accountants from The Office haven't stopped messing with each other since the series ended, and here's the proof. Oscar and Kevin from The Office trolled Angela with the most hilarious text message that only fans will appreciate. Brian Baumgartner and Oscar Nuñez sent Angela Kinsey a selfie, along with a message that will make die-hard fans LOL. Thankfully, Kinsey was nice enough to screenshot the text and share it with her followers on Thursday.
Baumgartner and Nuñez texted Kinsey a selfie and wrote,
"We r winners u are a loooooserrr. Just kid-ding xoxo."
Kinsey captioned her screenshot on Instagram,
"Just got this text from Oscar... I think I need to teach them how to take a selfie. On my way fellas! #theaccountants."
The actors who played Kevin and Oscar in the beloved NBC comedy seemed to have been inspired by the Season 8, Episode 1 episode, "The List," when crafting their text to Kinsey. As fans most likely recall, the episode revolved around a mysterious list Robert California (James Spader) made that had a group of Dunder Mifflin employees' names listed on one side of a piece of paper and the remainder of the Scranton branch employees' names on the other side.
No one could figure out what the list exactly meant, until Robert invited the left side of the list (Jim, Dwight, Phyllis, Toby, Angela, Kevin, Oscar, and Darryl) out for lunch. During their outing, Robert revealed he found the left side of the list to be "winners" and the right side (Pam, Kelly, Meredith, Erin, Andy, Stanley, Ryan, Gabe, and "Old Man," aka Creed) of the list to be "losers."
After Robert revealed the meaning behind his list, Kevin texted everyone else still at the office (the right side of the list), "Suck it, losers."
And it seems like Baumgartner and Nuñez couldn't help themselves by channeling the episode. How funny is that?
Baumgartner also posted another selfie with Nuñez on Instagram on Thursday. He wrote next to the photo, "Romantic dinner in Philly. I may get lucky tonight. #OscarNunez #TheAccountants." His caption sounds like something his Office character would totally say.
The reason the former co-stars are hanging out is because they are in Philadelphia, Pennsylvania for the 2018 Keystone Comic Con. Kinsey is also going to be there, hence her Instagram response, "On my way fellas!" Creed Bratton (Creed) and Leslie David Baker (Stanley) will also be in attendance for "The Office Reunion Panel" held on Saturday, Sept. 15. During the special Q&A panel, they will all discuss their favorite moments from the hit series and the comedy's huge success, according to the official Keystone Comic Con website.
On Sept. 12, Baumgartner shared information about Keystone Comic Con and wrote, "Well look who is going back to Pennsylvania!!!!! Will we venture the 2 hours to Scranton and have drinks at Poor Richards? Will I bartend at The Bog? Who is to say... but we all WILL be hanging together in Philly. Go to @keystonecomiccon for more info! I'm scared for this folks- somebody hold me."
Keep your fingers crossed that they do venture back to Scranton. Let's hope they also all share their reunion on social media for the fans who won't be in attendance. If they don't, they really will all be losers. (Just kidding.)