Your Fave Hair Brand Now Makes Fragrance (So You Can Stop Spraying Dry Shampoo On Your Body)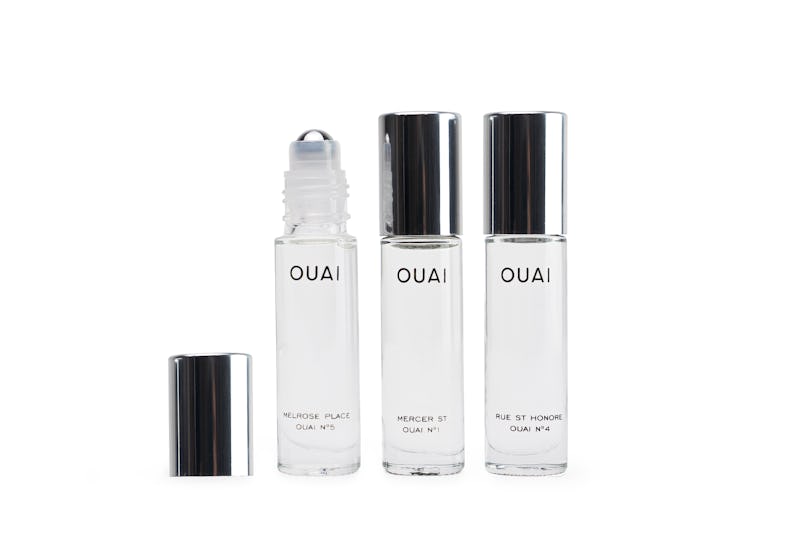 I remember the first time I smelled OUAI'S Wave Spray (a weightless texturizing hair mist) as clearly as I remember most of the major events of adulthood. There's no fragrance quite like it, a mixture of bergamot, Italian lemon, rose de mai, magnolia, lily, blackberry, violet, cedarwood, amber, patchouli, sandalwood, and white musk. Yes, it's a hair product, but it's also a scent that's elevated enough for your entire body. In fact, all of OUAI's products smell like they'd have a place behind a perfume counter. I am not ashamed to admit that I have misted OUAI Wave Spray all over my person and left just a bit of shampoo in my hair for the scent, stickiness be damned.
Apparently, I'm not the only one. After hearing strong customer feedback and demand for fragrances like the ones used in their hair products, OUAI decided to make it happen. The brand expanded into fragrance, utilizing the popular scents found in its hair products.
"A lot of what we do at OUAI involves a lot of crowdsourcing to make the products that our followers & consumers want, actually come to life," Jen Atkin, Celebrity Hairstylist, tells Bustle. "Having a large audience has allowed us to listen to what women really want and [get] their feedback on what products OUAI should come out with next. We received an unbelievable amount of [messages] from our followers asking us to create fragrances from our Rose Hair & Body Oil, Shampoos and Dry Shampoo scents!"
The scents are available in a set of three rollerballs, exclusively on theOUAI.com. The names of each scent correspond with OUAI's signature scents, and are named after Atkin's favorite places. Mercer St. smells like OUAI Nº1, with notes of Italian lemon, Turkish rose, jasmine, iris, lily, and white musk — this fragrance is found in all OUAI Shampoos. OUAI Nº4 has notes of violet, gardenia, ylang ylang, and white musk — the same scent in the brand's, Curl Jelly, Matte Pomade, Medium Hair Spray, Finishing Creme, and Memory Mist. OUAI Nº5 is all about rose and bergamot with notes of lychee and cedarwood. It smells like OUAI Treatment Masque and the brand's Hair and Body Oil.
My personal favorite from the brand's olfactory-pleasing lineup, OUAI Nº2, is not available in rollerball form...yet. Given the popularity of these scents and the brand in general, it's not hard to imagine the fragrance line expanding — particularly because Atkin is a major fan of the scents herself.
"I'm obsessed with all of them," Atkin says. "But I personally wear Mercer St. every day. Nothing is better than someone complimenting how good your hair smells."
Actually, there is one thing better than someone complimenting how good your hair smells: Being able to make your whole body smell like your hair. With OUAI fragrance, this can happen — no need to spray down your limbs with dry shampoo, either.