Olly Rix Has Hinted Bones In 'Our Girl' Might Not Be Dead After All — Exclusive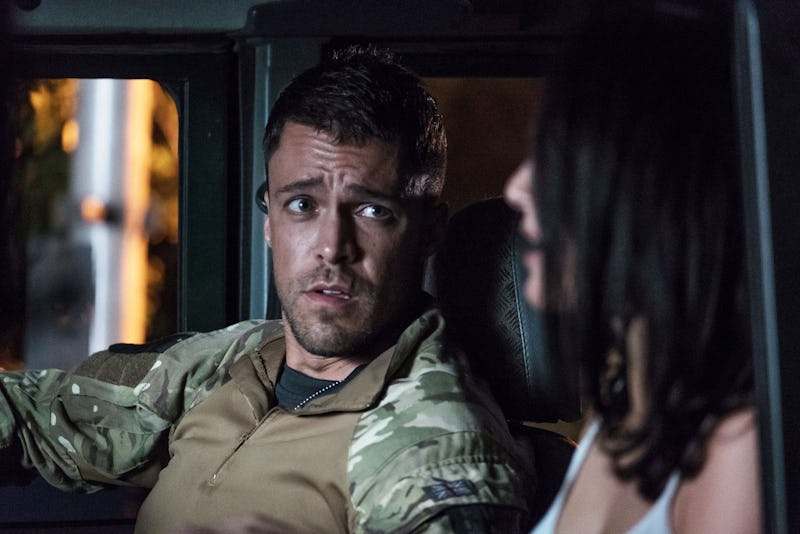 Marcuz Cruise/BBC
When Bones (Olly Rix) arrived in Our Girl, no one knew quite what to think. Fans were still reeling from the shock death of Georgie Lanes's love interest Elvis, and his replacement as the head of special forces was pulling no punches. His and Georgie's relationship got off to a rocky start, and continued to be turbulent throughout part two of Series 3. But despite his tough exterior, he managed to win fans over and when he appeared to be killed off, lots of viewers weren't happy. But, it turns out, Our Girl's Bones might not be dead after all.
The show is known for playing pretty fast and loose with viewers' emotions and the end of last series was no exception. Just a few episodes after being introduced to Bones, he was appeared to be killed off when a suspect package exploded. But is he really dead? This is Our Girl after all, and if there's one thing viewers can expect, it's surprises. When I ask about a return to the show, Rix remains coy but does comment: "I could be one of the surprises. I think there could be a very interesting pay off down the line."
Hmm intriguing. As for looking to the future, if Bones isn't actually dead, could his return cause a rift in Georgie and Captain James's relationship Could there be a love triangle on the horizon? Rix isn't sure how things will work out between the pair romance-wise. "I'm not massively aware of how Captain James and Georgie's relationship could play out," he tells me. "I don't know how serious or long-lived it will be or if it's a flash in the pan. But I don't think Captain James would back down [from a love triangle]". I mean I don't know about you but I reckon a showdown between Captain James and Bones would make for seriously entertaining telly. Writers, I've got an idea for you.
And Rix isn't ruling out the potential for romance between Bones and Georgie either should he return from the dead. I ask if he thinks they could work as a couple, and he says: "I think they could, very much so. They have a lot of similarities. I think the fieriness could work in their favour." Now there's a romantic link-up I'd love to see. They do say there's a thin line between love and hate, so I reckon a link up between these two could rival Georgie and Elvis's romance on the passion front.
While many thought Bones could be a replacement love interest for Georgie last series, the writers took things in a different direction, with her and Captain James's long friendship finally becoming something more towards the end of the series. Rix tells me this decision was partly out of "respect" for Elvis as one of the show's most important characters. "Elvis was a big character and they wanted to pay respect to that. Georgie needs to mourn him and I think it would have felt cheap if Bones came in as a new love interest straight away," he says.
Bones is known for his tough-talking persona but Rix insists the soldier has his heart in the right place. "He certainly doesn't suffer fools. And he's quite horrible to Georgie. That's not the real guy. Because he was undercover and she was was going to blow his cover he had to do something," he explains. "When he takes over 2-Section he has his own way of doing things. It's like a teacher you don't like at school. He's quite brash, abrupt, but ultimately he's doing it for the right reasons."
Opening up about what it was like to join Our Girl three series in, Rix explains he wasn't phased. And surprisingly, instead of trying to make friends with his co-stars as quickly as possible, he says he wanted to retain some distance between himself and the actors who play the 2-Section squad members. "I'd never seen the show before so I wasn't really that fussed [about being new]. It's a very tight cast so you feel a little like the new boy at school." he explains. "I was a little bit separate from them. But Bones is in special forces, so I wanted to try and keep that distance. It's hard because they're all so nice. We were all mates in about three weeks."
Aw how sweet is that? But wait, I haven't addressed the elephant in the room. All these predictions are well and good, but given that pretty much the entire cast jumped off a cliff at the end of Series 3, is the show even coming back at all? Luckily, according to Rix, it seems likely that fans will get a fourth instalment. He tells me: "I strongly suspect there will be a next series."
Phew. But, if producers are going to be bringing Bones back, they better book Rix up fast, as the actor is set for a busy few months. "I'm currently working on the Spanish Princess for Stars, the US network," he says. "I'm also trying to acquire the rights for a book, I'm hoping to adapt. Lots of projects in the U.S. so watch this space."
Our Girl Series 3 and 1-3 box set are now available on DVD.