Over 100 Ex-OSU Students Came Forward With Abuse Allegations Against A Team Doctor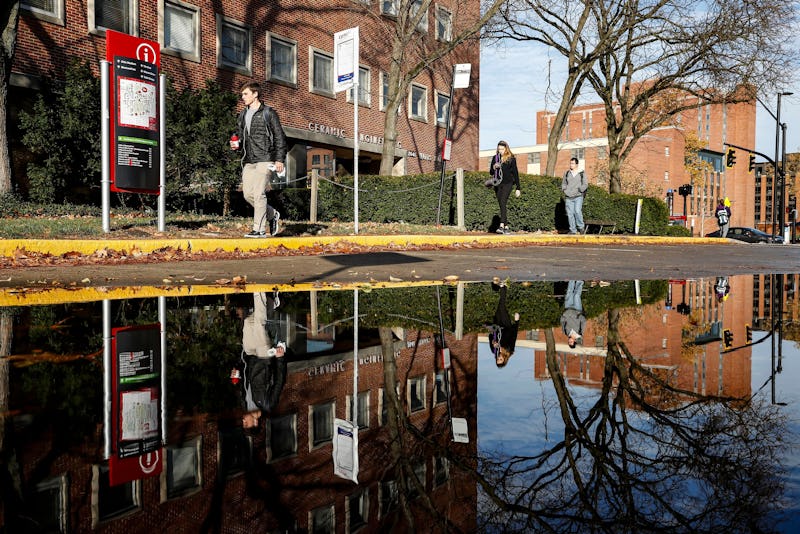 John Minchillo/AP/Shutterstock
In a case reminiscent of the Larry Nassar scandal at Michigan State, more than 100 former Ohio State University students have levied sexual misconduct allegations against a now-deceased university team doctor, university officials announced Friday. An investigation into the allegations, which was launched after former wrestlers came forward with stories of unwanted groping, appears to have unearthed decades of abuse.
"We are grateful to those who have come forward and remain deeply concerned for anyone who may have been affected by Dr. Strauss' actions," Ohio State President Michael V. Drake said in a statement meant to serve as an update on the university's continued investigation into the matter. "We remain steadfastly committed to uncovering the truth."
In April, Ohio State University (OSU) officials announced plans to hire independent investigators that would be tasked with looking into allegations of sexual misconduct that had been levied against Richard H. Strauss, a doctor employed by the school from the mid-1970s to the 1990s. At the time, former wrestlers had claimed Strauss, who died by suicide in 2005, groped them and performed unnecessary medical exams on them.
According to Drake, investigators have so far interviewed more than 200 former students and staff members with more than 100 former students reporting to have experienced or witnessed Strauss commit some form of sexual misconduct from 1979 to 1997. Allegations against Strauss reportedly came from former Student Health Service patients and former university athletes, including those who played on the varsity men's teams of 14 different sports. Investigators expect to conduct at least 100 more interviews before concluding their case, the university said.
But some of those who've come forward about Strauss have claimed the university was well aware of the doctor's alleged misconduct and simply turned a blind eye to the abuse happening on its campus. In a pair of federal class-action lawsuits filed against the school earlier this week, five former Ohio State University wrestlers alleged that coaches and administrators were repeatedly told of Strauss' abuse in the late 1970s and mid-1990s but did nothing to stop it.
In one of the lawsuits, a former wrestler alleged Strauss abused them at least 20 times throughout the 1980s. According to NBC News that lawsuit cites incidents of sexual harassment and inappropriate touching during medical examinations and alleges the university doctor photographed the plaintiff. In the second lawsuit, four former wrestlers alleged Strauss "sexually assaulted, battered, molested, and/or harassed" them in the 1990s, with the majority of the incidents occurring during physicals, Reuters reported.
"We are aware of reports that individuals at the university did not respond appropriately during that era," Ohio State University spokesman Benjamin Johnson told Reuters when questioned about the lawsuits. "These allegations are troubling and are a critical focus of the investigation."
But Strauss' alleged abuse may not have been limited to the Ohio State University campus. University officials said Friday that investigators had uncovered allegations of sexual misconduct committed by Strauss at a private medical office he'd opened in Columbus, Ohio, in 1996. As of Friday, investigators were still looking into whether or not Strauss may have examined any minors or high-school aged students while employed at the university.
On Friday, university officials said the school "remains actively committed to uncovering what may have happened and what university leaders at the time may have known."