This Woman's Speech About Her Husband Being Detained By Trump Is Devastating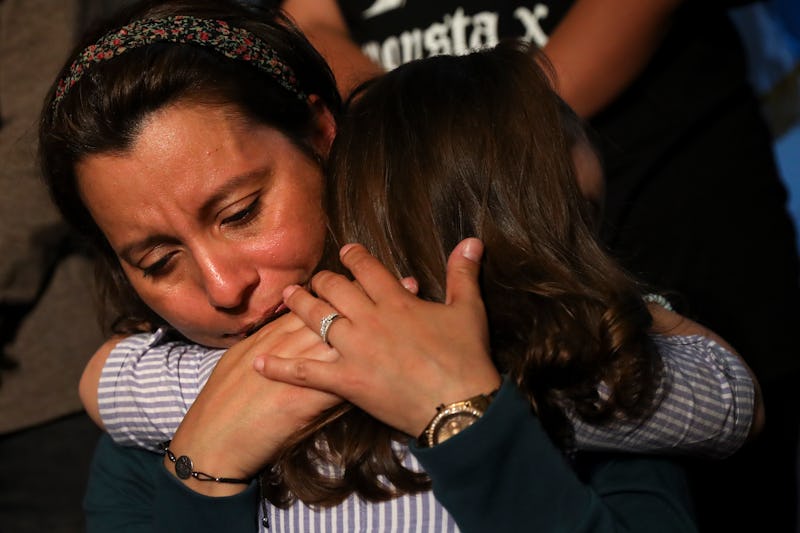 Drew Angerer/Getty Images News/Getty Images
The wife of an undocumented man who delivered a food order in Brooklyn, New York, in June — and was then detained by ICE — has spoken out. During an event held by the advocacy group, New York Immigration Coalition, on Monday, Pablo Villavicencio's wife Sandra Chica gave a speech about how life without her beloved husband, whom she has two young children with, was a "nightmare." She implored the Manhattan federal court, which is currently overseeing her husband's case, to keep her family together.
Flanked by Jennifer Williams of Legal Aid Society and New York City Council Speaker Corey Johnson, Chica said, "Each and every day has been really painful without him. He missed Father's Day with us, he missed our oldest daughter's birthday. Next month is going to be Antonia's birthday and we just pray that he can be with us that day. No father should miss these important days with their family."
Villavicencio's wife spoke of the conditions other undocumented families face under Donald Trump's "zero tolerance" immigration policy too. Over 2,000 children have been torn away from their parents as a result of the president's immigration stance, according to the Department of Homeland Security. In June, Trump delivered an executive order that would apparently put an end to the family separation practice — children and parents would be detained together as a unit. But critics remain skeptical about the president's approach, including those who say it creates a system of family incarceration.
"I see everyday that a lot of families that were separated at the [United States-Mexico] border are together again," Chica said, "and I feel really happy for them. But I'm still sad because my family is still not together and that's why we are here."
Villavicencio — who, according to an Immigration and Customs Enforcement spokeswoman's comment to the New York Post, was ordered to leave the United States in 2010 — gained widespread attention in June. The father of two girls said that he was delivering an order to a military post in South Brooklyn, New York, when he told the New York Post that an unidentified security guard "started to ask me many questions, he asked me about why I didn't have any Social Security card."
According to the New York Post, Villavicencio then contacted the New York Police Department, which informed the security guard that his record was clean. The Ecuadorian father then said that the guard said, "'I don't care'" and that "he said I need to keep waiting and he called ICE." Villavicencio was then arrested and kept in Immigration and Customs Enforcement custody in New Jersey.
For now, after being granted an emergency stay, Villavicencio remains in the United States as his lawyers argued that their client had been racially profiled.
For Chica, life isn't easy as her husband remains in ICE custody. "Pablo's absence has brought significant hardship," she said on Monday. "It's not easy to become a single mom in one day. It's hard for being with two little girls, being by myself with all the responsibilities that I have now. We hope this nightmare finishes tomorrow and my daughters can be again with their father. We hope the right thing is done tomorrow. Families need to be together."
"Is it too much for me to ask the judge and everybody to keep my family together?" Chica asked. "Pablo wasn't doing anything wrong; he was just working for his family." Villavicencio's wife then thanked her audience for listening to her speech — and for supporting her family. The American mother of little Luciana and Antonia said, "I'm really grateful for that."