The One National Margarita Day Drink You Need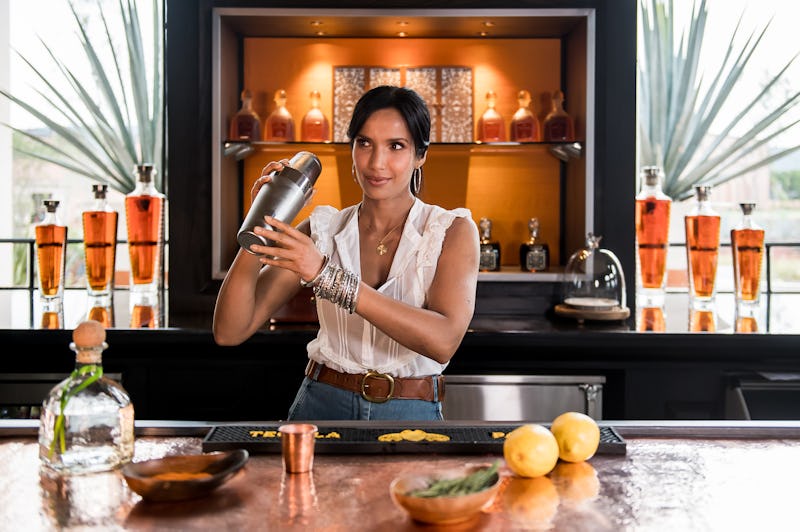 You may have seen her at the judge's table on Top Chef, or picked up one of her cookbooks at your local bookstore, but here's something you may not know about Padma Lakshmi: She really loves spices and tequila. Which is why for International Margarita Day 2017 (which takes place on Feb. 22), Padma Lakshmi created a Citrus Turmeric Margarita — it both honors the holiday, and is absolutely delicious year round.
"I mean, I think every day should be International Margarita Day," Lakshmi jokes in an interview with Bustle.
What is intriguing about her Citrus Turmeric Margarita is how incredibly simple the recipe is. She easily details how to create a simple syrup, the exact amounts of lime juice and tequila to add, and how ginger and turmeric are used in her cocktail. Even her homemade chili salt for the rim of the glass is simple to put together!
Now this recipe wasn't just thrown together last minute. After chatting with Lakshmi, it is obvious that she takes careful consideration into every single element of this cocktail. Although ginger and turmeric are not usually ingredients found in a cocktail, Lakshmi had a reason to make this tasty decision.
"I've been filming in Mexico for the past two finales with Top Chef, and most people don't understand how deep and broad Mexican cuisine is," explains Lakshmi. "Through being able to travel and meet all of these good people in Mexico … I really just saw all of these parallels between Indian food and Mexican food."
Cue using ginger and turmeric in her cocktail. She was inspired by an old Top Chef contestant she ran into when visiting a restaurant in her neighborhood. She handed Lakshmi a non-alcoholic turmeric fizz, which then inspired her to try something different.
"I mean, ginger and turmeric is something that has been used for eons and eons together," continues Lakshmi. "I know turmeric is having its moment right now in everything. But honestly, I wanted to try and see if this would work together with ginger in a cocktail."
Playing around with different spices and herbs has always interested Lakshmi, which inspired a life-long research project of hers that has finally been published: The Encyclopedia of Spices and Herbs. She always dreamed of having a comprehensive guide for spices and herbs, and figured that she wasn't the only one. The book was created to be user friendly — easy enough to travel with, bring to the store, and lay flat while cooking up a new dish. Her hope is for this book to be a definitive guide that people will turn for learning about new spices and herbs.
When thinking up new recipes, like the Citrus Turmeric Margarita, Lakshmi is inspired by her own travels. Whether that be around the world or to her local produce market, she tends to get inspiration from what she sees – and encourages others to do the same.
"Nothing to me is more informative and enriching than traveling," says Lakshmi. "Whether you go to the next town and go to a restaurant you haven't visited, or you go across the globe. I think it's the single best thing to expand your horizons that there is in mind."
Which makes sense given Lakshmi's recent journey to Mexico with Top Chef, and the invention of the Citrus Turmeric Margarita. According to Lakshmi, she served this particular cocktail with her family over Christmas dinner, which involved a turkey and a ton of Mexican side dishes. Although citrus seems like a summer type of food, Lakshmi recommends enjoying this cocktail with heavier dishes, such as a roast or reconstituted peppers stuffed with ground beef.
Now before you run off to buy all of her margarita ingredients and fixings for your favorite Mexican dishes this International Margarita Day, Lakshmi does have one piece of advice that she has come to learn through judging on Top Chef.
"Do not underestimate the time it takes to do anything," explains Lakshmi. "Whether you are on Top Chef, whether you are working in a kitchen…or whether you are just throwing a dinner party for your friends. Preparation is really important. I write down the groceries and exactly how they need to be chopped, and I chop everything before we start, before we ever turn the stove on. You don't want something burning on the stove while you're still chopping up final ingredients to add to it. You don't want to be frazzled. You want to give yourself every chance of doing well."
You may not be on Top Chef, but it's great advice.
Citrus Turmeric Margarita Recipe:
Ingredients:
2 ounces of Patrón Silver tequila
1 cup of water
¾ cup of sugar
1 tablespoon of fresh lime juice
4 inch piece of fresh ginger root, peeled and sliced.
1 teaspoon of Turmeric powder (or 2 inch piece of fresh turmeric, peeled and sliced)
Fresh mint leaves
Directions:
Mix the ginger and the turmeric in a small sauce pan with a cup of water and 3/4 cup of sugar, and let that dissolve.
Let it simmer for about 10 minutes or so, turn it off and strain it. For an easy strain, use a coffee filter.
Rinse some fresh mint leaves and put it in the shaker with the patron and the simple syrup. Shake it hard.
Add the lime juice, and serve that on the rocks.
Chili Salt:
1/2 teaspoon of ancho chili powder (make it spicier with cayenne pepper)
½ teaspoon of turmeric
Coarse sea salt
Rub the rim of the glass with lime juice or an orange wedge.
Add the spices to a plate and mix with your fingers.
Level the spice mix and turn over your glass onto the plate.