Pakistani Lawmakers Just Passed A Transgender Rights Bill & It's History In The Making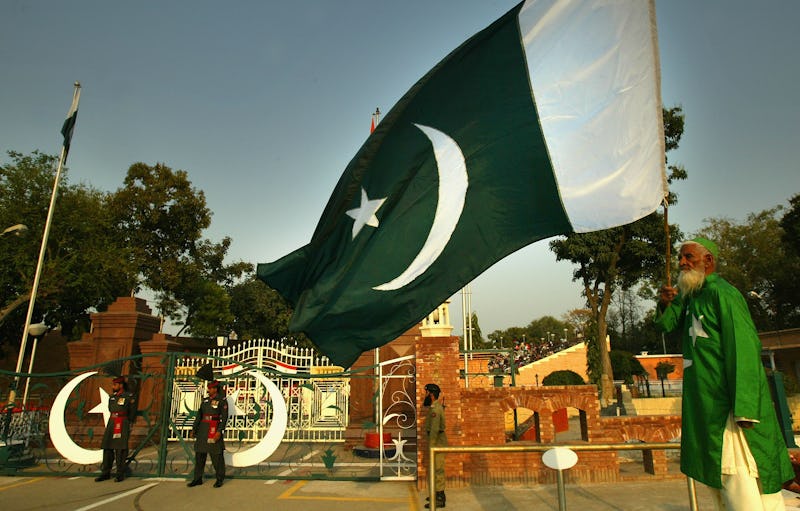 Scott Barbour/Getty Images News/Getty Images
According to NPR on Wednesday, Pakistan's parliament passed a transgender rights bill that will give members of the Pakistani transgender community the right to have their gender identity officially recognized on various government documents. If the bill becomes law, transgender people in Pakistan will have the power to officially declare their gender on passports, drivers licenses, and national identity cards. It's officially known as the Transgender Persons [Protection of Rights] Act.
Pakistani activist Mehlab Jameel was one of the figures to work on the bill, which was first approved by the Pakistani Senate Functional Committee on Human Rights in December 2017. While speaking of local activists who worked alongside them, Jameel tells Bustle:
The physical and emotional labor that went in into this — all the sleepless nights over the past year and long hard days of traveling to meet policy makers in the capital, arguing with and educating lawmakers about our lives and struggles, and all the while encountering deeply rooted transphobic attitudes within the bureaucratic and state apparatus — it was a very trying process and it could not have been possible if we were not supporting and uplifting each other and keep each other strong.
At the moment, the fate of the landmark bill depends on whether Pakistan's president, Mamnoon Hussain, approves and signs it into law. Still, even if Hussain green-lights the bill, the timeline for when the law takes effect across the country is unclear. But if it gets passed, the official text of the Transgender Persons [Protection of Rights] Act says that it will extend to the entirety of the Islamic Republic of Pakistan. It's a joyous moment for local LGBTQ activists who have praised the effort as a victory for human rights.
It's a measure that could help transgender Pakistanis authentically self-identify on their existing identity cards. According to the bill, Pakistani transgender individuals will also have the right to change their names and gender according to their perceived identity on their already-assigned Computerized National Identity Cards (CNIC) given by the Pakistani National Database and Registration Authority (NADRA). The bill arrives a month after Marvia Malik became Pakistan's first transgender news anchor.
The bill also says that the voting rights of transgender Pakistanis cannot be culled and highlights a need for robust social services by establishing "Protection Centers and Safe Houses" for the transgender community in the country. Such centers would "ensure the rescue, protection, and rehabilitation of transgender persons" and provide "medical facilities, psychological care, counseling, and adult education" to transgender Pakistanis.
Perhaps by building "safe houses" in the country, transgender Pakistanis can find communal support against transphobic attacks and bigotry. In a 2016 Human Rights Watch report on Pakistan, the organization noted that a 23-year-old trans woman activist died after being shot multiple times in the Khyber Pakhtunkhwa province. The Los Angeles Times reported that the activist succumbed to her injuries while hospital staff taunted her, including joking about her HIV status.
Jameel tells Bustle that the bill is "one of the most progressive approach[es] towards anti-discrimination laws concerning transgender rights in the world. Our focus was this law was welfare, not regulation; support, not control." By doing so, Jameel says, "this law allows for full legal recognition for transgender people on our own terms without any unnecessary institutional gatekeeping. It affirms fundamental rights and prohibits discrimination."
It's an emotional moment for the transgender community in the conservative South Asian country. Transgender activist Bindiya Rana told Al Jazeera on Wednesday, "I thought that this would never be achieved in my lifetime, but I am fortunate to have seen my own parliament pass this bill."
Rana added, "In fighting for this bill, we were not fighting for those transgender people who have already lived 40 or 50 years. We have been fighting for the next generation of transgender Pakistanis."