A Teen Who Slapped An Israeli Soldier Was Released From Prison After 8 Months — PHOTOS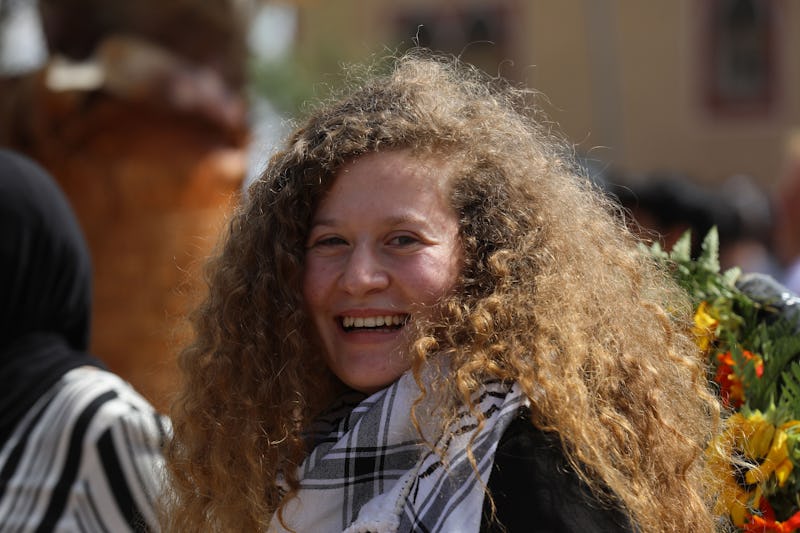 ALAA BADARNEH/EPA-EFE/Shutterstock
On Sunday in Israel, 17-year-old Palestinian activist Ahed Tamimi was released from prison after eight months, along with her mother, Nariman Tamimi. The teenage activist went viral last year when a video was posted showed her kicking and slapping an Israeli soldier in the West Bank, according to BBC. Nariman had live-streamed the incident on Facebook.
Tamimi was 16 when she was arrested in December and was facing 12 charges, according to Reuters. The BBC reported that Tamimi said she saw the soldiers shoot her 15-year-old cousin with a rubber bullet earlier in the day. In March, the young activist pleaded guilty to reduced number of charges, including assault.
"I learned a lot. I learned how to stay patient, to be in a group. I did my best to use the time to study. I came out more educated, and understand the world better than when I went in," Tamimi told The New York Times in an interview shortly after her release.
Tamimi said she plans to study law with a goal of holding Israel accountable for the occupation of the West Bank. "I will continue my university tuition and I will study law so that I can address the cause of my country in all of the international forums and to be able to represent the prisoners' cause," Tamimi said at a press conference, Reuters reported.
Palestinian President Mahmoud Abbas met with Tamimi and her family in Ramallah. In a statement provided by WAFA, the official Palestinian news agency, Abbas called Tamimi "a model of the Palestinian struggle for freedom, independence and statehood."