Here's When Panic! At The Disco's New Live Album Will Be Released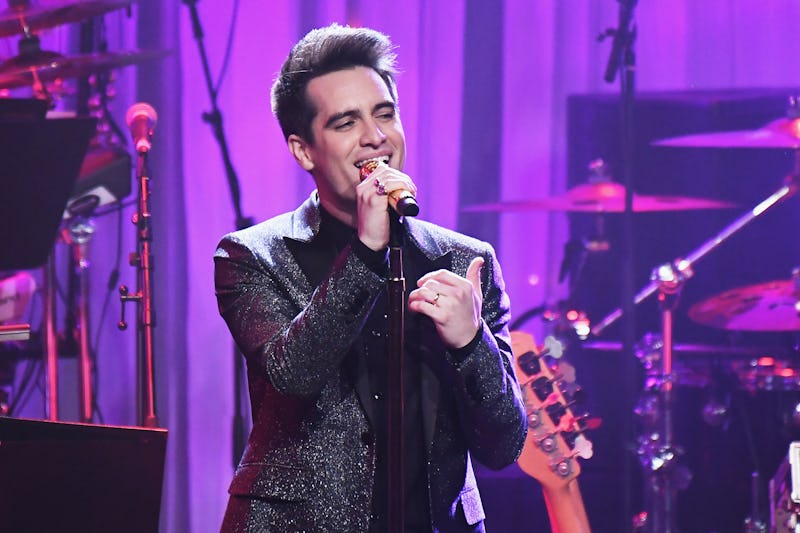 Kevork Djansezian/Getty Images Entertainment/Getty Images
Music fans are about to be in a panic! because Panic! At The Disco is releasing a new live album that is set to be released on Dec. 15. The band's Twitter account announced the album entitled All My Friends We're Glorious: Death Of A Bachelor Tour Live and it's especially amazing news for everyone who couldn't make it to any of the group's live performances on their Death Of A Bachelor tour.
The album is set to be compilation of the group's best live performances during their 2016/2017 tour. In their announcement, they detailed that fans can pre-order the album on Nov. 21 and it will be released in limited edition double vinyl. They've yet to reveal what performances will be showcased on the tracklist but it's safe to say that some of their hits like "LA Devotee", "Emporer's New Clothes", and the tour and original album's titular track "Death Of A Bachelor," could be included.
It's also possible that some classic Panic! At The Disco hits could make an appearance on the album, like "I Write Sins Not Tragedies" and "Nine In The Afternoon," as they've also been featured on the Death Of A Bachelor tour, according to Pop Buzz. No matter which specific performances are included, it'll be awesome to hear frontman Brendon Urie sing some of their hits live.
Death Of A Bachelor was Panic! At The Disco's most successful album to date. It reached the No. 1 album spot on the Billboard 200 chart and surpassed the success of their other album Pretty.Odd., which was a No. 2 album on the chart. That album and tour stemming from it also marked a major change in the band. It was the first album release and tour that had Urie featured as the only original member of the band left.
Urie penned an emotional letter on Facebook which highlighted how much this album in particular meant to him. He said, "Death Of A Bachelor is in honor of those times I spent alone as a kid. Allowing music to consume me. Playing everything myself just to get the idea right and out of my head. It's a beginning of a new era. And an homage to how it began." Seeing as though this album meant so much to him and it marked a new era for the band, it's nice that they're releasing an album of the band's live performance so that fans can also experience some of that positive touring energy, too.
In case you're wondering what you can expect from the album, Panic! At The Disco has shown fans a little bit of what goes into creating their amazing performances in the video below.
In one of their videos, which concerns the band's Connecticut stop on the tour, shows what goes on behind-the-scenes before they go on live. From the looks of things, there's "so much pyro" as Urie describes. Even though fans might not be able to get a glimpse of the performances if they didn't originally attend the show, they will be able to listen to some of their hits, possibly like that awesome rendition of "Emperor's New Clothes" that can be seen at the end of the video.
This new album sounds like it will be amazing. But, does the band have any plans to come out with some brand-new tunes? According to Urie's interview with Pop Buzz, fans can expect a different sound from the group. He said, "I've got probably ten more demos that I've just been hanging on to ... But exciting stuff, stuff I didn't expect to have written. So it's really just bizarre."
There's no word yet as to when this "bizarre" new music will be released. Although, since this new live album is coming out soon, fans can listen to those tunes on repeat while they wait for more Panic! At The Disco.