Papa John's Apologized For Its "Divisive" NFL Comments & Twitter Is Not Impressed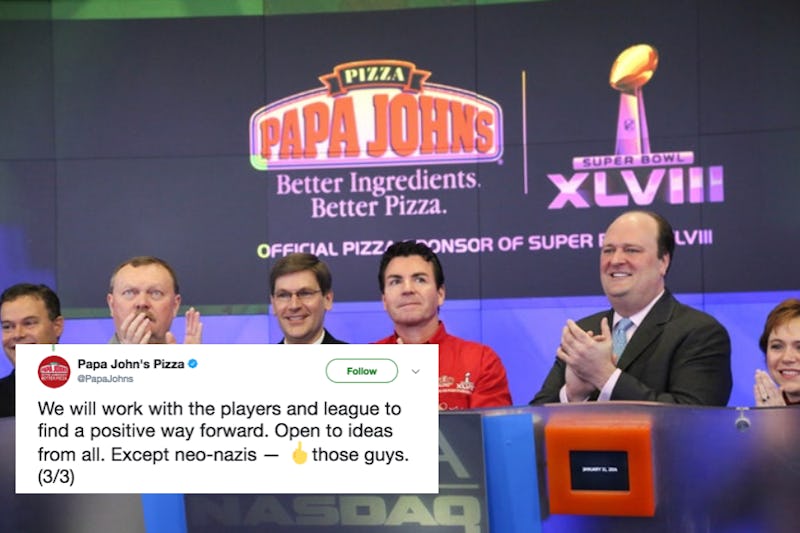 Rob Kim/Getty Images Entertainment/Getty Images
On Tuesday, the nationwide pizza chain, Papa John's, issued an apology for comments made during a quarterly earnings call, in which the company implied that protesting NFL players were to blame for the chain's lackluster earnings. Many on Twitter were unimpressed with Papa John's apology, noting that it came too late and that it seemed to stand directly in contrast to what the company's CEO, John Schnatter, had said on the earnings call earlier in November.
On Nov. 1, reports emerged that Schnatter had made controversial remarks during the quarterly earnings call with Wall Street analysts, saying that the NFL "controversy" was causing TV ratings to decline and affecting Papa John's business. Notably, the company advertises heavily during NFL games. Of the "controversy," Schnatter also said, "This should have been nipped in the bud a year and a half ago ... Like many sponsors, we are in contact with the NFL and once the issue is resolved between the players and the owners, we are optimistic that the NFL's best years are ahead. But good or bad, leadership starts at the top, and this is an example of poor leadership."
Now, two weeks into November, Papa Johns has released an apology for these remarks on Twitter. The apology reads:
The statements made on our earnings call were describing the factors that impact our business and we sincerely apologize to anyone that thought they were divisive. That definitely was not our intention. We believe in the right to protest inequality and support the players' movement to create a new platform for change. We also believe together, as Americans, we should honor our anthem. There is a way to do both. We will work with the players and league to find a positive way forward. Open to ideas from all. Except neo-nazis -- [middle-finger emoji] those guys.
Many Twitter users took the pizza chain to task for what they perceived as an insincere and belated apology — and one that they believed did not reflect the values of the company's CEO, who made the initial comments as well as several other controversial remarks in the past.
As one user noted, "Until I hear the owner take back his comments I don't believe you. This is a well paid P.R. staffer who typed out a well worded statement. Meanwhile the owner is probably giving money to candidates who will continue 2 attack the players & any groups that hate minorities."
Another Twitter user indicated that Papa John's apology held little weight for him or her unless the chain took more concerted action in the wake of the Schnatter's controversial statements, saying,
It's garbage that you even made this half-baked attempt to fix a problem you created, but if you're trying to stabilize it: A) Publicly condemn your boss's statements, B) Work with victim advocacy & support programs, & C) Speak out against police brutality. There is no other way.
The pizza chain's apology comes as the value of Papa John's shares plummeted in the wake on Schnatter's statements about the NFL in early November. The company also faced boycotts of its pizza in the weeks following the revelation of Schnatter's comments and, according to the Washington Post, also found themselves endorsed by the white supremacist website, The Daily Stormer. Following the website endorsement, Papa John's public relations executive Peter Collins issued a statement to the Huffington Post, saying, "We condemn racism in all forms and any and all hate groups that support it ... We do not want these individuals or groups to buy our pizza."
With many on social media condemning Papa John's apology, it will be interesting to see whether the pizza chain responds to this criticism or stands by its words. Moreover, many people (and the company itself) will likely be closely watching to see whether or not the apology has any impact on the pizza chain's value or sales.