Paris Hilton Is Engaged & Her Proposal Pics Are A Lot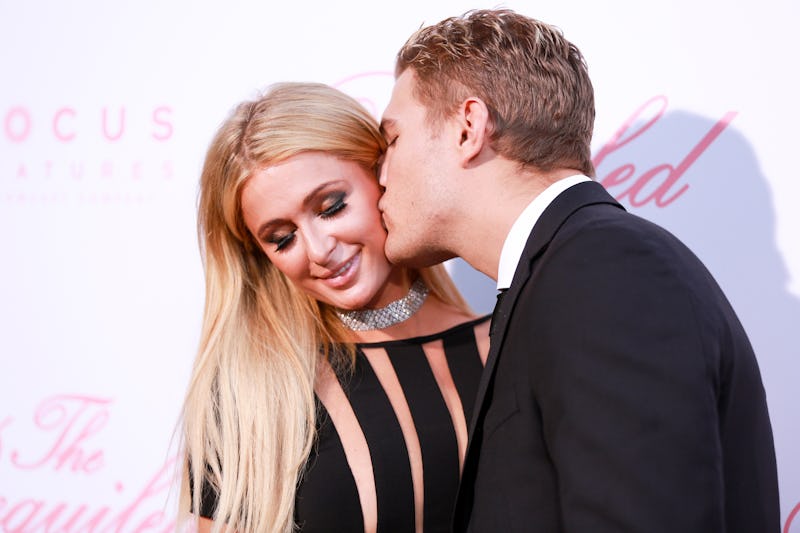 Rich Fury/Getty Images Entertainment/Getty Images
You can add another person to your list of people who got engaged over the holidays. As People reports, Paris Hilton and Chris Zylka are engaged. Zylka proposed to Hilton while they were skiing in Aspen, Colorado over New Year's Eve weekend, and there is photo proof of just that.
Hilton is clearly overjoyed about being engaged and told People of the news, "I am so excited to be engaged to the love of my life and my best friend. I have never felt so happy, safe and loved. He is perfect for me in every way and showed me that fairytales really do exist!"
Of the proposal, which occurred on top of a ski slope, Hilton added, "I was so excited and surprised! I immediately said yes!" She's also very excited about her new piece of jewelry: "The ring was so gorgeous and sparkling. I was shaking as I put it on. It is the most beautiful ring that I have ever seen!"
People reports that the actor and former reality star were posing for a photo while skiing when Zylka proposed. It seems this must have been a The Photographer Is Secretly Here To Document Our Love situation because Hilton shared numerous photos with People of Zylka down on one knee and the happy couple post-proposal.
Hilton told People that she knew Zylka was the one for her from the time they started dating about a year and a half ago, but knew each other for a long time before that. "Ever since our first date I knew there was something special about him," she said. "I have never in my life met a man so loyal, dedicated, and loving. I knew right from the start that I wanted to be with him forever."
Zylka also shared a statement with the publication in which he shared his own excitement. "Paris is the most beautiful and incredible woman both inside and out," he said. "I feel like the luckiest man in the world to be marrying my dream girl. I can't wait to spend the rest of our lives together."
While nearly everyone is familiar with Hilton for her role on the reality show The Simple Life and her role in the real world as an heir to the Hilton family fortune, you might not know Zylka. The 32-year-old is an actor who has had roles on The Leftovers, The Secret Circle, and the spinoff 90210. He will also have a part in the upcoming film The Death and Life of John F. Donovan, starring Jessica Chastain, Natalie Portman, and Kit Harington.
Zylka and Hilton seemingly started dating in July 2016, since in July 2017, Hilton posted an anniversary message on Instagram. Along with a lot of photos of the two together, she wrote,
Happy Anniversary my love! Thank you for making me feel like a Disney Princess every single day. You are my knight in shining armor & I have never felt so safe & secure. You have changed my life in so many ways & shown me what true love really is. You are my best friend, my other half & made me see that fairytales exist & dreams really do come true. I love you baby.
And she's not kidding about that Disney princess part. A day before her anniversary post, Hilton shared a photo and video of Zylka's new tattoo: her name in the Disney font. "Such a lucky girl!" she captioned the Instagram. "My love surprised me & got my name tattooed in #Disney font. And said cause I'm his most magical place on Earth & he finally found his fairytale princess. #BoyfriendGoals #ParisForever."
A huge tattoo like that is a risky move, but seeing as they're now engaged, it looks like she was right about "#ParisForever."
Editor's Note: This article has been updated from its original version.