If You Still Think Paris Hilton Is Like Her 'Simple Life' Character, She Has Some News For You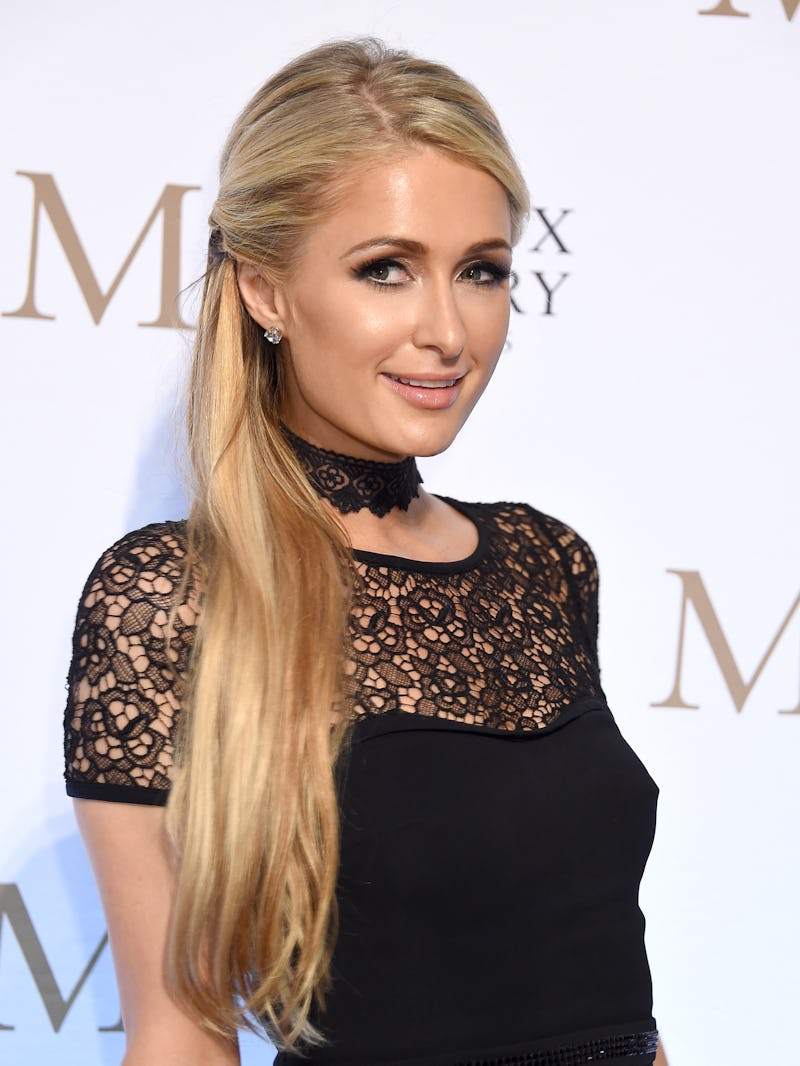 Gregg DeGuire/Getty Images Entertainment/Getty Images
Paris Hilton has been a household name since the early 2000s, and over the years, she's changed celebrity culture in mind-boggling ways — specifically, celebrity influencer culture. Hilton created a controversial personal brand for her groundbreaking reality show The Simple Life, co-starring her BFF and fellow Beverly Hills rich kid Nicole Richie, and contrary to what some people might think, the celeb's now-iconic persona on The Simple Life was completely her choice. Back in 2003 when the series began (it turns 15 this December), Hilton decided that she'd play to the public's perception of her as a dumb, narcissistic heiress, and a hit series — and celebrity icon — were born.
"Basically when I started doing the show, the producers told me and Nicole, 'we want Paris you to be the ditzy blonde, just act kind of like a spoiled heiress, and Nicole, you be the troublemaker' — that's who our characters were," Hilton recalls, when we speak over the phone. "I didn't realize we'd be doing the show for five years and I didn't realize it would be such a huge success, so I had to continue playing that character all the time and in interviews and everything else, and I just got used to it."
The persona came in handy as Hilton got used to the unfamiliar territory of mega-fame. "I've always been kind of a shy person, so when I was in that character, it kind of felt like I was hiding behind something. So it made it easier to be in the public eye," she explains.
These days, Hilton doesn't seem to have any problems with her celebrity. When we speak, the now-businesswoman has just finished a month-long worldwide tour to celebrate the release of her 24th fragrance, Platinum Rush, and she also works as an in-demand DJ. But back in the early '00s, the public knew Hilton mostly for her famous family and leaked sex tape. The intro to The Simple Life's first season described Hilton simply as a "Model, jet setter, target of the tabloids, heir to the $360 million Hilton fortune."
While Hilton's business success has shown she's far different than that old persona, many fans of The Simple Life probably still imagine that she's the same entitled, ignorant woman they saw on-screen saying goodbye to her luxury lifestyle for "the simple life" of rural middle America. But although Hilton still says "That's hot" every once in a while, it's clear she doesn't actually identify with who she was on the show.
"In real life I am not that way at all," she explains. "I'm actually smart, I'm not spoiled, I work very hard, I'm a tomboy — I actually love doing types of things that on the show, I would pretend that I wouldn't like." Even her real voice, she adds, is different from the airy baby voice she used on the show.
Although Hilton has always been forthright about the fact that she played a character on The Simple Life — even at the show's premiere, she says, she told reporters that she'd played along with the dumb blonde stereotype for fun — some people have not believed that to be the case. When NPR critic David Bianculli reviewed the show in 2003, for instance, he said of Hilton's claims, "I don't buy that for a second, not when the premiere episode also has her asking such questions as, 'What does generic mean?' and 'What's a well for?'" Hilton's character on the show was so believable in her ignorance, he added, that he felt no one watching could imagine that it wasn't all real.
NPR wasn't the only news outlet to suggest that the star wasn't an intrinsic part of creating the show's most entertaining moments. In his 2003 review, Entertainment Weekly's Ken Tucker called Hilton and Richie, "the carefully edited butts of jokes." Yet those who worked on the show have confirmed that it really was all an act. Recall how in Season 1, Hilton infamously asked, "What is Walmart?", inciting major eye-rolls. But one of the show's producers, Nicole Vorias, has confirmed that the star had always planned to ask headline-grabbing questions like that. "She knew what Walmart was... She [created the line] herself and made it something that she knew [would] be like a watercooler [moment]," Vorias said in a 2015 interview with Broadly.
Considering the criticism Hilton has received for her on-screen persona, you might think that she would have changed her schtick over the years. But she tells Bustle that she feels more than OK with people constantly underestimating her. "I love when I meet people and I surprise them," she says. "There are just so many misconceptions and I think a lot of people, before they meet me, they assume I'm that way, and then they talk to me and see that I'm actually a brilliant businesswoman."
No matter what people think of Hilton or The Simple Life, there's no question that it changed the landscape of reality TV in a major way, helping drum up interest in later shows like Jersey Shore, The Real Housewives of Orange County, and Keeping Up with the Kardashians. Explains Hilton, "It paved the way for so many people in the reality world and it's an inspiration for so many people to do their own shows and build celebrity brands. I feel very proud because I think it was definitely a moment in history that's gonna be remembered forever."
Today, Hilton is busy building a legacy of her own. The heiress says she had wanted to create a business long before The Simple Life, and having a pre-packaged persona only helped that dream become a reality. "After I saw how huge the show was, I knew I needed to get to the next level and start building my brand, so I really credit that show [with] helping me and catapulting me into having such a huge empire," says Hilton, who is reported by which many sites to have a net worth of $300 million.
In addition to releasing her latest fragrance, Hilton also has a new skincare line called Paris Hilton Pro D.N.A., which she calls "the fountain of youth," along with 19 other product lines that include everything from shoes to lingerie to dog clothes. She also plans to soon get into real estate and tech. "I'm basically involved in every single area and aspect of business, entertainment, and beauty," she says.
Running her empire recently caused Hilton to cross paths with one of her castmates from The Simple Life. "I saw Chops from Season 1 at Netflix when I was there last month for a meeting. They brought Chops in and I was like, 'Oh my goodness' — it was so funny to see him. He's the one person I've seen," Hilton says. She's referring to Trae Lindley, one of the "normal" people living in Ozark, Arkansas, whom Hilton had a few flirty exchanges with; Lindley now works in finance at Netflix, per his social media accounts.
Hilton likely was at Netflix when she saw Chops because of a documentary she has in the works called The American Meme, which tells the stories of how Hilton, Josh Ostrovsky (aka The Fat Jewish), Brittany Furlan, and Kirill Bichutsky (aka SlutWhisperer) have used social media to boost their careers, per The Hollywood Reporter. "When they were filming it, they said 'We can't do this movie without you, you're the O.G., you basically started social media, we need you in this film, like it can't be made without you,'" Hilton explains.
With all those projects in the works, she sadly doesn't anticipate having the time to reboot The Simple Life anytime soon. "I know it would be hilarious... but I just literally couldn't fit it in the schedule," she says. Still, she's nothing but grateful for the series, especially getting to film episodes alongside Richie. "I'm lucky that I got to do it with my best friend since I was two and we had so much fun together," Hilton says. "I still watch that show and laugh so hard; it's just so entertaining."
And for anyone who still doubts her real business savvy, just know that 15 years after The Simple Life premiered, Walmart is selling Hilton's 20-something different perfumes — so it's clear who's getting the last laugh.