Paris Jackson Paid Tribute To Her Grandfather, Joe Jackson, With A Heartfelt Instagram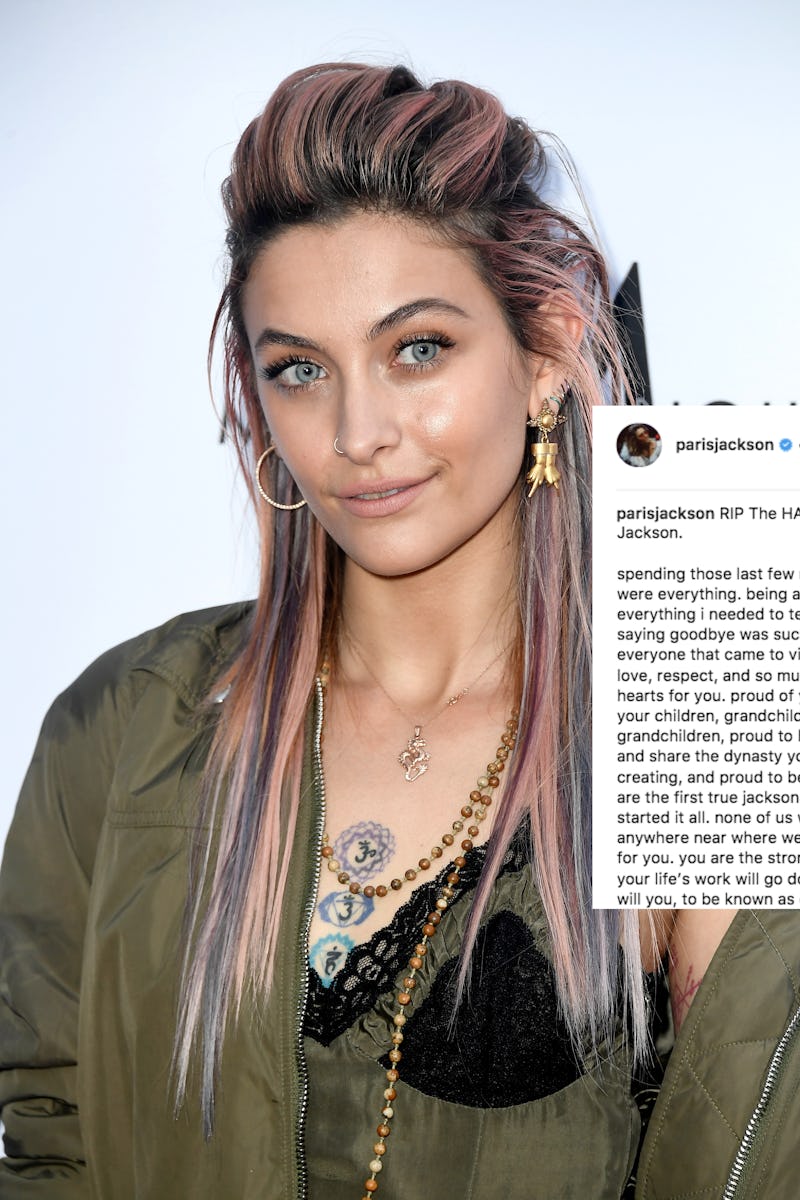 Frazer Harrison/Getty Images Entertainment/Getty Images; Paris Jackson/Instagram
On Wednesday, June 27, multiple outlets reported Joe Jackson died at the age of 89. Tito Jackson's agent confirmed his father's death to The Hollywood Reporter that same day. According to THR, the father of Michael and Janet Jackson and their eight siblings died after battling cancer. Also on Wednesday, Paris Jackson honored Joe Jackson, her late grandfather, with a lengthy and moving Instagram post.
Next to a photo holding her grandfather's hand in what appears to be a hospital bed, Paris wrote,
"RIP The HAWK. Joseph Jackson.spending those last few moments with you were everything. being able to tell you everything i needed to tell you before saying goodbye was such a blessing. everyone that came to visit you, came with love, respect, and so much pride in their hearts for you. proud of you, proud to be your children, grandchildren, and great-grandchildren, proud to have your strength and share the dynasty you spent your life creating, and proud to be a jackson."
Paris — the 20-year-old daughter of Michael, who died on June 25, 2009 — also thanked Joe for his work, helping his family get to where they are today, and praised his strength. She added,
"you are the first true jackson. the legend that started it all. none of us would be anywhere near where we're at if it weren't for you. you are the strongest man i know. your life's work will go down in history, as will you, to be known as one of the greatest patriarchs to ever live."
According to TMZ, "family sources" said that Joe died at a Las Vegas hospice. Paris also detailed her final moments with her grandfather and said she'll "cherish every moment with you til the day i die, especially our last moments." As she wrote, "being able to hold your hand, lay with you and cuddle you, give you kisses all over your cheeks and forehead, meant more to me than you'll ever know." Paris even revealed they talked about Michael and the stories he used to tell her as a child. She also expressed how much she loves her grandfather and how she'll keep his spirit alive by telling stories about him.
Joe's past isn't perfect. During a 1991 interview with Regis & Kathie Lee promoting her memoir, his daughter La Toya Jackson alleged, "My father was very strict, he beat us... Belts, whips, whatever." She added, "My brothers were grown and my father would take his fists and he would punch them and knock them down the steps constantly. To this day, they are still afraid of my father, and they will tell you." In September 1991, the Associated Press reported Joe and Katherine Jackson denied La Toya's claims. The AP reported they called her allegations "a bunch of lies."
While on Regis & Kathie Lee, La Toya also alleged Joe sexually abused her and her older sister, Rebbie Jackson. "There were times when my mother would say, 'Please, Joe, not tonight, leave her alone, let her rest, don't get in the bed with her,'" she said in reference to the situation. According to Page Six, "Rebbie denied that Joe raped her, but said he touched her inappropriately; Joe denied all allegations of sexual impropriety."
After Joe's death, La Toya tweeted, "I will always love you! You gave us strength, you made us one of the most famous families in the world. I am extremely appreciative of that, I will never forget our moments together and how you told me how much you cared."
In 1993, Michael opened up to Oprah Winfrey about Joe. He said he loved his dad and he was "forgiving," despite Joe allegedly hitting him. "[He would beat me] because he wanted me to, I don't know if I was his golden child or whatever it was, some may call it a strict disciplinarian or whatever, but he was very strict, very hard, very stern. And just a look would scare you. Frightened."
Years later, in a 2010 interview with Winfrey, Joe admitted he physically abused his children by hitting them with a strap. "It kept them out of jail and kept them right," he said. According to the New York Daily News, Joe's surviving wife, Katherine, pushed him to confess. "You might as well admit it, that's the way black people raised their children," she said on The Oprah Winfrey Show. "He used a strap."
Despite Joe's actions and the many family hardships, Paris' relationship with her grandfather seemed to be a loving one. Like she concluded in her tribute to him, "my great grandchildren will know who joseph jackson is. i love you grandpa. so so so much that words can't describe. i have immense gratitude for you, and always will. we all feel that way. thank you for everything. truly. rest in peace and transition. i'll see you in my dreams very very soon." Overall, it sounds like Paris will never forget her grandfather and the memories they shared.
If you or someone you know has been sexually assaulted, call the National Sexual Assault Telephone Hotline at 800-656-HOPE (4673) or visit online.rainn.org.