This Parkland Dad Wants A Texas Official Kicked Out For His Santa Fe Shooting Comments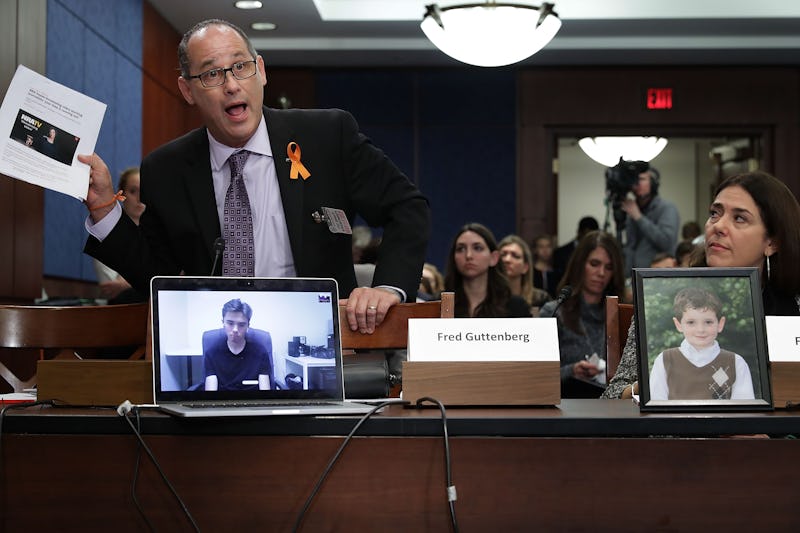 Chip Somodevilla/Getty Images News/Getty Images
On Sunday morning, following the Santa Fe High School shooting, the Texas lieutenant governor made his views on gun control crystal clear: "It's not about the guns. It's about us," said Dan Patrick in his interview with George Stephanopoulos during ABC's This Week. Immediately following Patrick's interview, a Parkland father blasted the Texas official's comments as "idiotic" and called for him to be removed from office.
The father, Fred Guttenberg, lost his 14-year-old daughter Jaime Guttenberg in February when a gunman opened fire and killed 17 students at Stoneman Douglas High School. His remarks came as the nation suffered yet another shooting on Friday, after a 17-year-old student carried a shotgun and revolver into Santa Fe High School and opened fire, killing 10 people and injuring 13, according to Houston area authorities.
"I think those are the most idiotic comments I've ever heard regarding gun safety," Guttenberg said, whose appearance immediately followed Patrick's on the same ABC program. "Let me be clear, he should be removed from office for his failure to protect the citizens of Texas. To hear him continue to make the argument after 10 people died in his state that guns are not the issue is simply a crock."
The Santa Fe shooting was the country's deadliest attack since the massacre in Parkland, which led to an unprecedented campaign by students and parents for gun control. Guttenberg has been a vocal gun control activist since his daughter's death and founded the charity Orange Ribbons For Jaime, a dance support and anti-bullying group in honor of his daughter.
"I am raging right now," continued the dad. "I'm here this weekend at what was supposed to be my daughter's dance recital, where they're honoring my daughter's memory instead of having my daughter dance. And for that man to make those moronic comments — unacceptable."
Guttenberg's critique came after the Texas lieutenant governor blamed gun violence on social media, video games, divorce, and movies that show "we have devalued life." Patrick suggested those hours of violent video games desensitize young shooters to violence and contribute to the cause of school shootings.
"We have devalued life, whether it's through abortion, whether it's the breakup of families, through violent movies, and particularly violent video games," said Patrick, who went on to say that he believes gun control starts at home and that the accountability lands square on the shoulders of the gun owners, more than anyone else.
"We have our schools that are not hard targets. We've done a good job since 9/11 of protecting government buildings, and airports, and private buildings, but we have not done anything to harden the target at our schools," Patrick said, in his support of the possibility of giving teachers weapons to protect school. "We still have this gun debate … of whether or not teachers should be armed or not," he continued. "I believe, and the parents of the students I've talked to in Santa Fe since Friday, believe they should be."
When Stephanopoulos challenged Patrick with the statistic that Americans of high school age are 82 times more likely to die from guns than kids of the same age in the rest of the developed world, Patrick pushed back, rejecting the reason being that America has easier access to guns.
"Guns stop crimes," Patrick rebutted. "If we take the guns out of society — if you or anyone else thinks that that makes us safer, then I'm sad to say that you're mistaken. That will just give those that are evil… [the ability] to put more of us in danger."
Patrick has also been raked over the coals on Twitter for suggesting that the number of entrances and exits on school campuses may be to blame.
While the Parkland shooting gave rise to an unyielding student movement, it's unlikely that Santa Fe, a deeply conservative small town, will immediately do the same, with many Texas locals blaming a lack of religion in schools as the problem.