Parkland Survivors Are Open To Trump's Gun Proposals — As Long As He Does This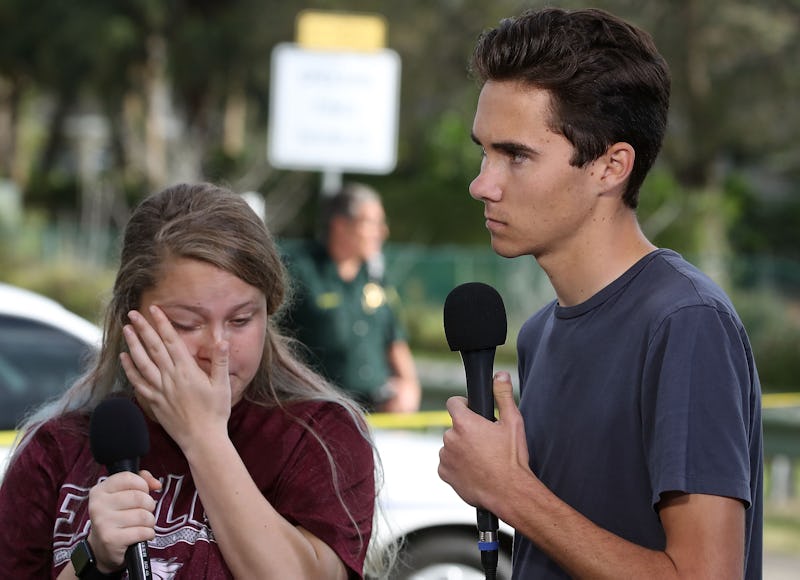 Mark Wilson/Getty Images News/Getty Images
Parkland survivors weren't totally satisfied with the White House's new gun reform proposal released on Sunday. Although President Trump previously suggested he'd support raising the federal age limit to buy a rifle, his latest plan backed away from that idea entirely. Instead, it sought to arm teachers. David Hogg, a vocally anti-gun Parkland shooting survivor, welcomed Trump's gun proposals — but it's clear he's not holding his breath for the president to prove he's not a hypocrite on the issue.
"Show us that you're better than these other politicians, that you aren't owned by the NRA, and that you actually want to take action," Hogg said to President Trump in a Monday interview with CNN. "Those proposals were great, but proposals without action remain proposals."
Hogg criticized the president for backpedalling his support for raising the minimum age to buy a rifle from 18 to 21, after telling other GOP politicians they're afraid of the NRA. Hogg asserted that this change shows that Trump isn't better than his party when it comes to guns.
"What President Trump showed when he said he wanted to raise the age to 21 is bipartisanship and that he wanted to work together on this and save some lives," Hogg said. "But the other thing that he showed after that is that he's no better than the other politicians."
In February, Trump told Fox News he'd have a gun reform proposal soon that would include "strong background checks," adding that "perhaps we'll do something on age, because it doesn't seem to make sense that you have to wait until you are 21 years old to get a pistol, but to get a gun like this maniac used in the school, you get that at 18."
Trump defended his flip flop on raising the age limit on Twitter Monday by saying that decision is up to individual states. "On 18 to 21 Age Limits, watching court cases and rulings before acting. States are making this decision," he wrote. "Things are moving rapidly on this, but not much political support (to put it mildly)."
Despite age failing to make an appearance in Trump's latest plan, Hogg contended that the proposal "answers basically one of the three main issues that we're trying to face" by addressing mental health. The plan would integrate mental health, primary care, and family services to better identify when someone needs help. It further said a review is needed to see if current privacy rules should be changed to allow law enforcement and school officials access to individuals' mental health records when necessary.
The White House also officially backed strengthening the nation's background check system and voiced support for banning bump stocks, which equip semi-automatic rifles to fire more rapidly. "Very strong improvement and strengthening of background checks will be fully backed by White House," Trump tweeted Monday. "Legislation moving forward. Bump Stocks will soon be out. Highly trained expert teachers will be allowed to conceal carry, subject to State Law. Armed guards OK, deterrent!"
While Hogg praised the White House for starting to take action on gun violence, Parkland survivors don't support Trump's call to provide "specially qualified" school staffers with "rigorous firearms training." Alfonso Calderon, a fellow Parkland survivor, told CNN last month that arming teachers isn't the answer. "I don't know if Donald Trump has ever been to a public high school but, as far as I'm aware, teachers are meant to be educators." Calderon said. "They are not meant to know how to carry AR-15s. They are not meant to know how to put on Kevlar vests for the other students or for themselves."
Parkland survivors may not completely agree with the administration, but Hogg said he's glad the gun control conversation is taking place. Now, he wants the White House to follow through with real action.