This Female-Led Streaming Service Is Turning Your Fave Romances Into Movies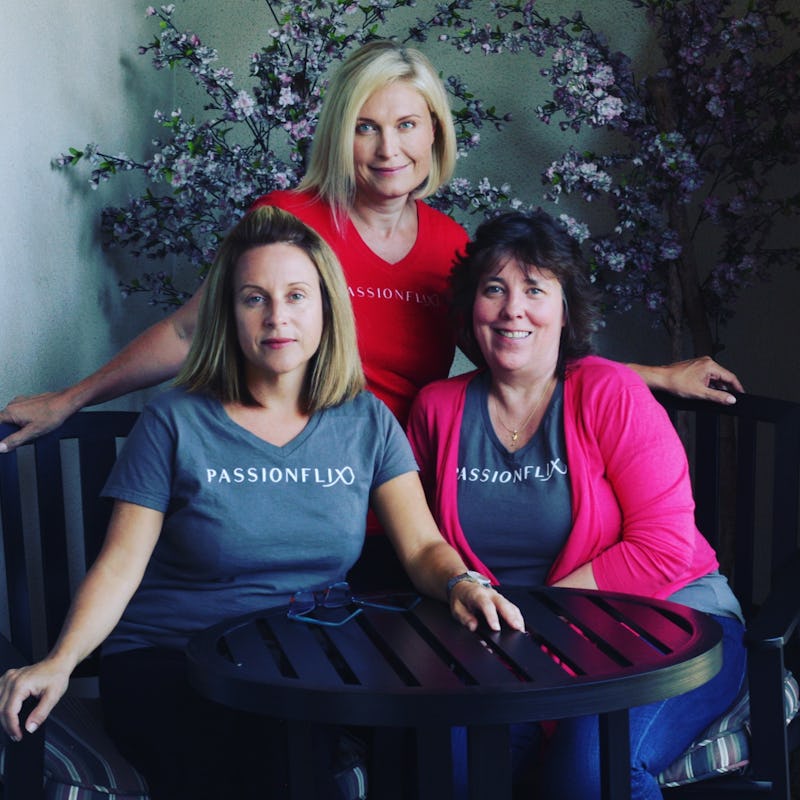 Courtesy of PassionFlix
In recent years we've seen the massive success of female driven films like Bridesmaids, Hidden Figures, Train Wreck and Wonder Woman. Now fans of movies with a female point of view can check out PassionFlix, a premium streaming entertainment service that will provide your fix of classic romantic movies and launch original film adaptations of romance novels.
Yes, romance novels. This powerhouse genre of literature — they're the second largest category of fiction in the United States — is almost entirely comprised of stories by women, about women, for women. Yet these engaging stories haven't often made the leap from page to screen — until now. I spoke with PassionFlix co-founder and award-winning producer and director Tosca Musk about the trials, tribulations and joys of adapting romance novels for the screen, the female gaze in film, and the power of ladies who launch.
Here's what I learned about the brand new streaming service:
The Fact That PassionFlix Is Run By Romance Fans Makes A Huge Difference
"I think you have to be a fan of a specific genre in order to support the making of those movies," Tosca Musk tells Bustle. "It's also a matter of justifying the enormous cost to make a movie on a novel that might be a bestseller, but isn't the #1 selling book in the world. Film is high risk. But we're fans. Super fans. And we know there are other women (and men) out there that are super fans, too. And so we're able to justify the effort and hope that everyone who is a fan will support us and show the world that we want this content."
Prioritizing The Female Gaze Empowers Women
"I love it," Musk says. "I've loved every minute of this process. Working with the authors to bring these stories to life is a joy. Many of these stories need to be told with the female gaze in mind and working with a female team allows me to focus on telling the story in an engaging way that empowers women, shows love in a positive light, and reminds women to embrace their sensuality and sexuality. We want you to celebrate being a woman. Or man. Men can celebrate too."
It's a Challenge Managing Roles As Both A Filmmaker and Female Startup Co-Founder
"Joany Kane actually came up with the concept of PassionFlix a few years ago," Musk says. "In 2015, after watching a movie I directed, Joany contacted me and pitched me a Halloween themed screenplay. My partner, Jina Panebianco, loved the script, but unfortunately, the networks didn't have the same reaction to the screenplay — it was a little to risqué for them.
In February of 2016, we all met for a lunch where Joany told Jina and I about PassionFlix. We instantly saw the need for this platform and the partnership for PassionFlix was formed. Since then, it's been the Tosca, Joany and Jina PassionFlix team, working diligently to bring the company to life.
Over the last year and half, the we put together the business plan, raised the money, reach out to authors, designed and built out the platform and licensed content from studios. And of course, we filmed the original content based on romance novels. I directed two of the first romance novels we'll be premiering on PassionFlix, HollywoodDirt and Afterburn/Aftershock, which Joany wrote and Jina produced. The plan is to shoot three more before the end of the year."
It's Important For Women To be the Ones Making These Films
"I think woman have a unique way of looking at the world," she says. "And I think that we have an opportunity here to focus on the female gaze as filmmakers. Most movies and series are made with the male gaze in mind (intentional or not). These stories and this platform seek to undo or change that. We want you to look at love from our perspective: Connection, sensuality, and communication to start."
Choosing Which Books to Adapt Into Movies Can Be Tricky
"The first adaptation we did was Alessandra Torre's Hollywood Dirt, which was highly appealing to me as a woman and a filmmaker. The story of a Hollywood movie star and a small town girl always delights; it's the perfect fairy tale. But the number one characteristic of this story that drew me in was that both characters had been so badly hurt in the past, they couldn't see that love was right there in front of them. They continued to fight against it, as two broken people would, fearful of what would happen to them if they gave love another chance. Until they eventually gave in to the need to be together, communicated, and allowed their connection to be whole. Being able to film that, while making sure the right amount of comedy made it to the surface (I love romantic comedies), was very satisfying."
PassionFlix Will Also Stream Other Classic Romances
"We have everything from Moonstruck to Thomas Crown Affair, Clueless to Last Holiday, Overboard, BabyBoom, Roman Holiday, Strictly Ballroom, Love Story, Like Water for Chocolate, Bride and Prejudice, Jane Eyre, Mansfield Park, Kate & Leopold, She's AllThat, Sabrina and Wuthering Heights. We will have on average about 30 or so movies and series that fluctuate each month, keeping the content fresh and interesting. But they'll always focused on love, passion, romance and happy endings.
And of course, our original movies and series will come out roughly every two months, starting with Hollywood Dirt in September, Afterburn/ Aftershock in November and The Trouble With Mistletoe in December."
Go to PassionFlix.com to subscribe.