Patti Lupone Appeared On 'Crazy Ex-Girlfriend'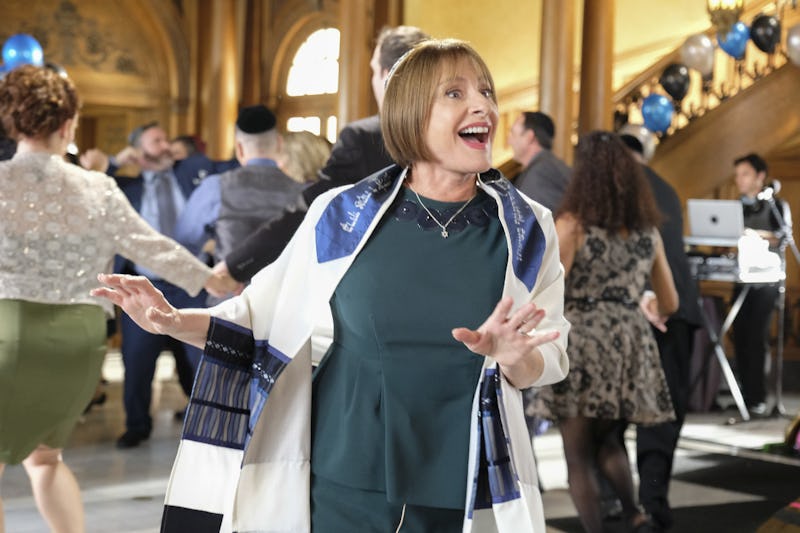 Scott Everett White/The CW
When it doubt, call on the power of LuPone to guide you through your tough times. At least, that's what Rebecca did when she turned to Rabbi Shari, known in real life as Patti LuPone, for Crazy Ex-Girlfriend-style relationship guidance. That's right, LuPone brought her megawatt Broadway power to Friday night's episode of Crazy Ex-Girlfriend but she also brought her big Broadway heart, too. In combination with fellow Broadway vet Tovah Feldshuh, reprising her role as Naomi Bunch, the amount of star power was through the roof on Crazy Ex-Girlfriend. Trust me, though, this much star power in one room is a really, really good thing.
So what was LuPone's deal on Crazy Ex-Girlfriend? Well, she was present and accounted for on Friday night's episode as Rebecca's childhood rabbi, officiating a relative's wedding while simultaneously looking out for Rebecca's religious and personal well-being. Bless you, Ms. LuPone. Bless your beautiful musical theater heart. When you have a free moment, can I ask you to be my spiritual advisor as well?
Apart from absolutely killing it in her solo "Remember That We Suffered," LuPone was on deck to counsel Rebecca through a rough patch in her relationship with Josh. As Rabbi Shari, she was there to talk to Rebecca, reminding her that being in love and a new relationship doesn't mean you get to forget all your problems or that your problems will somehow be soaked up by your other half. She also led Rebecca to realize that perhaps being in a relationship right now was not the best option and that a serious period of self-introspection might be best.
Of course, Rabbi Shari knows best, but that didn't make a lick of difference for Rebecca. Rebecca had a temporary epiphany that she wasn't confronting her real, deep-seated issues, and was almost to the point of proclaiming she didn't need to be in a relationship with Josh. That would have freed her up to really do some work on herself; alas, Josh barged into her therapy session and proposed, laying waste to all of that realness that came from a quick counseling session with Rabbi Shari. Rebecca, when will you learn?
But, as is the usual, when LuPone is guest starring on your favorite TV show, it's tough to feel any kind of suffering. Hey Rachel Bloom, can you please bring back LuPone as a permanent Season 3 spiritual guide for Rebecca? Pretty please?