Paul Manafort's Wife Supports Him In The Courtroom — Here's What To Know About Her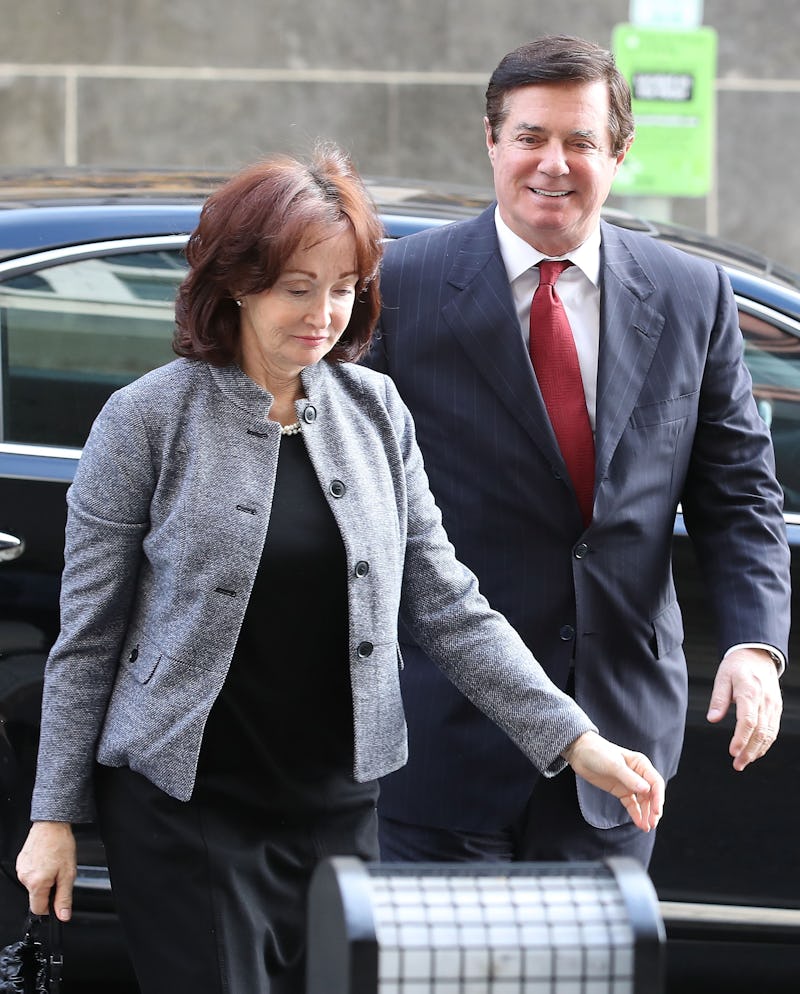 Mark Wilson/Getty Images News/Getty Images
They've been together for decades, and throughout the months-long investigation by special counsel Robert Mueller, former Trump campaign manager Paul Manafort's wife Kathleen has been by Manafort's side. In fact, Kathleen has witnessed the Mueller investigation into her husband since the beginning.
CNN reported that the FBI executed a search warrant on the Manaforts' house while the two were laying in their bed. The search warrant was a part of the special counsel investigation's into the Trump campaign. Kathleen was even searched for weapons, which is a FBI standard operating procedure, according to the news network. Manafort was indicted on charges of money laundering and conspiracy, among other charges, and has pleaded not guilty, according to The New York Times. Jury selection for his trial began Tuesday.
Like her husband, Kathleen is a lawyer. The database Lawyers.com shows that Kathleen graduated from The George Washington University with a bachelor's degree in 1979 and graduated from Georgetown University Law Center in 1988. Kathleen took the bar exam in Virginia that year and was one of the 837 who passed, according to aWashington Post article announcing the results in 1988. Lawyers.com shows that she was admitted to the bar for the District of Columbia in 1991 as well.
Kathleen and Manafort have been adjacent to — or directly involved in — Republican politics for decades. When Manafort was running his lobbying firm Black, Manafort, Stone, and Kelly in 1984, he and Kathleen attended a state dinner for Dominican Republic President Salvador Jorge Blanco, hosted by former President Ronald Reagan, according to The Washington Post.
Since his indictment, Kathleen has attended many of Manafort's hearings. In a recent show of support, Kathleen appeared in court to lend her support to Manafort, according to Politico. The news outlet reported that Kathleen was seated in the front row of the Alexandria, Virginia, courtroom, and that Manafort smiled at her before he left.
Another hearing Kathleen attended was in early May when Manafort's legal team requested a dismissal of the tax charges against him, as shown by photos of the pair arriving at and leaving the court house.
Although Kathleen has been present at numerous hearings for her husband's case, she has given no interviews about the investigation. Kathleen also doesn't appear to have any active social media profiles.
While her husband was investigated, Kathleen's name appeared in connection with lavish purchases that are under question by investigators. Bloomberg reported Thursday that the jury could be shown evidence of Manafort's expensive lifestyle, including a Mercedes Benz SL 550 Kathleen purchased back in 2012.
Even with the barrage of headlines every day regarding Manafort's trial and his charges, Kathleen's relationship with her husband has mostly stayed out of the spotlight. When Atlantic journalist Franklin Foer published a thorough profile of Manafort in March, there were a few tidbits. Foer found that Manafort had taken care of Kathleen in 1997 after a horseback riding accident almost killed her. "I always marveled at how patient and devoted he was with her during that time," a friend of the family told Foer.
Through it all, Kathleen has remained publicly supportive of Manafort. As Manafort's trial begins, only time will tell if Kathleen will remain a fixture at the courthouse.