Penn Badgley's Next Role Is A Lot Like Dan On 'Gossip Girl' — Only Creepier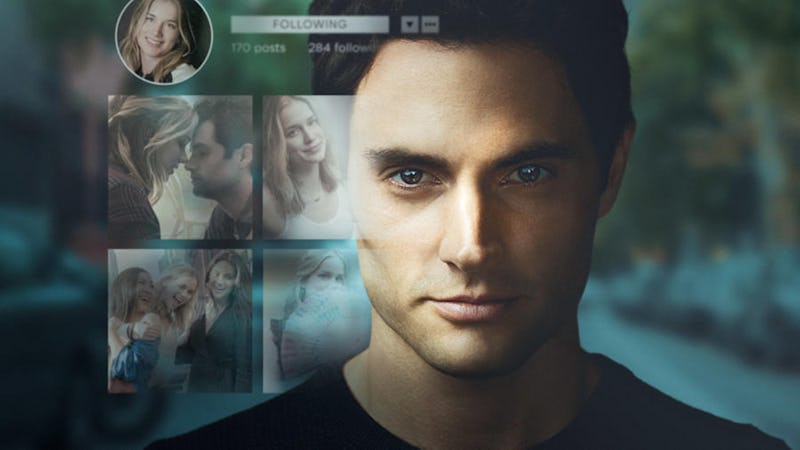 Lifetime
A dark brooding young man played by Penn Badgley obsesses over the blonde woman he just met, to the point where he takes to the internet to try and get closer to her any way he can. Does this television series sound familiar? If you're thinking Gossip Girl, you're only half right. Yes, Badgley played Dan Humphrey, who obsessed over Serena Van Der Woodsen (Blake Lively) for years, and created his Gossip Girl online persona because of it. But the actor is also taking Dan to the next level with his new series. Badgley stars in Lifetime's YOU, about a man who uses social media to track his crush, removing every obstacle in his way to get close to and control her — even if that means straight-up murdering people.
YOU, which premieres Sept. 9 on Lifetime and has already been renewed for a second season, is like if Dan took his already creepy obsession with his crush to an extremely dark place. So it's pretty safe to say that if you were a fan of Gossip Girl, this show is going to be your new obsession. Badgley knows that too. While presenting a panel at the 2018 Summer Television Critics Association press tour in Beverly Hills on Thursday, the former Gossip Girl star couldn't deny the eerie similarities between Dan and his new character Joe.
"Certainly there are parallels, not the least of which is that I'm playing both of them," he says with a laugh. "I'd say the first scene of the first episode, by every measure, Joe might appear to be Dan. Then he diverges."
It's been almost six years since Badgley "signed off" with his last "XOXO" as Gossip Girl on the fan-favorite CW series, but he knows that his fans will always be comparing his new roles to Dan. That doesn't mean he's focusing on that, though. "I also, as time goes on, am probably less interested and also more accepting of the fact that there is no way of controlling people's perception of what it is they're watching," he says. "And if people want to see the similarities and focus on them that's fine because they're there and then whatever else they want to see, that's there as well."
He pauses, then adds with a grim chuckle, "But trust me, those comparisons are not lost on me. I can only imagine the worst version of an ad, 'If you like Gossip Girl, this one is really a killer.'"
But while Dan was only mildly problematic with his passé attitude about personal privacy on the internet, Joe is definitely crossing lines with his stalking of Gwen (Elizabeth Lail). There is no question about that. "There are a couple glaring things about him that are so inhuman," Badgley teases. The actor was so deeply troubled by the character of Joe, especially playing this stalker/emotional abuser in the age of #MeToo, "which is why [showrunners] Greg [Berlanti] and Sara [Gamble] insisted that I was the right guy for the role," Badgley says.
"I personally really am interested to see how many different people respond to the show, especially since we just found out about a second season pickup," he adds. "I personally feel about it that it is a bit of a social experiment, it's a litmus test to see the mental gymnastics we will still perform on a cultural level to love an evil white man. So I'm not nervous but I think it will certainly add to the conversation and it will create its own conversation. I'm looking forward to the response."
Badgley's co-star Shay Mitchell, who plays Peach, was so affected by her time filming Season 1 that it actually changed the way she uses social media (and she's no stranger to social media controversy... ). "It is a different day and age," the Pretty Little Liars alum says. "With Joe's character, I can kind of see myself in that same situation, to a much smaller degree, but when you meet somebody, you're like, 'Okay, Google search, Facebook, Instagram,' and you go down this whole crazy, crazy hole. But after reading the scripts and being on the show, it has made me a little more careful where I'm not [posting that I'm] at this grocery store at this moment."
Between Badgley and Mitchell, the former teen drama stars have enough social media pedigree between the two of them to make YOU an instant hit with their huge fan followings. But are they down to return to the franchises that made them each household names?
On returning to Gossip Girl, Badgley jokes, "I would do it if Dan got to kill them. For whatever reason, that question, I feel like it has no answer. It's not about my interest, it's about so many other things. I don't think it will ever happen."
Mitchell was a little more optimistic and open to the idea when it comes to Pretty Little Liars. "I don't know," she says. "I guess never say never, you never know what could happen. So yeah." If we can't get more Gossip Girl or Pretty Little Liars, at least we've got YOU coming out soon to get our fill of Badgley and Mitchell.