This Pennsylvania Lawmaker Wants To Make Domestic Violence Survivors Get Drug Tested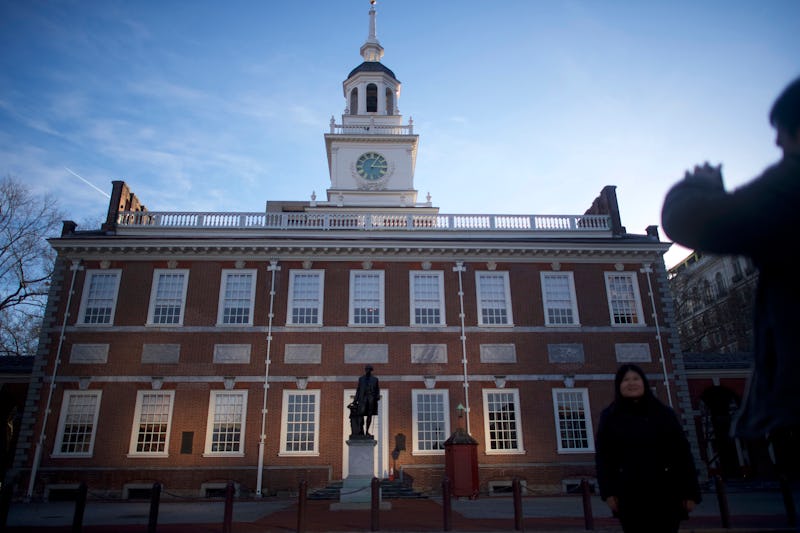 Mark Makela/Getty Images News/Getty Images
A Pennsylvania state representative has said he plans to introduce a bill that could make it more difficult for alleged victims of domestic violence to protect themselves. Per a Jezebel report, Pennsylvania Rep. Kevin Haggerty wants alleged domestic violence survivors drug tested before they are able to receive state support, including temporary protection orders, to keep themselves safe.
In a memo to his colleagues entitled "Protection from Abuse Orders: Drug and Alcohol Testing," Haggerty outlined his intention to help prevent false accusations of abuse from being levied against innocent parties, which, according to the memo, he believes happens frequently.
"The impact a PFA petition can have on the lives of those involved can vary from life-saving to life-destroying," he wrote in the memo. "There is a growing, yet thus far unexplored contingent of PFA petitions filed under false pretense. The manifestation of this trend has been seen across the country."
Notably, the Jezebel report points out, Haggerty was accused of assaulting his wife in 2017. His wife told authorities that he "threw two bottles of water and hit me in [the] left side of [the] head hard enough to feel temporary loss of hearing an[d] facial numbness," according to a report by the Scranton Times-Tribune. His wife was granted a temporary PFA order against him, Fox56 reported.
At the time, his lawyer, Frank J. Ruggiero, said in a statement that "the allegations raised against Mr. Kevin Haggerty are of a personal nature between his wife, Jennifer, and himself. It is not appropriate that he comment at this time regarding said allegations." Bustle has reached out to Haggerty for comment.
His wife was awarded a temporary protection order against him, though she did not ultimately press charges.
According to his memo, Haggerty believes that potential victims who are intoxicated may apply for protection from abuse (PFA) under false pretenses. He lamented the affect that such a PFA can have on those accused, and outlined his plan:
The impact a false petition for a PFA can have on its subject is incalculable. Not only does it damage the reputation of the individual within the community and the workplace, it could lead to unjust incarceration. It is vital that our courts have the full context in all judicial matters, let alone those involving such critical, potentially explosive matters. To that end, I will be introducing legislation requiring the drug and alcohol testing of individuals filing petitions for PFA orders with a lack of substantive evidence. In these contentious situations, a clear mind is required to make the best judgement and my legislation will help ensure petitions are filed without the negative influence of intoxicating substances.
Julie Bancroft, of the Coalition Against Domestic Violence, told Pennsylvania NPR affiliate WSKG that Haggerty's would-be bill misunderstands how abuse works.
"The memo suggests that if there's drug or alcohol use that somehow negates the reality of abuse, and that's just not the case," she said.
She further explained that if drugs and alcohol are present in a victim's body, there may be a very legitimate reason why.
"Many times, victims of domestic violence turn to drugs and alcohol as a coping mechanism, and it's also a way that abusers continue to manipulate their victims by preventing paths to sobriety," she said. "It's really troubling in a number of ways."
There's no word on exactly when Haggerty plans to introduce such a bill, nor whether it is expected to gain support. For Pennsylvania constituents, it is currently a wait and see.