'Penny Dreadful' Is Returning With A Sequel That'll Devilishly Haunt The City Of Angeles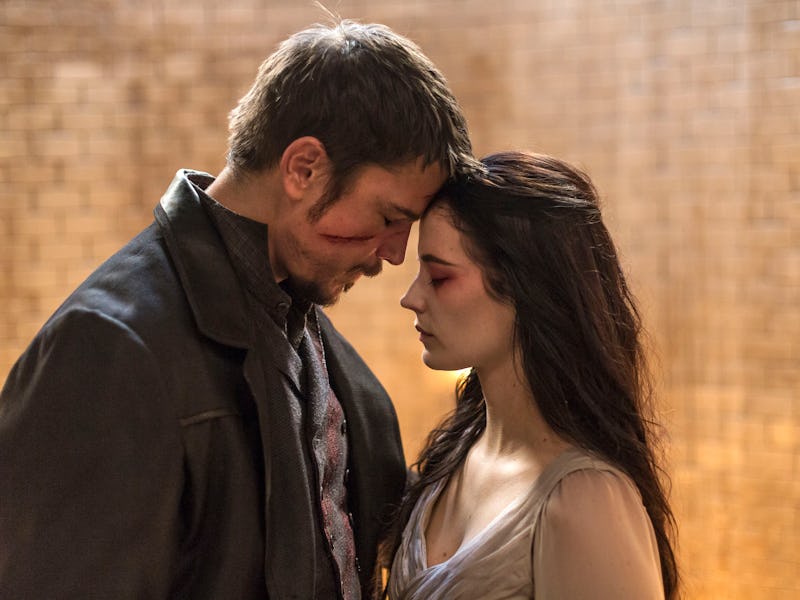 Patrick Redmond/SHOWTIME
For fans who thought Penny Dreadful was gone too soon, Showtime is bringing the supernatural horror thriller back to life. Yes, Penny Dreadful is returning with a sequel series — Penny Dreadful: City of Angels — which will be set in 1930s L.A. with entirely different characters, per Deadline. The OG incarnation, which ran for three seasons beginning in 2014, of course, scared up a bevy of key players from 19th-century British and Irish Gothic fiction — including Frankenstein's monster, Dorian Gray, Van Helsing, Count Dracula, and Dr. Jekyll. So it seems to be a safe assumption that viewers should have plenty of folklore to look forward to with the new chapter, slated to begin filming in 2019.
According to Deadline, Penny Dreadful: City of Angels will have more of a Mexican-American theme. "Rooted in the conflict between characters connected to the deity Santa Muerte and others allied with the Devil, Penny Dreadful: City of Angels will explore an exciting mix of the supernatural and the combustible reality of that period, creating new occult myths and moral dilemmas within a genuine historical backdrop," the website reported. (No airdate has been announced yet.)
Penny Dreadful creator, writer and executive producer John Logan also explained, per Deadline, that there may be a bit more fact than fiction in the sequel:
"Penny Dreadful: City of Angels will have a social consciousness and historical awareness that we chose not to explore in the Penny Dreadful London storylines. We will now be grappling with specific historical and real world political, religious, social and racial issues. In 1938, Los Angeles was facing some hard questions about its future and its soul. Our characters must do the same. There are no easy answers. There are only powerful questions and arresting moral challenges. As always in the world of Penny Dreadful, there are no heroes or villains in this world, only protagonists and antagonists; complicated and conflicted characters living on the fulcrum of moral choice."
Penny Dreadful 's fiercely loyal fans — who dubbed themselves "The Dreadfuls" — were naturally shocked and horrified when the original series (featuring stars like Eva Green, Josh Hartnett, Reeve Carney, and Christian Camargo) ended its three-season run in June 2016. After all, as also noted by Deadline, the series had earned 13 Primetime Emmy nominations, as well as a Golden Globe nomination for lead actress Green, and won three BAFTA Awards.
Equally horrific was the death of Green's protagonist, powerful medium Vanessa Ives, in the Season 3 finale. After the episode aired, Green reflected on her time on Penny Dreadful, in a Showtime behind the scenes video. "I'm going to miss Vanessa," said the actor. "It's going to be hard to kind of leave her behind. To have been able to play such a beautiful character is a gift for an actor and I've been so lucky."
Hartnett, who starred as Ethan Chandler, also said in Showtime's video that it was difficult to say goodbye to the series. Remembering one of the final days of filming, he added, "Just sort of knowing it was going to be the end, we sort of savored that more. It has been quite a journey."
Thanks to Showtime giving the green light to a Penny Dreadful sequel, a similar journey is sure to imminently begin for a new cast of characters.