People Are Rooting For The Falcons To Spite Trump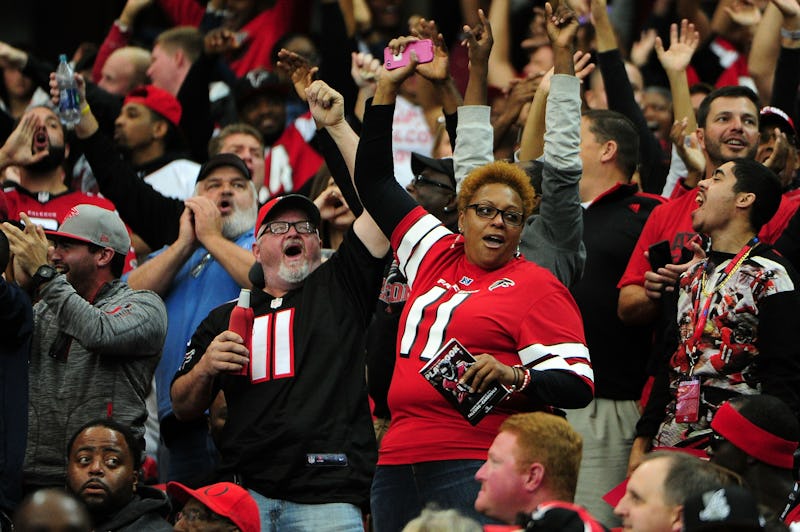 Scott Cunningham/Getty Images Sport/Getty Images
During his Super Bowl Pregame interview with Bill O'Reilly, President Donald Trump revealed that he supports the New England Patriots and predicts they'll win Super Bowl LI by eight points. When liberal Twitter users heard that, they did what they do best — took off running with jokes at Trump's expense. These people are rooting for the Atlanta Falcons to spite Trump, and it's a hilarious way to watch this heavily-politicized Super Bowl.
This isn't the first time Trump-trolling took place during this year's big game — during the NFL's "Opening Night" on Jan. 30, Falcons owner Robert Blank joked at Patriots owner Robert Kraft's expense when he answered for Kraft that Trump was the most famous person in Kraft's cellphone. The joke alluded to Kraft's close relationship to Trump, which has caused some to protest the Patriots based on their politics. Blank himself has heavily criticized the president as well, and said that he was particularly bothered by Trump's Holocaust Remembrance Day remarks (or lack thereof). Although Kraft and Blank are both Jewish, the Patriots owner remains a close friend and supporter of Trump's, and even joked that he hopes Trump can get his Super Bowl ring back from Vladimir Putin.
Below are some of the funniest tweets about Trump's support of the Patriots and those rooting for the Falcons in protest.
A Telling Juxtaposition
The difference between the two is jarring, to say the least.
The Falcons' Place In History
It's pretty convincing when you put it that way!
Falcons Supporters Are Newly Emboldened
It probably feels great to be a longtime Falcons fan right about now.
And Non-Sports Fans Are Getting In On It, Too
An accurate depiction of me and most of my bookish friends today.
America Has Spoken
In the court of public opinion, the Falcons have already won.
It's Like Groundhog Day, But Way Worse
Cue beleaguered activists cheering for Atlanta.
The Burn Heard Round The World
The resemblance is uncanny.
The Best Motivation For A Falcons Win
"Do it for the culture" has never meant so much.
Even Indie Darlings Are Getting In On The Meme
Me too, Best Coast. Me too.
And This Could Happen, Too
Georgia Rep. John Lewis is a known Falcons fan, but with Trump's avowed support of the Pats, it'll make a Falcons victory even sweeter for the civil rights activist-turned-Congressman.
Even for those who aren't into sports, this Super Bowl is politically-charged enough to attract an entirely new audience — those who will take any excuse to make fun of our new president.