People Are Trying To Scare You Away From Voting — Don't Fall For It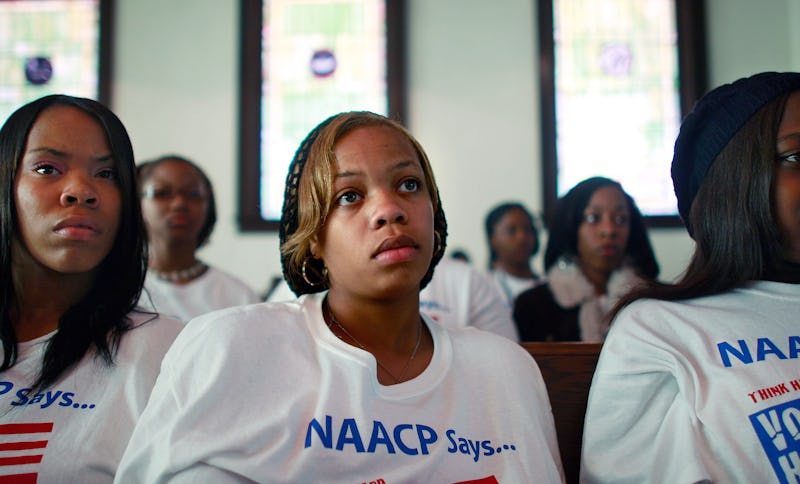 Mario Tama/Getty Images News/Getty Images
In this op-ed, Janai Nelson, associate director-counsel of the NAACP Legal Defense and Educational Fund, Inc., lays out voter intimidation in the 2018 midterms and what you need to know about the scare tactics meant to keep you from voting.
With Election Day just a week away, elected officials should be urging Americans to get out and vote and paving the way for them to exercise this fundamental right. Instead, far too many have done just the opposite, erecting barriers to the ballot and intimidating voters.
If you want to understand the threats facing equal voting rights in the United States in 2018, look no further than Georgia. There, Secretary of State Brian Kemp is blocking 53,000 voter registration applications because they were flagged by Georgia's "exact match" voter verification process, which requires a voter's registration to precisely match either a driver's license or a federal database. Last year, Kemp also removed more than half a million voters from its election rolls, more than 100,000 of them largely because they chose not to vote in a previous election.
One important thing to know about Kemp: In addition to his duties overseeing Georgia's elections, he's the Republican candidate for governor.
The conflict of interest here is obvious: a candidate should not preside over the election in which he is running. Groups like my organization, the NAACP Legal Defense Fund, and individuals like former President Jimmy Carter have called on Kemp to recuse himself from all election-related responsibilities, but he has refused.
It's certainly to his advantage to continue running Georgia's election machinery. His opponent, Stacey Abrams, who, if elected, would be the first Black woman governor in the history of the United States, is pursuing a campaign strategy focused on increasing voter turnout, especially among young people and voters of color. But it hardly seems coincidental that 70 percent of the suspended applications belong to Black voters and the voter purges disproportionately targeted minority voters in many counties. Kemp has himself admitted that he's hoping for low turnout. In leaked audio obtained by Rolling Stone, he tells donors that Abrams' turnout effort "continues to concern us, especially if everybody uses and exercises their right to vote."
Our democracy is stronger when every voice is heard.
Georgia is not alone in its efforts to suppress minority voters. In North Dakota, the site of an extremely close Senate race, a recently adopted law threatens to bar thousands of Native Americans from voting by changing ID requirements. In Kansas, where Secretary of State Kris Kobach has become one of the most visible proponents of voter suppression, officials in Dodge City moved the town's lone polling station four miles beyond city limits. In Texas, officials in Waller County, home of historically Black Prairie View A&M University, have offered far more early voting opportunities to white residents than to the university's students.
These efforts — coupled with inflammatory rhetoric like President Trump's recent and false tweet about voter fraud that all but endorsed voter intimidation — have created a climate of fear and uncertainty surrounding many voters in the run-up to the most important midterm elections in recent memory.
Against this backdrop, it's important for voters not only to show up at the polls, but also to know their rights and protections. The NAACP Legal Defense Fund will be on the ground in seven states to help voters as part of our Prepared to Vote project, and many other organizations have similar programs. Election rules vary from state to state, so it's important that you check the website of your secretary of state for ID requirements, polling place hours and locations, and other information. But a few things hold true for all voters nationwide:
If you're a registered voter, you can vote on Nov. 6 if you have the required ID (which in some states like CA, MD, NE, NC, NY and others may be no ID at all) and are in line by the time the polls close.
Even if you don't have required ID, registered voters can still cast a provisional ballot and should insist on one. This should be your last resort if you cannot cast a regular ballot, and it may require you to provide additional information to voting officials immediately after the election so they can verify your registration status. But it's better than not voting at all.
If you are blind, physically disabled, cannot read English, or simply uncertain about how to vote, you can request assistance at your polling place.
It is against the law for anyone to attempt to charge you a fee for voting or to try and prevent you from voting through intimidation. If you encounter any form of voter intimidation, call 1-866-OUR-VOTE.
Our democracy is stronger when every voice is heard. Don't let the those spreading fear and intimidation keep you from exercising your right to vote.