People Criticized Kendall Jenner's Acne At The Golden Globes & She Had The Best Response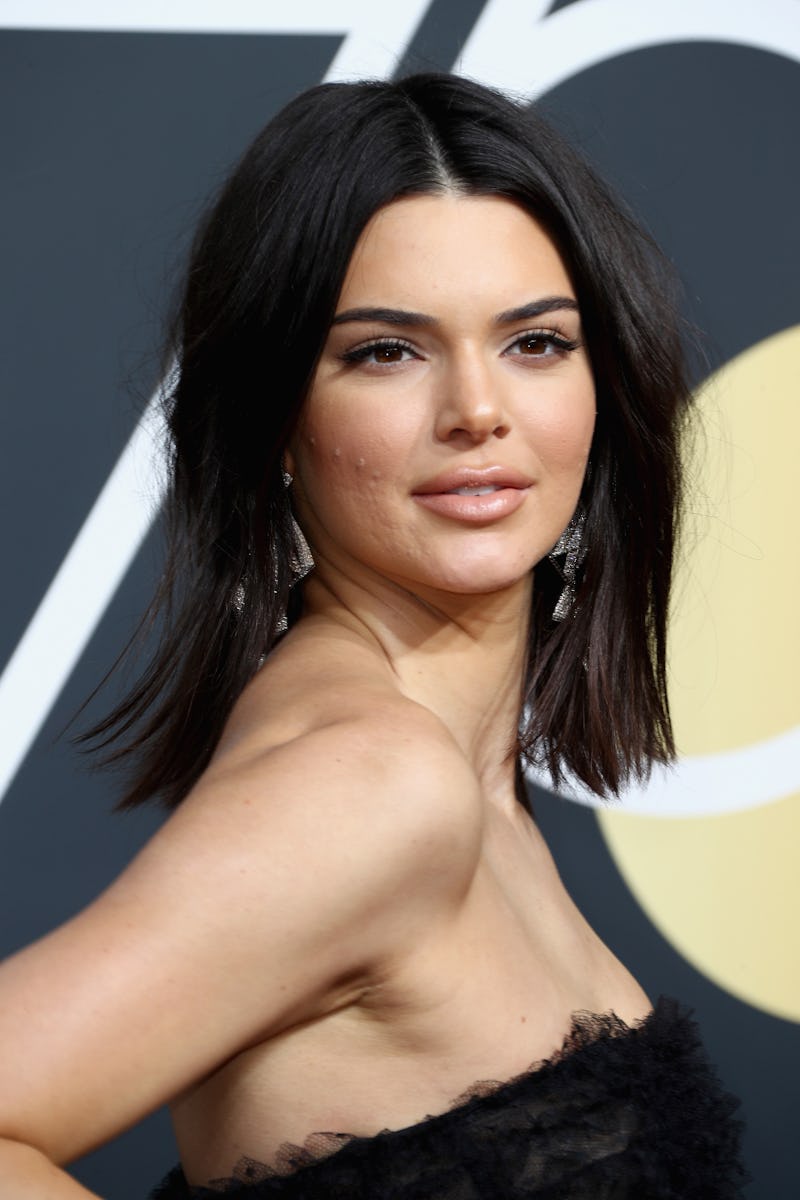 Frederick M. Brown/Getty Images Entertainment/Getty Images
Everyone who's anyone in Hollywood was at the Golden Globes on Sunday night, including Kendall Jenner, who made a late red carpet appearance. The reality TV star-turned-model was invited as Moët & Chandon's special guest for its philanthropic initiative, "Toast for a Cause" and looked absolutely stunning, dressed in a gorgeous black Giambattista Valli Haute Couture gown. But not everyone was talking about what she was wearing to the star-studded awards show — fans of Jenner's were more focused on her skin.
On Monday morning, user @yellowcustards commented on Jenner's appearance, saying, "Ok but @KendallJenner showing up and strutting her acne while looking like a gorgeous star is what every girl needs to understand." Others also came to her defense, like @fajar_siddiqui, who tweeted, "So Kendall jenner has acne... big deal, everyone gets it 😂😂😂 y'all are rude mannnnnn she's human."
While there were a fair share of haters (as there always are) criticizing Jenner on social media, most of them came to her side, praising the model and saying how gorgeous she still looked, despite the visible pimples that could be seen under her makeup.
Typically, Jenner remains quiet, unlike her other sisters, during times like these, but she responded on Twitter on Monday afternoon, replying to @yellowcustards' comment, saying, "never let that shit stop you! 😎✨."
Instead of staying silent or addressing her trolls directly, Jenner took the high road with her inspiring and relatable response.
Fans of Jenner's know that this isn't the first time she has struggled with acne. The model has opened up many times about dealing with skin issues. Years ago, Jenner wrote an open letter to her fans on her blog (which no longer exists), saying, "I had such bad acne when I was younger. It completely ruined my self-esteem — I wouldn't even look at people when I talked to them. I felt like such an outcast; when I spoke, it was with my hand covering my face. Even after things started to clear up, it took a solid amount of time to be okay with my skin and gain back my confidence. I realized that it's a part of life for some people and it doesn't define who you are."
Jenner has clearly grown more confident over the years and as a result, has become more comfortable with (and in) her skin. Jenner's fans were totally here for her brave and refreshing response — there are over 235 replies to her original tweet, 4,800 retweets, and 38,000 "likes."
User @Kendalljswife tweeted how proud she was of Jenner.
One user defended Jenner against those who were criticizing her acne, even offering up words of encouragement.
One of her followers summed up her fans' collective feeling with a precious mignon GIF.
Some of her fans really relate to Jenner's skin struggles, thanking her for making them feel more confident.
Shortly after, Jenner followed her tweet about her acne with another post that really drove home why a few pimples didn't stop her from attending the Golden Globes.
Jenner wrote, "Honored and humbled to be able to attend the Golden Globes with @voguemagazine. my eyes were opened and my heart is full seeing all of the men and women who were a part of this vital change! i too stand with all women #TimesUp."
And honestly, who even cares about a handful of zits when you get to be a part of history?
To see photos of Kendall Jenner getting ready for the Golden Globes, check out her behind-the-scenes photo diary on Vogue.