This Powerful Photo Project Shows What It's Like To Be A Person Of Color With Mental Illness Today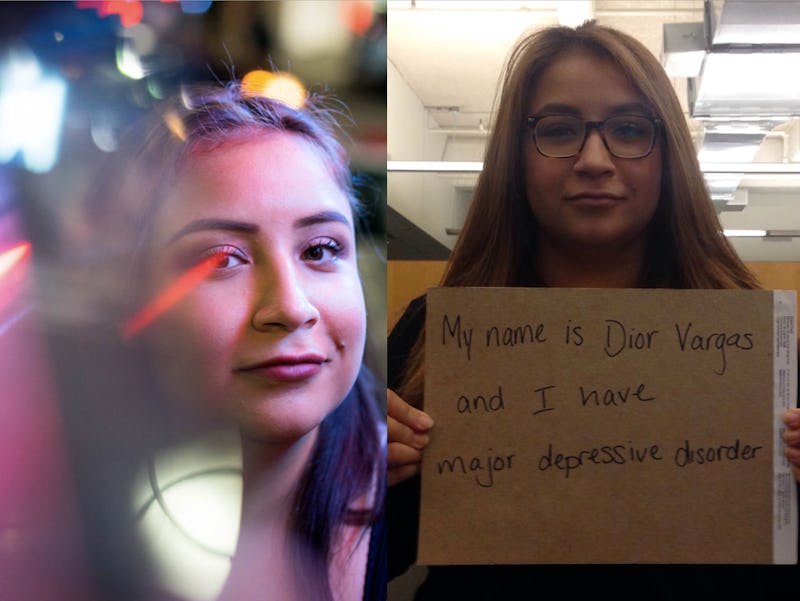 Courtesy of Dior Vargas/Negus Obscura Photography
Some of us avoid openly discussing mental health issues, but talking about it is a necessary conversation to have. And while there have been some strides made to destigmatizing mental health issues, campaigns and advocates aren't always so inclusive of people of color with mental illness, even though Mental Health America (MHA) estimates 8.9 million Latinx or Hispanic identifying people in the United States are diagnosed with a mental illness every year. Enter Dior Vargas, who started the People of Color And Mental Illness Photo Project in 2014 in response to the lack of representation of mentally ill Latinx people in mainstream media. "I was raised to believe that mental health and mental illness was a white person thing. So, I wanted to create a space where people could share their photos stories. I wanted to create a resource where people of color could go to for hope and a sense of community," Vargas tells Bustle.
Now, just a few years later, Vargas is planning to release a book version of her popular art project. "Mental illness affects everyone in some way, and it is doing a disservice to the experiences of people of color by showing only white people as those who deal with these conditions. I thought this project and overall conversation was a necessity," she tells Bustle.
The idea behind the project is simple: it features photos of people of color holding signs with their name and mental illness(es) written on them. Not only does mental illness affect 8.9 million Latinx people, but the National Alliance on Mental Illness (NAMI) estimates Black American are 20 percent more likely to be diagnosed with a serious mental health issue than the general population. Moreover, MHA predicts over 2.2 million Asian Americans and Pacific Islanders live with mental illness, and over 21 percent of the entire U.S. Indigenous population is diagnosed with a mental illness. These statistics only further stress the need to make sure people of color struggling with mental health issues don't feel isolated or alone.
Not only is there a lack of representation in mental health, but the Latinx community in particular faces large disparities when it comes to seeking and receiving mental health treatment. Despite the fact that the Latinx community has a similar susceptibility rate to mental illness as the rest of the population, NAMI reports that only 10 percent of mentally ill Latinx people actually seek out a mental health professional. Though stigmas surrounding mental health exist in every culture and community, there are certain stigmas that are unique to Latinx culture, Vargas explains. "The stigmas I have found most challenging is the idea that those who experience mental health struggles are being dramatic, that it is un castigo de dios [a punishment from God], or that the person is being weak [for having a mental illness,"] says Vargas. "Being questioned what you have to be depressed about or to think about what you have is also invalidating. It makes you feel awful about yourself — I know that from personal experience."
Vargas adds that is it important to note "language and immigration status really complicates things" when it comes to receiving proper mental health care. "Xenophobia has always been rampant but even more so in this political climate. This exacerbates mental health conditions. Undocumented people are afraid to get help because they think that might heighten the risk of being deported," she says. Given the current climate around issues such as DACA and the DREAM Act, it's no surprise that immigration status is impeding on accessibility of mental health care for undocumented people. Undocumented people of any background are more susceptible to mental health issues due to the sheer stress of being undocumented.
Vargas, who identifies as queer, also warns that "the intersection of race, ethnicity, gender, and sexuality compounds the oppression that people experience." NAMI estimates that LGBTQ individuals of all socioeconomic classes and races are three times more likely to be diagnosed with a mental illness than their straight peers. Additionally, a 2016 survey from the National Center for Transgender Equality found 40 percent of transpeople have attempted to commit suicide in their lifetime. "Homophobia and transphobia is taking people's lives and people who are part of these communities are shown that their lives are disposable. That's detrimental to one's mental health and self-worth," Vargas says. She points to the recent murder of transgender Latina Victoria Ramos Gutierrez to show how transphobia impacts the mental health of the queer, Latinx community.
Overall, Vargas believes organizations and individuals that are focused on mental health advocacy need to expand the conversation to include more marginalized communities — because, intersectionality is key. "[Mental health] programs need to think about who is missing in the conversation. They need to be cognizant that people's experiences with mental illness is not the same. When organizing, who is sitting at the table?" Vargas tells Bustle. "If you truly care about the experiences of people of color, educate yourself about the unique stigmas and disparities. Don't use people to fill a quota — we're human beings, and we need to be valued. I've worked for mental health organizations who feign interest in our experiences when actually they really care about numbers and how it makes them look. It needs to be genuine and sincere. We aren't pawns or tokens."
Mental health is an already challenging topic, but those of us who are engaged in improving the current understand of mental health issues must be inclusive and intersectional. Expanding the conversation to center marginalized voices, is not just important — it is essential to creating long-lasting change.