This Ad For A Train Looks Like An Actual Woman's Tragic Death — And People Are Furious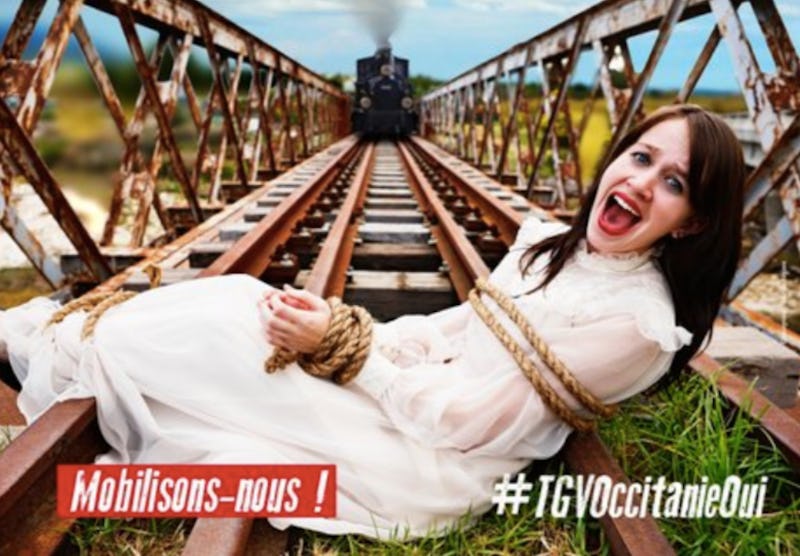 TGV
In June, France was abuzz with the news of a 34-year-old woman's grisly death; The Times reported that police believed that she may have been tied to a high-speed railroad track allegedly by her estranged husband. Public interest eventually died down, but six months later, Émilie Hallouin is back in the news in an unexpected way. On Monday, French mayor Robert Ménard released his campaign poster for high speed trains in the region of Occitanie, where his town of Béziers is located. It may not sound like a recipe for controversy, but the poster happened to feature a woman tied to train tracks underneath the caption, "With the TGV she would have suffered less." Perhaps unsurprisingly, this did not go over well. Bustle has reached out to Ménard for comment and will update upon response.
For his part, Ménard has responded to say that the poster is a reference to western movies. "The outrageous and paranoid reactions to our poster speak volumes about the moral order that plagues the country," he tweeted shortly after the poster's release. "The same [people] would have burned #Johnny [Hallyday] in 1960, #charliehebdo in 1970 or [Serge] #Gainsbourg in 1980. Worrying..."
However, many people believe that the poster for his request for a TGV — the French high speed rail service — stop in his area is a reference to Hallouin's death, which received widespread media coverage across Europe this summer.
According to The Times, police initially believed that the Paris-Nantes express, which travels at speeds up to 200 miles per hour, had hit her by accident, but they began to consider murder when they discovered that she had allegedly been tied to the rails. They later found remains of her husband, Guillaume Grémy, further down the tracks, but it was clear that he had not been strapped down. The couple, who had a 15-month-old son together, had separated not long before their deaths. The event has been widely regarded as a possible murder-suicide (though this hasn't been confirmed).
Regardless of whether Ménard's office intended for the poster as a direct reference to Hallouin, that is how it has been interpreted. The post has received more than one thousand comments on Twitter, most of which criticize his choice in subject.
"I do not know what I dread the most: that the drama in question is not known to the Mayor of Béziers (which launches this visual [during the] full debate on violence against women), or that it is known and voluntarily marketed to create a controversy putting the Mayor in one," tweeted one man.
Some users pointed out that even if it is not meant to represent Hallouin, the campaign ad still uses imagery showing violence against women.
"When I saw this picture for the first time, I thought it was a fake from FB's 'Dark Humor' pages. But no, it's unfortunately real," wrote another user. "Here is the advertising campaign of a misogynist practicing feminicide culture. Shame on you, Menard."
Some have called for Ménard to apologize; one user suggested complaining to the Advertising Ethics Jury for the campaign's promotion of violence against women.
Even before his TGV campaign, Ménard has been a controversial figure in French politics. A former journalist and founder of Reporters Without Borders, he was elected to the office of mayor in Béziers with the support of the far-right Front National party in 2014. Although he is not a member of the party himself, he has become a prominent figure in conservative politics, and in 2015, the BBC described his town as the "biggest extreme-right stronghold in France."
It remains to be seen whether Ménard's campaign for a TGV stop will pan out. If he was intending to court controversy with the poster, he certainly succeeded.