Peppermint Bark Cheesecake Is Back At The Cheesecake Factory & The Pics Are Swoon-Worthy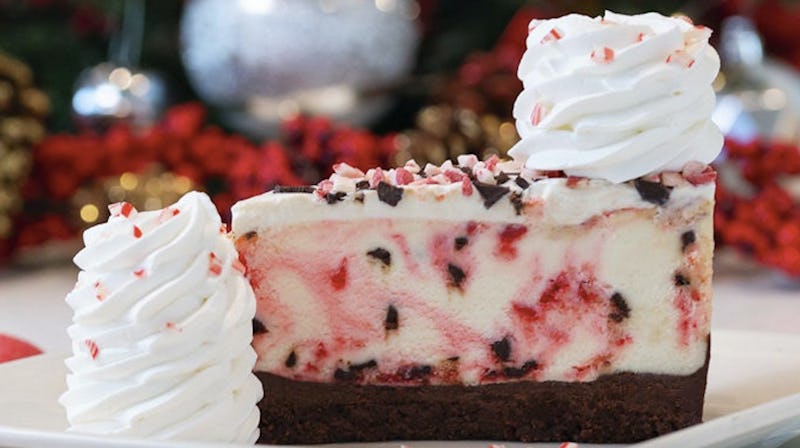 The Cheesecake Factory
Second only to peanut butter, perhaps, it is difficult to find something that pairs better with chocolate than mint. While delicious any time of the year, mint chocolate is particularly in-demand during the colder, holiday months. A lot of this can be attributed to a festive confection synonymous with the holidays: peppermint bark. Peppermint bark is made by melting chocolate into a thin sheet and covering it in crumbled candy canes. The result is a burst of flavor, both rich and refreshing. This combo is taken to new heights with Cheesecake Factory's Peppermint Bark Cheesecake, which is officially back on the chain's seasonal menu for a limited time.
The Cheesecake Factory is an American dining staple, known for its seemingly endless menu and wide array of dessert options — namely, cheesecake (duh). But the restaurant's innovative takes on a classic undoubtedly changed the dessert game forever. The Peppermint Bark Cheesecake is no exception. A slice of the stuff features a white chocolate cheesecake atop a chocolate crust, swirled with chunks of chocolate peppermint bark, topped with white chocolate mousse and is finished with a generous sprinkle of chopped peppermint. The finished product is downright beautiful, in addition to being delicious. The red accents from the candy canes give it an appearance similar to a Santa hat, or at least a similar color pallet to one.
Better yet, The Cheesecake Factory is making the most indulgent of desserts even more appealing with a special holiday promotion. Between now and New Year's Eve, if you purchase a $25 gift card in-person at The Cheesecake Factory or online, you will receive a coupon for a complimentary slice of cheesecake redeemable beginning next year. The coupon is valid through March, so if you're all sugared out by the end of the holiday season, you can save it for another sweet craving down the road.
While Cheesecake Factory devotees are well aware that this is not the Peppermint Bark Cheesecake's first appearance on the menu, that doesn't mean the chain doesn't have some new tricks up its sleeve.
Over the summer, the Cheesecake Factory took a break from catering to its biggest fan, Mr. Aubrey Graham, to release two new flavors of its specialty. The first, the Very Cherry Ghirardelli Chocolate Cheesecake incorporated pieces of Ghirardelli chocolate between layers of chocolate cake and cherry cheesecake. Yes, you heard that correctly, there was both cheesecake and chocolate cake in this masterpiece. Real cherries made an appearance in each slice, which was served with a generous swirl of whipped cream, and a crunchy chocolate cherry coating. Also, it's pink; like undeniably millennial pink-hued.
The second addition to The Cheesecake Factory's summer dessert drop emulates the rare treat saved for breakfast. Created through a partnership with the kings of breakfast pastries, the Cinnabon Cinnamon Swirl Cheesecake boasts a vanilla crunch cake layered with Cinnabon cinnamon cheesecake. The dessert is topped with cream cheese frosting, caramel, and, naturally, a hefty swirl of whipped cream.
Now, for the most exciting news: both the Very Cherry Ghirardelli Chocolate Cheesecake and the Cinnabon Cinnamon Swirl Cheesecake are STILL available at restaurants nationwide.
But, the Peppermint Bark Cheesecake will only be around for the holiday season, so be sure to pop in for a slice before it is too late.