This Latest Photo Of Pete Davidson Proves He Truly Might Be Ariana Grande's Biggest Fan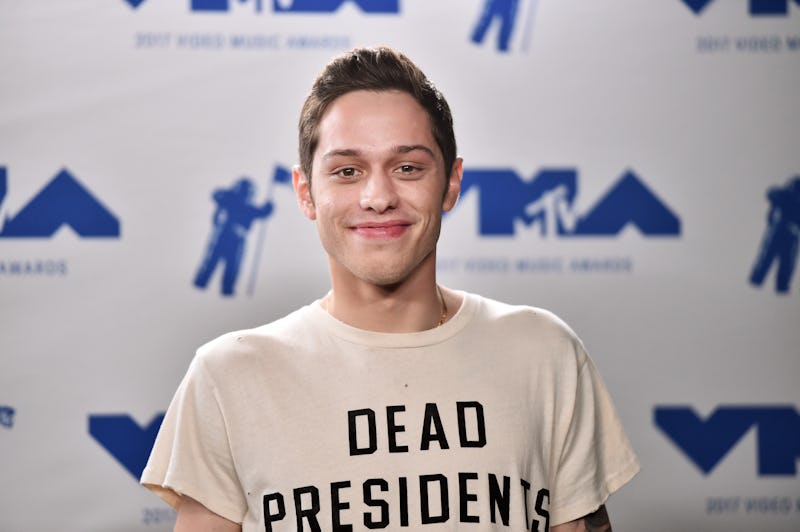 Alberto E. Rodriguez/Getty Images Entertainment/Getty Images
In a super sweet move, Pete Davidson reacted to Ariana Grande's "God Is a Woman" by being supportive as hell towards his fiancée. Grande and Davidson have been going strong for weeks now, so Davidson's endorsement of Grande's song is right on time. Plus, he's been tweeting about it leading up to the drop, too.
Earlier today, Davidson posted about the new single on his Instagram story, posting a picture of Grande and captioning it, "GIAW at midnight..this is one of my favorite songs on the album it's bonkers!!!"
After Grande dropped the song, Davidson took the time to post a super supportive Instagram photo, too. It's short, sweet, and to the point (plus, it has him in a "God Is a Woman" sweatshirt, so that's something): "GIAW out now !!!!"
Grande and Davidson are no strangers to loving on one another publicly. Their whirlwind engagement had some people wondering if it was even real. Of course, one of the songs on Grande's new album Sweetener (due in August) is literally called "Pete," so it's pretty clear that they're serious about one another.
Davidson and Grande have been such a focal point of conversation that their engagement was even brought up in an interview with Selena Gomez, who described it as "amazing and beautiful."
Recently, Grande took to Twitter to defend her decision to put a song named "Pete" on her new album after a fan questioned whether it was dumb.
She first simply tweeted, "Nah," but then elaborated further in a follow-up tweet. "the truth is i been the f*ck thru it and life's too short to be cryptic n sh*t about something as beautiful as this love I'm in. so ǝʇǝԀ it is," Grande tweeted.
Grande had to defend her love again on Twitter a few weeks later — but this time, it was to acknowledge Davidson's actions, rather than his inspiration. Apparently Davidson made a joke about the Manchester bombing during a standup routine at a benefit for Puerto Rico last fall. Davidson said, "Britney Spears didn't have a terrorist attack at her concert," referencing the suicide bomber who killed 22 people at a concert Grande was performing at in Manchester.
When a fan asked Grande why she was still with Davidson after hearing that he said that, she tweeted the following statement:
this has been v tough & conflicting on my heart. he uses comedy to help ppl feel better ab how f-ed up things in this world are. we all deal w trauma differently. I of course didn't find it funny. it was months ago & his intention wasn't/ is never malicious but it was unfortunate
Grande has been outspoken in the past about how much the Manchester event has affected her moving forward in her life. In a cover story with the August issue of Elle Magazine, Grande revealed that she's been in therapy for the physical anxiety attacks she experienced after the concert, and that getting back onstage after the attack was "terrifying".
Grande said, "You see it on the news, you tweet the hashtag. It's happened before, and it'll happen again. It makes you sad, you think about it for a little, and then people move on. But experiencing something like that firsthand, you think of everything differently.…. Everything is different."
Still, Grande's defense of Davidson is especially filled with nuance if you know that Davidson's father was killed in the September 11 attacks while performing his duties as a firefighter, which is probably what she's talking about when she says that people deal with trauma differently.
Grande's song was immediately well received when it was released at midnight on Friday, with fans flooding to Twitter to post meme after meme of people screaming, running around, and basically just saying in myriad forms, "I'm so dead this song is so good."