Pete Davidson Is Celebrating His Sobriety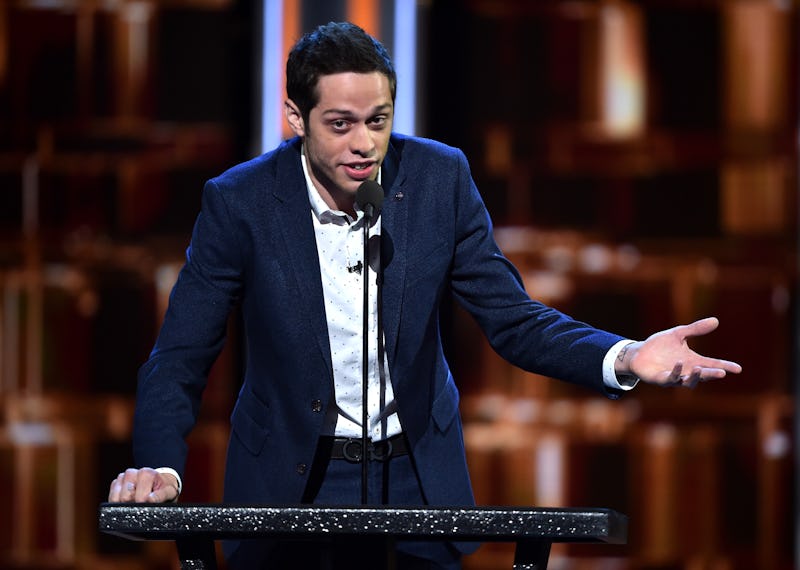 Alberto E. Rodriguez/Getty Images Entertainment/Getty Images
It's easy for audiences to believe comedians always have a pleasant disposition. But telling jokes for a living often isn't as hilarious as it seems. Comedian Pete Davidson revealed he is sober for the first time in eight years. The Saturday Night Live cast member posted a heartfelt memo to Instagram on Monday, March 6 explaining how the love and support from his friends, family, and fans helped him find his happiness again:
"Just wanted to let you guys know I'm okay. I know I've kinda been missing, on social media and on the show. I quit drugs and am happy and sober for the first time in 8 years. It wasn't easy, but I got a great girl, great friends and I consider myself a lucky man. I'll always be here for you guys, I promise. Remember to never give up hope because sometimes that's all we got. We are a family and I appreciate all your love and support. It's nice to be back in action."
The 23-year-old star's meteoric rise to comedic fame took off in 2014 when he joined the cast of SNL during the show's 40th season. Prior to that he was a staple on shows like MTV's Guy Code and Wild 'n Out. But behind his hysterical performances, Davidson was struggling with Crohn's disease. According to the Crohn's and Colitis Foundation, Crohn's disease is "a chronic inflammatory condition of the gastrointestinal tract." In Sept. 2016, the formerly self-proclaimed "pothead" opened up to High Times magazine about his dependence on medical marijuana to help combat symptoms such as loss of appetite and fatigue.
He told High Times, "I got Crohn's disease when I was 17 or 18. And I found that the medicines that the doctors were prescribing me and seeing all these doctors and trying new things, weed would be the only that that would help me eat. My stomach would be in pain all day and I wouldn't be able to eat, but then I'd smoke and I'd be able to eat and be able to do my shows. I wouldn't be able to do SNL if I didn't smoke weed."
The outspoken young star, whose father died in the September 11 attacks, also discussed battling depression and suicidal thoughts on the radio show The Breakfast Club back in Oct. 2016. He noted that Kid Cudi's music saved his life. "I would have killed myself. Absolutely 100 percent. I truly believe if Man on the Moon didn't come out, I wouldn't be here," he said.
Even though Davidson noted specific reasons for why he used marijuana before, the comedian speaking out about being sober and happy — regardless of the reason he decided to make a change — is important, especially for those who struggle to balance their mental and physical health with their professional lives. To see Davidson seek to change his life for the better, no matter how he's doing it, while his career is just getting started, speaks to the young star's resilience and strength.
Although his original claim to fame was being one of the youngest cast members of SNL, Davidson is setting a new precedent for himself not only by actively pursuing a sober life, but also by inspiring fans to "never give up hope," as his Instagram caption says.