Obama's White House Photographer Took Trolling Trump To A New Level With This Photo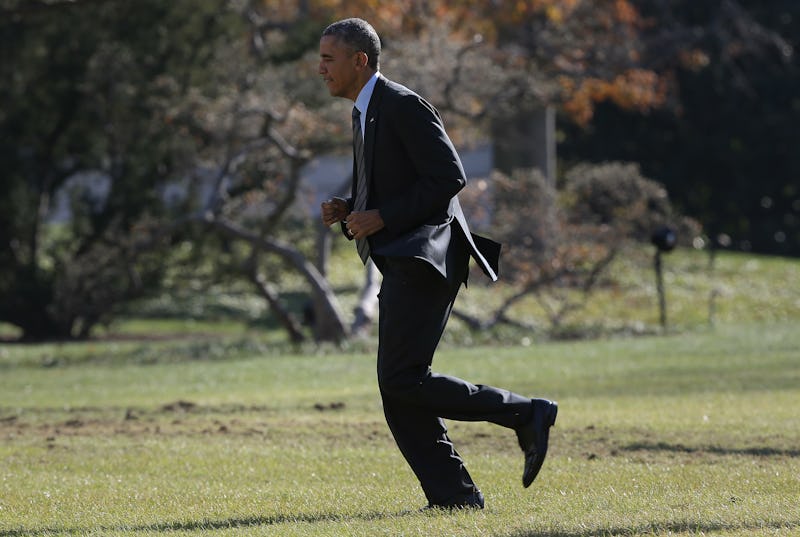 Win McNamee/Getty Images News/Getty Images
Photojournalists can say a whole lot with just one image. So it's no surprise that the American photojournalist, Pete Souza, did just that on Monday afternoon with one particular caption and photo. On his Instagram, Souza shared Barack Obama's photo where he's running and reminisced, "Back in the day when our president could run." The photojournalist was the Chief Official White House Photographer for the former president's administration (as well as former president Ronald Reagan) and is pretty well-known for his photography and accompanying captions.
On Twitter, Souza's pithy little line was playfully described by Twitter user Erin Ryan in the following words: "Pete Souza's Instagram captions have gone from shade to outright drags." While it may be tempting to think Souza's caption is an indirect way to comment on Trump's ability to run as a purely physical exercise, the photojournalist's comment needs a bit more of context. Souza shared the photo of Obama with the short caption shortly after Donald Trump spoke about the Parkland high school shooting in Florida during an event at the White House.
The president was talking to a group of governors and said, "You don't know until you test it, but I think, I really believe I'd run in there, even if I didn't have a weapon, and I think most of the people in this room would have done that, too." Trump was talking about the deadly shooting that rocked Marjory Stoneman Douglas High School early in February on Valentine's Day. At least 17 people were killed in the school shooting, including faculty members.
Souza's style of photography has become notable thanks to his incisive captions. It's such a well-known style that The New York Magazine interviewed the photographer about it last year. Through a method of juxtaposition - sharing a photo of Obama on a day the current president Trump does something noteworthy (or questionable) and then comparing both - Souza ruminates on American politics and both presidencies. But he's not concerned with reactions. When asked by New York Magazine whether Trump has remarked on his photos and captions, Souza had a definitive opinion on the matter: He doesn't care. "I have no idea , and quite frankly, I don't really care one way or the other," he simply said.
While he may not care about what Trump thinks, Souza has not described his style as "shading" others. In fact, during his interview with NPR, Souza said that he tries to be indirect and still "respectful" while talking about events on his Instagram account where some one million people follow him. "I think for the most part what I've tried to do with my current Instagram feed is display public domain photos and be somewhat subtle and respectful in the words that I write," Souza said. He added, "I think people can interpret them [however they want to]. ... When somebody first wrote a story about "throwing shade" I actually had to look that up because I really didn't know what it meant."
"I kind of laughed, I guess," he told NPR.
After the Parkland shooting, Souza turned to the past to share how Obama reacted in the wake of a similar tragedy. Only three days after the horrific Parkland shooting, Souza shared a photo of Obama right after the Sandy Hook elementary school shooting took place in 2012.
The shooting claimed the lives of 20 children along with six school staff figures. The majority of the children were aged six or seven years old. In the photo, a younger, pensive, and distressed Obama can be seen sitting in an empty classroom. Souza wrote, "After meeting with families for hours, [Obama] sat alone in a classroom before attending a prayer vigil." In an interview with Business Insider, Souza said that day was one of the worst and heartbreaking days for the former president during his presidency.